2010 Under-22 World Championship Team Events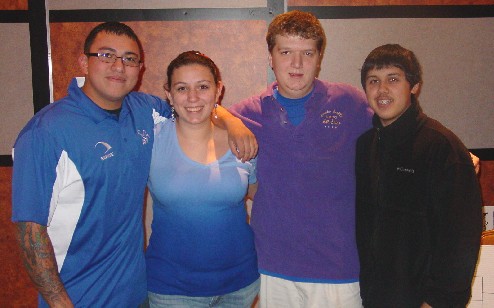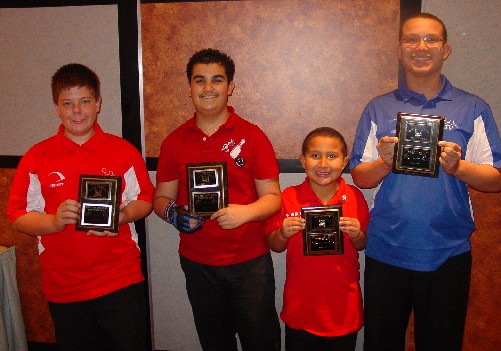 scratch champs Tanner Spacey, Rebeca Reguero, Cameron Weier, & Tyler Cruz
handicap champs Steven Fentiman, Ricardo Mendoza, Cesar Castro, & Emanuel Castro
A California team of mostly JBT rookies, and a mixed-state team of JBT stars teamed up to win the Team event titles at the 2010 Under-22 World Championships, presented by Ebonite International, Texas Station, and the Junior Bowlers Tour.
Washington stars Cameron Weier, Tyler Cruz, and Tanner Spacey (whose stunt double is in the above picture) added Arizona star and current Women's All-Conference Bowler of the Year Rebeca Reguero, and it was a winning combo, as Weier's 759 set spurred them to a 2714 team total and a nearly 80-pin margin over the second place team. On that second place team was Dan Patty, who rolled a 300 game to open the Team event, the only 300 game in the entire 12 days of the Under-22 World Championships- great job, Dan!
Both geographic ends of Southern California fought it out for the handicap title, with the So-Cal based bunch Mendoza, Fentiman, and the Castro brothers rolling a 2714 total (ironically the exact same winning total as scratch) for the championship. Mendoza was the only one with previous JBT experience, and Fentiman would go on to a runner-up finish in the singles event.
2010 MAIN EVENT SCRATCH TEAM EVENT
RANK
Game 1
Game 2
Game 3
Ind Total
Team Total
1
Team 12
Cruz
Tyler
215
231
215
661
Weier
Cameron
256
277
226
759
Spacey
Tanner
205
257
245
707
Reguero
Rebeca
236
173
178
587
2714
2
Team 4
Fujita
Mike
244
211
192
647
Beasley
Travis
199
224
171
594
Patty
Dan
300
205
215
720
Boyle
Scott
257
255
164
676
2637
3
Team 18
Myers
Mark
178
253
201
632
Foshie
Aaron
244
186
197
627
Martinez
Zach
232
187
222
641
Leach
Labriel
218
234
212
664
2564
4
Team 24
Ragland
Lance
186
213
167
566
Lavery
Anthony
218
247
244
709
Lavery
Sean
193
225
222
640
Tuckfield
Matt
216
176
239
631
2546
5
Team 22
Fry
Amanda
189
234
192
615
White
Clarence
248
174
235
657
Paris
Blake
229
225
176
630
Lieber
Correen
224
190
225
639
2541
6
Team 9
McBride
Josh
184
232
238
654
King
Kyle
185
223
266
674
Tatrow
Kevin
204
184
211
599
Peters
Jake
169
231
194
594
2521
7
Team 26
Sloan
DJ
231
228
212
671
Allred
Brandon
189
226
178
593
George
Kris
225
216
175
616
Geering
Greg
225
224
176
625
2505
8
Team 14
Young
Geoffrey
210
189
199
598
Bidwell
Devin
222
204
204
630
Pahr
Nick
202
210
179
591
Ijams
Allie
244
228
206
678
2497
9
Team 11
Jordan
John
222
221
205
648
Douglas
Anthony
185
195
204
584
Rawsthrorne
Catherine
202
184
231
617
Haworth
Leea
198
218
225
641
2490
10
Team 17
Brown
Chris
181
259
158
598
Grant
Dustin
195
225
235
655
Hansen
Brad
217
198
255
670
Hansen
Dan
168
155
213
536
2459
11
Team 3
Bolton
Elise
245
234
179
658
Kent
Marshall
153
189
224
566
Hattori
Zack
182
189
190
561
Curtis
Tristian
203
245
214
662
2447
12
Team 15
Ho
Matt
204
214
193
611
Takara
Ray
193
218
235
646
Ardo
Chasen
157
208
188
553
Oshiro
Kevin
199
177
258
634
2444
13
Team 25
Kawada
Ethan
185
210
236
631
Miyaji
Sharyn
176
150
158
484
Santos
Seiko
200
203
200
603
Nakagawa
Jon
232
235
256
723
2441
14
Team 6
Low
Wesley
220
180
223
623
Jones
Kevin
158
226
231
615
Mainer
Steven
170
179
201
550
Dubia
Adam
254
170
201
625
2413
15
Team 2
Berry
Kyle
289
174
205
668
Zakzewski
Maggie
201
198
188
587
Benoit
Kenny
181
220
213
614
Rumpimper
Tannya
171
211
155
537
2406
16
Team 10
Leong
Dallas
175
181
200
556
Hochman
Zach
144
289
177
610
Hatchett
Eric
158
212
201
571
Ferrer
Jordan
181
223
256
660
2397
17
Team 20
McPherson
Cort
242
166
173
581
Jenner
Kristin
173
164
246
583
Fukumoto
Gabriel
203
190
197
590
Markowitz
Gary
206
202
233
641
2395
18
Team 27
Stanley
Marcus
157
194
162
513
Coveris
Delano
278
192
225
695
Carlson
Tristan
214
179
182
575
Corrao
Andrew
223
176
206
605
2388
19
Team 5
Tang
Darren
255
145
207
607
Idzerda
Mark
213
179
127
519
Chin
Riely
233
198
167
598
Tang
Michael
199
256
200
655
2379
20
Team 8
Jones
Ashley
166
179
214
559
Renslow
Robyn
184
179
159
522
Gonzalez
Michael
187
193
205
585
Del Cerro
Mark
253
205
236
694
2360
21
Team 28
Godoy
Armando
203
254
156
613
Peden
Ryan
226
203
214
643
Nakata
Caleb
187
182
166
535
Hewitt
Travis
147
175
204
526
2317
22
Team 23
Pixley
Michael
248
168
220
636
Mochizuki
Peter
198
150
145
493
Kamiyama
Micah
190
204
186
580
Chuo
Joey
169
203
206
578
2287
23
Team 1
Goad
Kayla
163
211
186
560
Ailport
Lindsey
170
172
147
489
Dempsey
Riley
170
235
184
589
Acuff
Derek
213
216
212
641
2279
24
Team 19
Sekara
Justin
194
201
215
610
Gordon
Casey
162
176
162
500
Seawright
Jonah
179
167
162
508
Velez
Destinee
204
226
225
655
2273
25
Team 16
Smith
Cameron
217
179
173
569
Atkin
Alexis
138
193
192
523
Hawkins
James
172
215
258
645
Phandanouvong
Foster
168
182
177
527
2264
26
Team 7
White
Schrader
269
224
187
680
Jackson
Josh
162
156
177
495
Hemming
Zach
232
167
184
583
Boe
Tyler
163
176
156
495
2253
27
Team 13
Gibo
Cody
202
190
169
561
Shigekane
Stacey
159
170
173
502
Perry
Devin
166
171
176
513
Tajiri
Josh
216
190
223
629
2205
28
Team 21
Speiler
Randi
186
183
159
528
Nadeau
Krysta
139
162
194
495
Vinyard
Nick
204
184
178
566
Katz
Jordan
171
199
213
583
2172
2010 MAIN EVENT HANDICAP TEAM EVENT
RANK
Game 1
Game 2
Game 3
SCR Total
TOTAL
Team Total
1
Team 1
Fentiman
Steven
207
202
256
665
806
$1,000
Castro
Emanual
157
188
157
502
583
Castro
Cesar
127
135
130
392
647
Mendoza
Ricardo
135
208
257
600
678
2159
555
2714
2
Team 1
Briggs
Zachary
169
181
144
494
515
$500
Dryer
Kyle
194
228
277
699
792
Sinor
Cody
160
245
182
587
602
Osegeura
Adrian
247
225
269
741
750
2521
2659
3
Team 1
Lee
Jeffrey
137
118
101
356
626
$240
Espinda
David
134
185
206
525
717
Teregawa
Brandon
147
188
143
478
625
Lim
Brian
184
220
200
604
643
1963
2611
4
Team 1
Hill
Harold
206
224
266
696
621
Ursillo
Tim
247
199
203
649
658
La Chappa
Jake
208
171
216
595
658
Lou
Brandon
209
203
215
627
672
2567
2609
5
Team 1
Ferry
Jamie
178
224
151
553
553
Nguyen
Richard
237
169
232
638
701
Jordan
Jerome
228
211
193
632
686
Koyanagi
Cory
245
180
142
567
660
2390
2600
6
Team 1
Terrwillegar
Shawn
176
159
178
513
570
Reyna
Angel
169
222
191
582
648
Vancleeve
Alan
236
168
208
612
699
Lieber
Kara
195
156
179
530
674
2237
2591
7
Team 1
Stever
Marina
191
171
176
538
595
Carr
Savannah
198
133
182
513
597
Baker
Bethany
181
192
165
538
754
Phandanouvong
Jenny
148
158
169
475
622
2064
2568
8
Team 1
Chui
Kirk
243
179
212
634
652
Vanů.
Spencer
164
179
171
514
523
Pekins
Brandon
215
245
174
634
688
Lim
Robert
197
243
153
593
686
2375
2549
9
Team 1
Cruz
Jeremiah
197
174
171
542
623
Raymond
Aaron
244
258
187
689
713
Lucas
Jason
156
144
169
469
469
Johnston
Deven
196
240
205
641
725
2341
2530
10
Team 1
Takahata
Janelle
162
178
169
509
560
Kanda
Justin
247
171
170
588
633
Nagamine
Casey
171
192
223
586
676
Hayashi
Evan
192
210
188
590
635
2273
2504
11
Team 1
Holley
Luke
159
172
205
536
608
Camacho
Jacob
195
204
180
579
672
Chan
Oscar
201
200
165
566
617
Nolan
Vincent
177
170
166
513
582
2194
2479
12
Team 1
Sweigart
Harley
225
193
204
622
700
Hirsch
Gavin
157
160
170
487
547
Carroll
Brooke
185
213
142
540
594
Hirsch
Brett
182
209
230
621
591
2270
2432
13
Team 1
Orgeron
Lauren
146
187
178
511
520
Villa
Justin
227
201
214
642
663
Terry
Danyn
171
201
214
586
619
Svoren
Andrew
177
222
178
577
592
2316
2394
14
Team 1
Carlson
Megan
145
149
196
490
601
Iozzio
Derek
176
199
171
546
603
Potts
Jacob
122
129
136
387
564
Ottenchot
Tyler
177
147
147
471
621
1894
2389
15
Team 1
Seligman
Adam
211
201
174
586
586
Johnson
Skyler
225
212
220
657
648
Marchais
Chaplin
174
189
191
554
596
Patten
Justin
159
142
170
471
558
2268
2388
16
Team 1
Ma
Michael
145
190
165
500
551
Sims
Justin
170
219
135
524
515
Zweig
Matthew
184
189
183
556
643
Houston
Chelsea
190
202
188
580
661
2160
2370
17
Team 1
Tam
Alex
147
149
160
456
501
Gee
Edgar
173
204
191
568
634
Yoshii
Adam
188
194
133
515
581
Grinfields
Dzintars
206
238
167
611
629
2150
2345
18
Team 1
Hernandez
Andre
162
161
194
517
583
Spector
Jamie
167
202
174
543
630
Cleveland
Isaiah
164
157
174
495
522
Acuff
Steven
169
170
187
526
580
2081
2315
19
Team 1
Gonzalez
Jhared
113
208
130
451
574
Dobbs
Matthew
149
155
171
475
592
Chavez
Isaiah
147
185
179
511
565
Thompson
Noah
140
208
160
508
589
1945
2320
20
Team 1
Karpovich
Kyle
152
152
190
494
530
Luebster
Brandon
177
177
107
461
500
Calabrese
Aubrey
144
144
166
454
535
Torrence
Eric
209
209
224
642
741
2051
2306
21
Team 1
Kraye
Brandon
225
187
209
621
600
Kraye
Jordan
177
204
160
541
598
Struckman
John
171
206
196
573
573
Vasquez
Wishtoyo
163
191
179
533
533
2268
2304
22
Team 1
Malouf
Nicole
179
160
124
463
559
Lim
Gordon
129
156
130
415
508
Chin
Roslyn
101
113
102
316
559
Alma
Kyle
163
135
171
469
529
1663
2155