2010 Main Event Girls Scratch Singles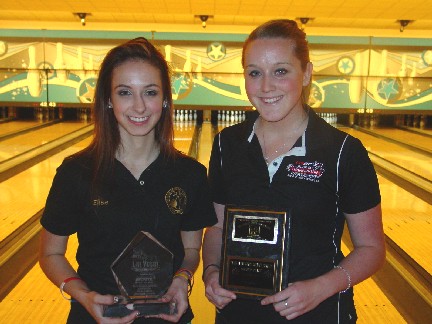 champ Elise Bolton & runner-up Allie Ijams
Elise Bolton, Merritt Island FL, defeated Allie Ijams, Flagstaff AZ, 184-169, to capture the $1,500 top scholarship prize as champion of the Girls Scratch Singles event of the Under-22 World Championships, presented by Ebonite International, Texas Station, and the Junior Bowlers Tour.
#6 Amanda Fry opened the bracket-style stepladder finals with a 158-154 grindout win over #8 Haley Rubin. In simultaneous action, Haley's older sister #7 Ashley also fell, 201-174 to #5 Joi Bell. In round two, #4 Bolton beat Fry 186-155, and Bell rolled on with a 241-203 over #3 Dara Ajimine. The top two seeds then entered, and while Ijams defended her #2 position by stopping Bell's run 201-174, #1 Kelsey Muther was upset by Bolton 158-147, in another game indicative of just how tough the lane pattern played this year.
In the title match, both Elise and Allie struggled to strike, but each put on a spare shooting clinic to bring the match to the tenth frame. In that frame Allie unfortunately chopped the 2-4-5, and Elise took advantage for the 184-169 win and the prestigious Main Event title.
Thanks as always to everyone for participating, as well as Jerry Francomano and his terrific staff at Texas Station for hosting us, and Ebonite International for continuing their invaluable sponsorship of our Tour. Please help us spread the word as we prepare an even bigger and better Main Event in 2011!
Final standings and position scholarship winners
| | | | | |
| --- | --- | --- | --- | --- |
| rank | last | first | state | prize |
| 1 | Bolton | Elise | FL | $1,500 |
| 2 | Ijams | Allie | AZ | $800 |
| 3 | Muther | Kelsey | KS | $600 |
| 4 | Bell | Joi | MD | $400 |
| 5 | Ajimine | Dara | HI | $300 |
| 6 | Fry | Amanda | CA | $250 |
| 7 | Rubin | Ashley | SD | $200 |
| 8 | Rubin | Haley | SD | $150 |
| 9 | Koizumi | Jory | AZ | |
| 10 | Gill | Christine | CO | |
| 11 | Shelton | Wendy | NM | |
| 12 | Ferry | Jamie | CA | |
| 13 | Riggin | Valerie | CA | |
| 14 | Goad | Kayla | AZ | |
| 15 | Rawsthorne | Catherine | WA | |
| 16 | Urban | April | NV | |
| 17 | Signaigo | Suzana | HI | |
| 18 | Haworth | Leea | WA | |
| 19 | Boe | Sarah | WA | |
| 20 | Lieber | Correen | WA | |
| 21 | Terry | Danyn | CA | |
| 22 | Lycan | Lana | CA | |
| 23 | Reynolds | Tabetha | CA | |
| 24 | Zakrzewski | Maggie | IL | |
| 25 | Renslow | Robyn | CA | |
| 26 | Dutton | Courtney | AZ | |
| 27 | Kawamoto | Brandi | HI | |
| 28 | Takahata | Janelle | NV | |
| 29 | Carroll | Brooke | MO | |
| 30 | Stever | Marina | AZ | |
| 31 | Cummins | Lisa | FL | |
| 32 | Nakano | Kristyn | HI | |
| 33 | Schultz | Courtney | CA | |
| 34 | Orgeron | Lauren | CA | |
| 35 | Martin | Jaymie-Rae T. | HI | |
| 36 | Reguero | Rebeca | AZ | |
| 37 | Velez | Destiny | TX | |
| 38 | Jones | Ashley | CA | |
| 39 | Monteith | Susy | CA | |
| 40 | Katsura | Lesliann | CA | |
| 41 | Ailport | Lindsey | AZ | |
| 42 | Preston | Ashleigh | MT | |
| 43 | Baker | Bethany | AZ | |
| 44 | Jenner | Kirstin | CA | |
| 45 | Meyers | Samantha | CA | |
| 46 | Santos | Seiko | HI | |
| 47 | Sullivan | Alicia | AZ | |
| 48 | Miyaji | Sharyn | HI | |
scholarship earnings show position prizes and do not include all extras- see the scholarship chart for complete earnings