2010 Main Event Handicap Singles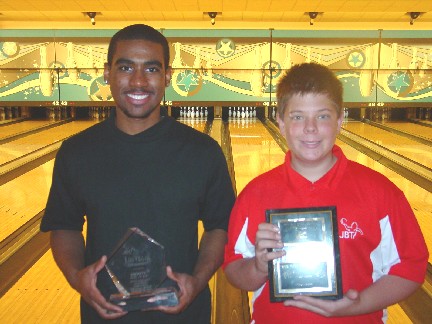 champ Jerome Jordan Jr & runner-up Steven Fentiman
Jerome Jordan Jr., Carson CA, defeated Steven Fentiman, Oceanside CA, 234-221, to capture the $2,000 top scholarship prize as champion of the Handicap Singles event of the Under-22 World Championships, presented by Ebonite International, Texas Station, and the Junior Bowlers Tour.
Nine year-old Courtney Boniecki, the #14 seed, opened up the bracket-style stepladder finals with a 209 game that defeated three other opponents to advance. In simultaneous action, #13 Brandon Pekins emerged from another four-way match to reach round two. In the second round, Boniecki was good again, eliminating #6 Stacey Shigekane and #8 Curt Wong. In the other bracket, #7 Vincent Nolan, the 8-game qualifying leader, beat Pekins and #5 David Espinda to advance. Boniecki kept rolling with a 202-182 win over #4 Gabriel Fukumoto in round three, while #3 Cory Koyanagi stopped Nolan 255-158. The top seeds then came in and showed why they were there, as #1 Jordan beat Boniecki 227-206, and #2 Fentiman edged Koyanagi 204-201 to set up the 1-vs-2 title match.
The finale came down to the final frame, as Fentiman's tenth frame mark forced Jordan to get 9 pins on two balls for the win. Jerome's first shot left the 2-10, which meant he only needed one of those pins to get the win. Jordan didn't look at the scoreboard though, and thinking he might need the spare, went for it-and made it- to wrap up the win-- of course, making the 2-10 means that he came about 1/4 inch away from missing them both, and thus losing the tournament- wow!
Thanks as always to everyone for participating, as well as Jerry Francomano and his terrific staff at Texas Station for hosting us, and Ebonite International for continuing their invaluable sponsorship of our Tour. Please help us spread the word as we prepare an even bigger and better Main Event in 2011!
rank
last
first
prize
1
Jordan
Jerome
$2,000
2
Fentiman
Steven
$1,000
3
Koyanagi
Cory
$750
4
Boniecki
Courtney
$500
5
Fukumoto
Gabriel
$400
6
Nolan
Vincent
$350
7
Espinda
David
$300
8
Shigekane
Stacey
$250
9
Wong
Curt
$200
10
Pekins
Brandon
$150
11
Wu
Jessica
$100
12
Spector
Jamie
$100
13
Nguyen
Richard
$100
14
Francisco
Jake
$100
15
Yoshii
Adam
$100
16
Cruz
Jerimiah
$100
17
Mercado
Adrian
18
Jordan
Luke
19
Acma
Kyle
20
Gonzalez
Jhared
21
Karpovich
Kyle
22
Lee
Jeffrey
23
Shelton
Lacey
24
Lim
Gordon
25
Nagamine
Casey
26
Schenck
Cortez
27
Lim
Robert
28
Torrence
Eric
29
Pellegrino
Alex
30
Sweigart
Harley
31
Custon
Jeremy
32
Vancleeve
Alan
33
Teragawa
Brandon
34
Dukes
Kimberly
35
Andrews
Kyle
36
Schultz
Shauna
37
Camacho
Jacob
38
Dryer
Kyle
39
Chan
Oscar
40
Yamasaki
Kaycie
41
Yoshida
Laudan
42
Atkin
Alexis
43
Dacanay
Billy Ray
44
Ma
Michael
45
Lieber
Kara
46
Jarosz
DJ
47
Negoro
Kiana
48
Speiler
Randi
49
Takahata
Lauren
50
Carr
Savannah
51
Potts
Jacob
52
Glasspool
Britni
53
Mendozo
Ricardo
54
Houston
Chelsea
55
Webster
Brandon
56
Terwilligar
Shawn
57
Phandanouvong
Jenny
58
Grupe
Brian
59
Chui
Carol
60
Hollis
Trevor
61
Danel
Ashley
62
Duffy
Brandon
63
Nocon
Matthew
64
Cando
Anthony
65
Holley
Luke
66
Kraye
Jordan
67
Seawright
Jonah
68
Watkins
Aaron
69
Johnston
Deven
70
Williams
Alyssa
71
Acuff
Steven
72
Claspell
Justin
73
Nakagawa
Keenan
74
Rollins
Kenny
75
Ottenschot
Tyler
76
Zweig
Matthew
77
Villa
Justin
78
Gabour
James
79
Truman
Sandy
80
Castro
Emanuel
81
Cervinski
Justin
82
Gee
Edgar
83
Malouf
Nicole
84
Iozzio
Derek
85
Tan
Alex
86
Bissett
Alex
87
Stern
Drew
88
Calabrese
Aubrey
89
Andrews
Kennison
90
Lazear
Jacob
91
Evans
Marguerite
92
Stearns
Isaac
93
Koff
Donovan
94
Reyna
Angel
95
Lim
Brian
96
Hatfield
Tyler
97
Dragovich
Matthew
98
La Chappa
Jake
99
Stearns
Louis
100
Marchais
Chaplin
101
Briggs
Zachary
102
Ray
Taylor
103
Hirsch
Gavin
104
King
Taylor
105
Carlson
Megan
106
Patten
Justin
scholarship earnings show position prizes and do not include all extras- see the scholarship chart for complete earnings