LOW BALL CHAMPIONSHIP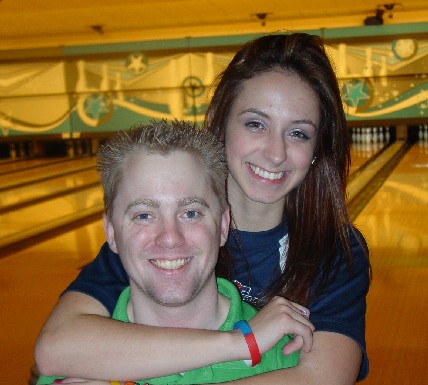 champ Geoffrey Young & runner-up Elise Bolton
Geoffrey Young defeated Elise Bolton 64-139 (no, that's not a typo) to capture the Low Ball Championship, a side event to the Under-22 World Championships, presented by the Junior Bowlers Tour.
The object in low ball is to bowl the lowest score possible, with the catch that gutter balls on the first shot are strikes, and missing all pins on the second ball gives you a spare, so a perfect game is 20. Michael Ma led the first two rounds en route to being the only handicap division regular to make the top 8, and had the high (low) game of the qualifier with 64, but #6 Jake Peters ended his day in matchplay.
In the semifinals, Bolton beat Brad Hansen and Young beat Peters to set up the title game. Bolton, who had seven one-counts in a row earlier en route to the best score of the event, a 46, just missed on a few first shots, casing the accidental strikes to pile up, and Geoffrey crusied to the title.
Prize Winners:
1. Geoffrey Young, $100
2. Elise Bolton, $60
3. Brad Hansen, $40
4. Jake Peters, $20