feel free to use this article to send to local papers, etc-- but please mail us a copy if you do for our scrapbook!
2010 JBT Under-22 World Championships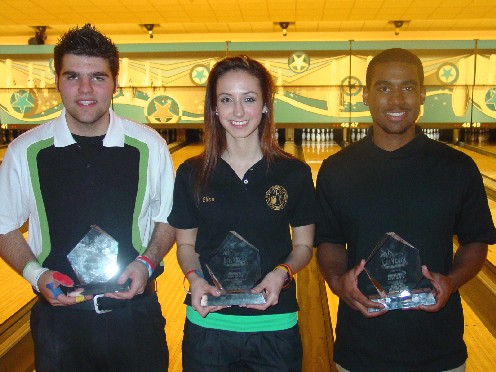 Scratch champ Kyle King, Girls champ Elise Bolton, and Handicap champ Jerome Jordan Jr.
Kyle King, Phoenix AZ, Elise Bolton, Merritt Island FL, and Jerome Jordan Jr., Carson CA, captured Main Event Singles titles to cap off nine days of exciting competition at the Under-22 World Championships, hosted by Texas Station and presented by Ebonite International and the Junior Bowlers Tour.
King, the all-time titles (48) and earnings (over $50,000) in our weekly JBT Tour, defeated fellow Arizonan Greg Geering 204-181 for the Open Scratch Singles crown. Geering had previously won five matches in the 16-bowler finals, including a four-ball rolloff against Justin Tan in round two, while King, as the top seed after the grueling 14-game qualifier, only had to beat #16 Brad Miller, the 2008 Main Event champ who was making an amazing run at a second title, to reach the championship game. King earned $5,000 for the win, Geering cashed for $2,600, Josh McBride finished third for $1,600, and Miller pocketed $1,200 for fourth.
Bolton qualified fourth for the 8-bowler Girls' Scratch stepladder, and upset top-seeded Kelsey Muther 158-147 in one semifinal, while in the other semi, #2 Allie Ijams beat #5 Joi Bell 201-174 to reach the championship game. Doubles were hard to come by on the extremely challenging pattern, but both girls put on a spare-shooting clinic to keep the match close until the tenth frame, where an unfortunate 2-4-5- chop from Ijams gave Elise the room she needed for a 184-169 win and the title. Bolton earned $1,500 for first, Ijams won $800 for second, Muther earned $600 in third, and Bell's fourth place finish was worth $400.
All three singles title matches were close, but the handicap match between Jordan and Steven Fentiman had the most interesting final ball. Fentiman's tenth frame mark forced Jordan to get 9 pins on two balls for the win. Jerome's first shot left the 2-10, which meant he only needed one of those pins to get the win. Jordan didn't look at the scoreboard though, and thinking he might need the spare, went for it-and made it- to wrap up the win-- of course, making the 2-10 means that he came about 1/4 inch away from missing them both, and thus losing the tournament- wow! Jerome's big finish earned the $2,000 top prize, Fentiman won $1,000, third place finisher Cory Koyanagi earned $750, and nine year-old Courtney Boniecki finished fourth for $600, again proving that JBT events are for all ages and averages, not just the 'good' or 'older' bowlers.
The weekend was doubly good for King and Jordan, as King teamed with Devin Bidwell for the scratch doubles title, and Jordan partnered with Cory Koyanagi for the handicap doubles crown. Titles were also awarded in scratch and handicap Team, Plastic Ball, Two-Pattern, Low-Ball, and 'Big Dawg' events, completing a busy and exciting week which awarded over $40,000 in scholarships to bowlers from all over the country.
Thanks as always to everyone for participating, as well as Jerry Francomano and his terrific staff at Texas Station for hosting us, and Ebonite International for continuing their invaluable sponsorship of our Tour. Visit www.bowljbt.com for much more information, and please help us spread the word as we prepare an even bigger and better Main Event in 2011!