2010 Main Event Open Scratch Singles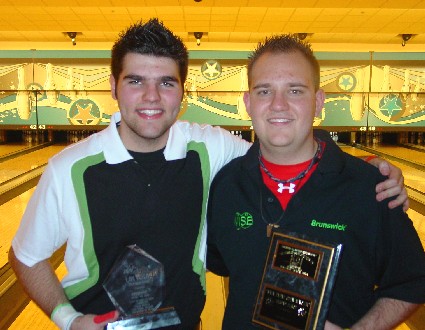 champ Kyle King & runner-up Greg Geering
In an all-Arizona title match, Kyle King defeated Greg Geeing 202-178, to capture the $5,000 top scholarship prize as champion of the Scratch Singles event of the Under-22 World Championships, presented by Ebonite International, Texas Station, and the Junior Bowlers Tour.
A virtual who's-who of under-22 bowling made the cut to the top 60 after 8 tough games on an extremely challenging pattern, and after six matchplay games (in which only Tristan Curtis went 6-0, rising to the #12 finals seed), the top 16 advanced to a bracket-style stepladder finals. In round one of the finals, #11 Geering survived a four-way opening match to advance, while #16 Brad Miller, the 2008 Main Event champion (coming from the #15 seed when he won) began another journey up the six-round ladder with a four-way win in round one.
In round two, Miller rolled on with a win over #6 Zack Hattori and #8 Cameron Weier (both bowlers with over $10,000 in career JBT earnings). In the other bracket, the crowd witnessed the match of the event. #5 Geoffrey Young had a chance to win or force a three-way tie at 177, but couldn't get the second strike in his tenth, so Geering and #7 Justin Tan played a one-shot rolloff. Greg and Justin traded good shots and good breaks in the rolloff, tying at 10, 8, and 10, before Greg finally won 10-6 in the fourth tiebreak to advance.
In round three, Miller edged #4 Matt Tuckfield 184-182, and while Geering survived another squeaker, 214-209 over #3 Kevin Tatrow. In the fourth round, top seed Kyle King finally stopped Miller's phenomenal run at another title with a 189-186 thriller, while Geering continued on a 'Miller' of his own with a 205-199 upset over #2 Josh McBride, to set up the title match.
King and Geering had seen each other a lot on the regular-season JBT Tour before Greg left to bowl for the powerhouse CSU Fresno team, and Greg came back a much improved bowler, as evidenced by his run through this decorated field. However, King, riding one of the patented streaks of his JBT career, was looking to finally add a JBT major to his gaudy collection of 48 JBT titles and over $50,000 in career scholarship earnings. Neither bowler could get strings going on the extremely demanding conditions, but it was spare shooting that cost Geering, as two missed 4-pins provided most of the difference in a 202-178 win for King, who collected the $5,000 top prize and the biggest win of his historic JBT career, while Geering cashed for $2,600 for the outstanding runner-up performance.
Thanks as always to everyone for participating, as well as Jerry Francomano and his terrific staff at Texas Station for hosting us, and Ebonite International for continuing their invaluable sponsorship of our Tour. Please help us spread the word as we prepare an even bigger and better Main Event in 2011!
| | | | |
| --- | --- | --- | --- |
| rank | last | first | prize |
| 1 | King | Kyle | $5,000 |
| 2 | Geering | Greg | $2,600 |
| 3 | McBride | Joshua | $1,600 |
| 4 | Miller | Brad | $1,200 |
| 5 | Tatrow | Kevin | $900 |
| 6 | Tuckfield | Matt | $700 |
| 7 | Young | Geoffrey | $600 |
| 8 | Hattori | Zack | $500 |
| 9 | Tan | Justin | $400 |
| 10 | Weier | Cameron | $350 |
| 11 | Peters | Jake | $300 |
| 12 | White | Clarence | $250 |
| 13 | Curtis | Tristan | $200 |
| 14 | Hawkins | James | $150 |
| 15 | Lavery-Spahr | Anthony | $125 |
| 16 | Grinfelds | Dzintars | $100 |
| 17 | Lavery-Spahr | Sean | |
| 18 | Katz | Jordan | |
| 19 | George | Kristopher | |
| 20 | Tang | Michael | |
| 21 | Allred | Brandon | |
| 22 | Sloan | DJ | |
| 23 | Chuo | Joey | |
| 24 | Roumimper | Tannya | |
| 25 | Bidwell | Devin | |
| 26 | Garcia | AJ | |
| 27 | Ursillo | Tim | |
| 28 | Kawada | Ethan | |
| 29 | Kraye | Brandon | |
| 30 | Low | Wesley | |
| 31 | Phandanouvong | Foster | |
| 32 | Godoy | Armando | |
| 33 | Cruz | Tyler | |
| 34 | Manier | Steven | |
| 35 | Tang | Darren | |
| 36 | Kent | Marshall | |
| 37 | Chin | Riely | |
| 38 | Grant | Dustin | |
| 39 | Booker | Dee Ronn | |
| 40 | Del Cerro | Mark | |
| 41 | Jones | Kevin | |
| 42 | Kamiyama | Micah | |
| 43 | Hansen | Dan | |
| 44 | Fujita | Mike | |
| 45 | Peden | Ryan | |
| 46 | Leach | Labriel | |
| 47 | Leong | Dallas | |
| 48 | Smith | Cameron | |
| 49 | Thiedke | Adam | |
| 50 | Jordan | John | |
| 51 | Tajiri | Joshua | |
| 52 | Trice | Devin | |
| 53 | Dempsey | Riley | |
| 54 | Solano | Anthony | |
| 55 | Nakagawa | Jonathan | |
| 56 | Paris | Blake | |
| 57 | Curtis | Mark Jr | |
| 58 | Foshie | Aaron | |
| 59 | Pixley | Michael | |
| 60 | Davenport | Travis | |
| 61 | Dukes | Jon | |
| 62 | Kanda | Justin | |
| 63 | Douglas | Anthony | |
| 64 | Kinzler | Randy | |
| 65 | Beasley | Travis | |
| 66 | Nakata | Caleb | |
| 67 | Berry | Kyle | |
| 68 | Hansen | Brad | |
| 69 | Seligman | Adam | |
| 70 | Myers | Mark | |
| 71 | Carlson | Tristan | |
| 72 | Covington | Jesse | |
| 73 | Mochizuki | Peter | |
| 74 | Cobine | Danny | |
| 75 | Perry | Devin | |
| 76 | Svoren | Andrew | |
| 77 | Ferrer | Jordan | |
| 78 | Boyle | Scott | |
| 79 | Sekara | Justin | |
| 80 | Sims | Justin | |
| 81 | Dubia | Adam | |
| 82 | Pahr | Nick | |
| 83 | Hill | Harold | |
| 84 | Jackson | Joshua | |
| 85 | Ardo | Chasen | |
| 86 | Spacey | Tanner | |
| 87 | Patty | Dan | |
| 88 | Tsuchida | Eric | |
| 89 | White | Schrader | |
| 90 | Idzerda | Mark | |
| 91 | Benoit | Kenny | |
| 92 | Butturff | Jacob | |
| 93 | Martinez | Zach | |
| 94 | Patrick | John | |
| 95 | Inafuku | Keene | |
| 96 | Malacky | Brandon | |
| 97 | Gibo | Cody | |
| 98 | Adsuara | Stanton | |
| 99 | Hewitt | Travis | |
| 100 | Coveris | Delano | |
| 101 | Ono | Jordan | |
| 102 | Hatchett | Eric | |
| 103 | Lee | Nicholas | |
| 104 | Lindeman | Curtis | |
| 105 | Fujita | Ronnie | |
| 106 | Bousman | Dylan | |
| 107 | Corrao | Andrew | |
| 108 | Hemming | Zach | |
| 109 | Takara | Ray | |
| 110 | Gonzalez | Michael | |
| 111 | Kennedy | Logan | |
| 112 | Lucente | Teddy | |
| 113 | Stanley | Marcus | |
| 114 | Page | Robert | |
| 115 | Chui | Kirk | |
| 116 | Williams | Ahkeen | |
| 117 | Ragland | Lance | |
| 118 | Raymond | Aaron | |
| 119 | Rhodes | Anthony | |
| 120 | Valleau | Shane | |
| 121 | Hayashi | Evan | |
| 122 | Vinyard | Nicholas | |
| 123 | Struckman | John | |
| 124 | McPherson | Cort | |
| 125 | Owen | Brandon | |
| 126 | Brown | Chris | |
| 127 | Ho | Matthew | |
| 128 | Boe | Tyler | |
| 129 | Martin | Chris | |
| 130 | Earle | Alex | |
| 131 | Lewandowski | Joe | |
| 132 | Updegraff | Daniel | |
| 133 | Canfield | Ben | |
| 134 | Robbins | Matt | |
| 135 | Lacona | Rane | |
| 136 | Besel | TJ | |
| 137 | Vasquez | Wishtoyo | |
| 138 | Van Rijsbergen | Spencer | |
| 139 | Tanna | Scott | |
| 140 | Oceguera | Adrian | |
| 141 | Wyman | Robert | |
| 142 | Briggs | Ryan | |
| 143 | Lucas | Jason | |
| 144 | Cleveland | Isaiah | |
| 145 | Johnson | Skyler | |
| 146 | Gordon | Casey | |
| 147 | Faulkerburg | Jared | |
| 148 | Preston | Jeff | |
| 149 | Lou | Brenden | |
| 150 | Markowitz | Gary | |
| 151 | Sinor | Cody | |
| 152 | Walker | Matt | |
| 153 | Newton | Cameron | |
| 154 | Hirsch | Brett | |
| 155 | Lucente | Teddy | |
| 156 | Gervacio | Abel Jr | |
| 157 | Oshiro | Kevin | |
scholarship earnings show position prizes and do not include all extras- see the scholarship chart for complete earnings