ACME BOWL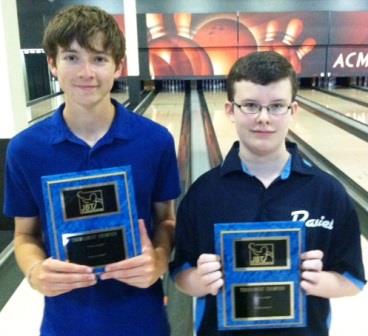 champs Brandon Jensen & Daniel Johnson
Brandon Jensen and Daniel Johnson each scored landmark victories in exciting JBT PacNW Conference action at the beautiful Acme Bowl in Tukwila.
Bowlers competed in the exciting new 'pick your survivor' format, which works just like regular survivor, except the higher seeds get to choose who they want on their pair in low-bowler-out single game matches. Gabe Bogner fired 288 en route to the scratch division top seed, but fell in the quarterfinal round, still good enough for 5th place. In the all-Oregonian semifinal matches, Connor Jackley doubled in the tenth to oust Brandon Myers 222-215, while Brandon Jensen outstruck Nick Devlin 246-237 to set up the title game.
Jensen has come back very strong in his return to JBT action, while Jackley, the defending Invitational champ, has showed no signs of slowing down from last season's strong finish. The well-bowled title match came down to the tenth frame, and when Connor couldn't get the first strike, Jensen escaped with a 223-214 win, and a first career scratch title to go with a previous handicap division win.
In handicap division semifinal matches, Daniel Johnson beat Michael Creel 231-181, and Zoe Mahn ousted top seed Kaytelyn Denune 207-176 to set up the title match. Mahn was looking for a hot start to avoid the points bubble she's found herself on each of the last two seasons, while Johnson was enjoying the best result of his JBT career by far. In the title game, it was Johnson who was able to keep the momentum going, as he ran away with a 246-189 win, good for the first title of his JBT career.
Elise Yates won the previous day's Women's Series event as the #2 seed, but she had the tables turned on her this time. She easily grabbed the top seed (while finishing 7th in the main tournament), but AJ Schock ground out a 155-142 win in the title game for her second career Women's win.
Thanks as always to the crew at the incredible Acme for all the hospitality. Want in on the most fun around for all ages and averages? Just check out the JBT schedule and come on down, that's all you have to do!
Acme Bowl- final results and scholarship winners
8/24/2014
Scratch Division
rank
bowler
prize
1
Brandon Jensen
$200
2
Connor Jackley
$100
3
Brandon Myers
$176
4
Nick Devlin
$89
5
Gabe Bogner
$30
6
Johnny Leggett
7
Elise Yates
8
Ryan DeFazio
9
Joey Huffman
$29
10
Ryan Nikolas
11
Daniel Hanson
$30
12
AJ Brockett
$14
13
Josh Alvarez
14
Quinton Miller
15
Tommie McNeal
16
Matthew Yaw
17
Tyler Hogstrom
18
Luke Jordan
19
Correen Lieber
20
Tyler Boe
$50
21
Kelsey Abrahamsen
22
Toby Shepherd
23
Jake Mullen
24
Jonathan Bautista
25
Tyler Satter
26
Kyler Crevier
Handicap Division
1
Daniel Johnson
$200
2
Zoe Mahn
$159
3
Kaytelyn Denune
$85
4
Michael Creel
$60
5
Johnny Stephens
$50
6
AJ Schock
$40
7
Collins Davis
$30
8
Nickolas Perini
$20
9
Holden Childs
$19
10
Armando Moser-Hernandez
$43
11
Andy Herrmann
$14
12
Kris Tomer
13
Kyle Jonson
14
Tyler Denune
15
Kyle Hays
16
Molly Warshaw
$30
17
Jerry Jennings
$15
18
Parker Portalski
19
Matthew Anderson
$30
20
Tristan Sievers
$15
21
Logan Hoover
22
Richard Sigmond
23
Kara Lieber
24
Josh Leinassar
25
Treyshawn Culpepper
26
Alex Perini
27
Candice Goldfinch
28
Becky Davidson
29
Salina Gabaldon
30
Brian DeLuisa-Anderson
31
Mikayla Hahn
32
Brendon Hopkins
33
Kate Schmidt
34
Shannon Bliquez
35
Haylee Kriss
36
Bailey Peters
37
Hayden Childs
38
Zane Hays
39
Alejandro Moser-Hernandez
40
Sara Harris
41
Nikita Benton
42
Cameron Pierre
43
Cameron Downing
High Games
Scratch
Handicap
1
Bogner 288
Holden Childs 280
2
Jackley 279
Holden Childs 273
3
Hanson 267
Jennings 267
4
Leggett 265
Arm. Moser-Hernandez 258
5
Huffman 260
Jonson 256
High Female
1
Yates +54
2
Schock -24*
3
C Lieber -64
4
Mahn -84
5
Abrahamsen -88
Round Leaders
Scratch
Handicap
1
Huffman
K Jonson
2
Bogner
Creel
3
Bogner
K Denune
4
Bogner
K Denune
5
Bogner
K Denune
TOTAL AWARDED THIS EVENT: $1,518
for more info, contact us at director@bowljbt.com. DO NOT use the AOL address below (we can't figure out how to get rid of it haha!)