ANTELOPE LANES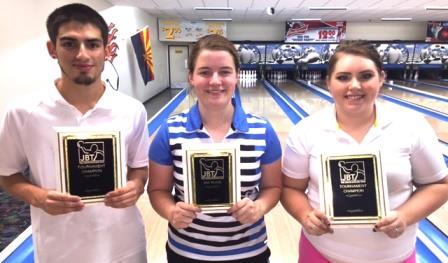 champs Kyle Duster, Heather Penatzer, and Amanda Atkin
Another thrilling finish at Antelope left Kyle Duster with a share of an unbreakable record, while Heather Penatzer and Amanda Atkin also achieved big goals, in exciting Arizona Conference JBT action.
All-Conference points leader Zack Long began the handicap division stepladder finals with a 219-188 win over Bex Boyko. Zack then stopped Sebastian Polhill 246-207. Amanda Atkin then turned the tables on Long with an exciting 222-219 win to advance to the title match.
Top seed Zach Rapp has had some painful second place finishes lately, all to much younger bowlers, so he was probably relieved to see someone near his own age for once. Unfortunately for Rapp it was the same result though, as Amanda bowled a strong game for a 227-204 win, and the third title of her JBT career.
KJ Martinez sent recent ASU graduate Ben Canfield home to San Diego wit ha 193-164 win to begin the scratch division stepladder finals. In match two, Martinez did something hardly anyone has been able to do lately and nobody could do this weekend- send Keith Fung to the sidelines- winning the match 217-210. Kyle Duster then put up a big number to stop Martinez 242-226 to advance to the final match.
Top seed Heather Penatzer showed the guys how it's done all day long, tossing 750+ in the semifinals to run away with the number one spot. She defended her seed well with an excellent 246 game, but could only watch with all of us as Duster ran the front nine to run away with the match. Kyle finished it off with a perfect tenth frame, firing the 7th perfect 300 game in JBT title match history. The watershed moment was good for the ninth title of his JBT career.
Penatzer was still a winner on the day, as she and Amanda Atkin squared off in the girls' title match, with Heather winning 224-188. It's Heather's third win, qualifying her for the Girls TPC this July.
Thanks as always to the crew at Antelope for hosting our Tour. Want in on all this fun? Just check out our schedule and come on down!
Antelope Lanes- final results and scholarship winners
5/17/2015
Scratch Division
rank
bowler
prize
1
Kyle Duster
$200
2
Heather Penatzer
$100
3
KJ Martinez
$120
4
Keith Fung
$30
5
Ben Canfield
$30
6
Dallas Leong
7
Brandon Myers
$28
8
Cortez Schenck
$14
9
Josh Fearing
10
Steven Acuff
11
Josh Demick
12
Joe Grondin
$5
13
Max Polhill
14
Jordan Hastings
15
Gillian Coyle
16
Chase Clark
17
Tim Crosswhite
18
Tyler Satter
19
Kyle Perry
Handicap Division
1
Amanda Atkin
$200
2
Zach Rapp
$100
3
Zack Long
$65
4
Sebastian Polhill
$40
5
Bex Boyko
$133
6
Dante Rohe
$108
7
Rachael Berg
8
Amelia LaFace
9
Rashaad Jordan
10
Justin Lawrence
11
Abby Franklin
12
Cristian Roque
13
Destiny Johnson
14
Tyler Hedges
$15
15
John Newton
16
Brandon Rouse
17
Chris Rouse
18
Clifford Robbins
19
William Robbins
20
Joey Metzer
21
Celeste Valdez
22
Phillip Sauve
23
Samantha Sellers
24
Paul Colyer
$5
25
Tarik McCMaster
26
Kyle Lawrence
27
Michelle Jenkins
28
Ryan Perry
29
Mikaela Rouse
30
Mathew Adragna
31
Kyle Gilbert
32
Anthony Smith
33
Sarah Halligan
$5
High Games
Scratch
Handicap
1
Duster 300
Long 270
2
Fung 266
Rapp 266
3
Fearing 265
J Lawrence 265
4
Duster 265
Rohe 261
5
Duster 262
Boyko 258
High Female
1
Penatzer +110*
2
Atkin +44
3
Berg -25
4
Boyko -40
5
Coyle -83
Round Leaders
Scratch
Handicap
1
Fung
Atkin
2
Fung
Atkin
3
Fung
Atkin
4
Martinez
Atkin
5
Martinez
Long
6
Fung
Long
7
Penatzer
Long
8
Penatzer
Rapp
Total Awarded This Event: $1,203