SO CAL DOUBLES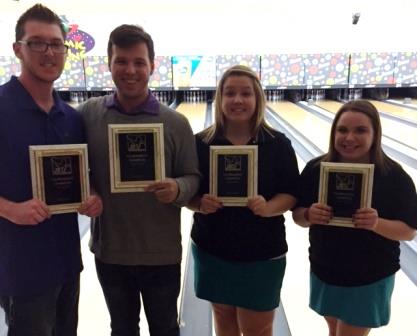 champs James Hawkins & Riley Dempsey, and Shelby Dempsey & Marguerite Evans
Two scratch division veterans piled on another title to their resumes, while two veteran ladies finally tasted victory with their first titles, in exciting action at the JBT So Cal Doubles Classic, hosted by Montclair's Bowlium.
Riley Dempsey and a one-handed James Hawkins began a climb up the scratch division stepladder finals with a 181-170 win over Cortez Schenck and Derek Acuff in an alternate-frame match. The next match was another grindout, and Riley and James snuck by Bobby Hornacek and Zack Jellsey 186-182. They then turned it up with the high game of the finals in a 214-199 win over Eric Hatchett and Oscar Chan to advance to the title match.
Top seeds and ASU standouts Russ Oviatt and Ben Canfield made a formidable team, taking over the lead back in game five. However, the already challenging pattern deteriorated into sheer brutality by the end of the long day, forcing Russ to split boards and forcing everyone else to loft the gutters. After Ben threw a clutch tenth frame double, Dempsey was forced to strike for the win. Like he was all day, Riley came up clutch again, throwing an in-front-of-the-ball-return, sixth arrow strike for a 169-164 win. It's the 16th win of his JBT career, while Hawkins earns an 11th title as an adult to go with his 10 junior JBT wins.
Matthew Green and his mom Karen also made a run up the stepladder with a 213-178 handicap division win over the sister team of Amanda and Alexis Atkin. The Greens then stopped the sibling team of Michaela and Lawrence Buhain 130-111. They rolled on in the semifinals, beating Cameron Criss and Benjamin Byers 187-138 to advance to the title match.
Top seeds Marguerite Evans and Shelby Dempsey have both come oh-so-close to JBT titles before, especially Evans as of late. This match remained tight all the way, as all four bowlers came up with clutch shots late in the match. After Shelby filled twenty in her tenth frame, it was up to Matthew to double for the title. Green was able to get the first strike, but when a wobbly 10-pin stood up on his second shot, and elated Marguerite and Shelby finally, finally, FINALLY claimed their first JBT titles each.
Huge thanks to all the adults that took time to bowl with today's JBT bowlers, as well as Scott and the team at Bowlium for another great job hosting our Tour! If you missed all this fun, don't let that happen again! Check out our schedule and get yourself to our next event!
So Cal Doubles- final results and scholarship winners
11/29/2014
Scratch Division
rank
bowler
prize
bowler
prize
total
1
James Hawkins
Riley Dempsey
$300
$300
2
Ben Canfield
$100
Russ Oviatt
$100
$200
3
Eric Hatchett
$75
Oscar Chan
$75
$150
4
Bobby Hornacek
$100
Zack Jellsey
$100
5
Cortez Schenck
$96
Derek Acuff
$40
$136
6
TJ Rock
$28
Harley Sweigart
$15
$43
7
Brandon Wanders
Nick Pollak
8
Kyle Reed
Brian Reed
9
Anthony Cando
Billy Dacanay
10
Terrence Robinson
DeeRonn Booker
11
Anthony Schanen
Andrew Svoren
$13
$13
12
Kyle Duster
Austin Thompson
13
Matt Zweig
Kirk Chui
14
Max Polhill
Alex Watanabe
15
Danny Cobbs
Randi Speiler
16
Steven Kampley
Jason Larcome
17
Nick Condon
Chris Tucker
Handicap Division
1
Marguerite Evans
$150
Shelby Dempsey
$150
$300
2
Matthew Green
$273
Karen Green
$273
3
Benjamin Byers
$75
Cameron Criss
$90
$165
4
Michaela Buhain
$50
Lawrence Buhain
$50
$100
5
Amanda Atkin
$80
Alexis Atkin
$80
6
Tyler Handa
$60
John Handa
$60
7
KJ Martinez
$13
Brooke Martinez
8
Jarred Starr-Moncayo
$28
Evet Starr-Moncayo
$28
9
Shauna Schultz
Courtney Schultz
10
Andrew Chan
Dawson Reese
11
Zack Long
Mike Long
12
Dillon Nilsen
Paul Nilsen
13
Kaitlynn Martin
$15
Krystopher Martin
$15
14
Secilia Kalvelage
John Kalvelage
15
Nicholas Dorn
$5
Leoj Chin
$33
$38
16
Kylie Shishima
$39
Chase Jamar
$39
17
James McGough
Brandon Loss
18
Austin Veteto
Chris Davis
19
Jacob Murray
Stacy Murray
20
Leah Zweig
Steven Acuff
21
Tre Mitchell
Andy Clark
22
Dustin Yauney
Trevor Thompson
$5
$5
23
Miguel Meraz
Alberto Bernal
24
Sebastian Polhill
Ryan Galland
25
Taylor Berry
Doc Adelson
26
Dante Villa
Maikayla Villa
High Games
Scratch
Handicap
1
Canfield 259
Veteto 264
2
Pollak 256
Reese 262
3
Chan 247
KJ Martinez 258
4
Schenck 245
S Dempsey 257
5
Rock 245
Byers 251
Round Leaders
Scratch
Handicap
1
Acuff-Schenck
Berry-Adelson
2
Pollak-Wanders
Evans-Dempsey/Green
3
Pollak-Wanders
Green-Green
4
Pollak-Wanders
Green-Green
5
Canfield-Oviatt
Evans-Dempsey
6
Canfield-Oviatt
Evans-Dempsey
7
Canfield-Oviatt
Evans-Dempsey
TOTAL AWARDED THIS EVENT: $2,058