CACTUS BOWL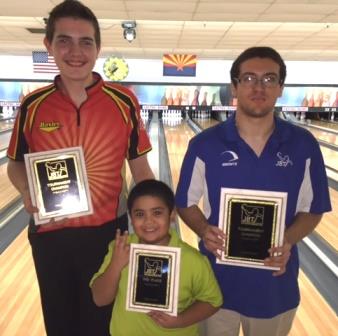 champs Russ Oviatt & Chad Alexander, with runner-up Daryus Alo
Russ Oviatt and Chad Alexander claimed JBT titles in exciting Arizona Conference action at Cactus Bowl in Tucson.
El Paso bowler Andrew Esparza began the scratch division stepladder finals with a 216-172 win over Aaron Yamamoto. Ben Canfield then blasted a big game to defeat Esparza 154-192. Russ Oviatt then came up with a rare Dutch 200 in a 200-184 win over Canfield to advance to the title match.
Jakob Butturff used a 278 closing game in the semifinals to leap into the tournament lead, and managed to save two 'mulligans' for the title match. However, Oviatt had been ultra conservative and had all four do-overs he earned in the unique format throughout the day. He must have figured Jakob would put up a big number because he used his first mulligan on an 8-count first frame. That played a big part in the end, because the game got very bizarre at the end. On four in a row, Russ left a bucket and used muligan #3 only to get worse with a 6-7-10, which he again mulliganed, and ended up with an even worse 2-8-10, which he missed to open the door for Butturff. As he almost always does, Jakob took advantage with a double, but an 11th frame bucket of his own, with only two on the fill, gave Russ a chance to fill 20 in the tenth to tie- but he'd have to do it on the lane he completely lost last time. Somehow, Oviatt dug deep and struck on the first ball, ensuring a 219-211 win, and a hard earned fifth career JBT title.
Elijah Melchor, already a winner this season at Tri City, began the quest for another handicap title with a 193-190 win over Jarred Starr-Moncayo. Melchor then got past Celeste Valdez 249-211, but fell in a tight seminal match to Chad Alexander 207-201, and Chad moved on to the title match.
Top seed Daryus Alo again proved any age can do well with us, as the talented 8 year-old stayed steady all day and grabbed the tournament lead after game eight. However, he struggled a bit in the title match, and the veteran Alexander was able to take advantage, winning the match 218-181 for a long awaited first career JBT title.
Valdez avenged her stepladder loss with a 177-152 win over Abby Franklin to capture the day's Women's Series title, the first of the season for Celeste.
Thanks as always to Dale and the crew at Cactus for a great job hosting us. Want in on all the excitement? Just come on out to the next JBT event, that's all you have to do!
Cactus Bowl- final results and scholarship winners
10/25/2014
Scratch Division
rank
bowler
prize
1
Russ Oviatt
$200
2
Jakob Butturff
$110
3
Ben Canfield
$60
4
Andrew Esparza
$40
5
Aaron Yamamoto
$20
6
Matt Zweig
$60
7
Anthony Inzetta
8
Dallas Leong
9
Ricardo Mendoza
10
Josh Franz
11
Bryan Van Sickle
$5
12
Nick Pollak
13
Wesley Low
14
Cam Lamson
15
Matthew Redmon
16
Josh Demick
17
Max Polhill
18
Patt Intarakamhang
19
Keith Fung
20
Robert Douglas
21
Ken Chruschinski
22
Anton Ebenal
23
Josh Fearing
24
Tim Jacob
Handicap Division
1
Chad Alexander
$200
2
Daryus Alo
$100
3
Elijah Melchor
$60
4
Celeste Valdez
$50
5
Jarred Starr-Moncayo
$40
6
Rashaad Jordan
$90
7
Abby Franklin
$100
8
Kendra Edgett
$15
9
Dante Rohe
10
Bex Boyko
$29
11
Rachael Berg
$15
12
Nikolas Hoganson
13
Samantha Sellers
14
Phillp Sauve
$15
15
Kyle Ponzo
$15
16
Paul Colyer
$15
17
Joshua Beckett
18
Trishelle Leal
19
Keith Ylvisaker
20
Gillian Coyle
21
Aaron Coleman
22
Sebastian Polhill
23
David Rohe
24
Brenden Hoganson
25
Destiny Johnson
26
John Newton
27
James Burke
28
Tony Edgett
29
Ryan Zent
30
Cassie Collins
31
Phillip Romero
32
Matthew Adragna
33
Rob McClelon
$10
34
Ace Ebenal
35
Vanessa Romero
36
Sarah Halligan
37
Zach Rapp
High Games
Scratch
Handicap
1
Butturff 278
Moncayo 278
2
Yamamoto 277
Boyko 257
3
Esparza 257
Valdez 253
4
Canfield 257
Melchor 249
5
Canfield 254
Melchor 249
Leong 254
High Female
1
Franklin -152
2
Valdez -157*
3
Coyle -175
4
Boyko -186
5
Berg -193
Round Leaders
Scratch
Handicap
1
Yamamoto
Valdez
2
Yamamoto
Alo
3
Butturff
Alo
4
Yamamoto
Alo
5
Oviatt
Franklin
6
Oviatt
Moncayo
7
Oviatt
Valdez
8
Butturff
Alo
Total Awarded This Event: $1,249