CACTUS BOWL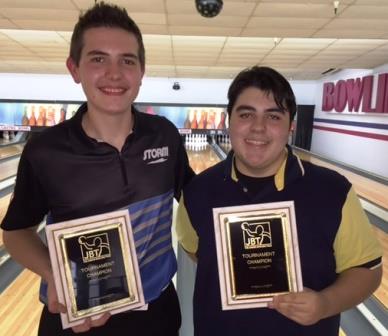 champs Russ Oviatt & Zach Rapp
Zach Rapp recovered from a slow start to the season to win the handicap title of the JBT event at Cactus Bowl, but Russ Oviatt stole the show, rolling 300 in the title match and STILL barely winning, in breathtaking Arizona Conference action that rewrote the history books.
All-Conference points leader Abby Franklin began the handicap division stepladder finals with a 192-183 win over Rachael Berg. Franklin then survived another squeaker, this time 212-206 over recent champ "Aaron Man", Aaron Coleman. Zach Rapp then stopped Franklin's run 223-202 to move on to the title match.
There's no way to sugarcoat it, Rapp has struggled big-time all season, while top seed Kendra Edgett has blossomed since switching from a backup ball to a conventional hook, grabbing the top seed here. However, she struggled a little bit in the title match, and Zach completed his bowling resurrection with a 226-192 win that earned him the second title of his JBT career.
Scratch division bowlers were tested by the nervewracker format, where head to head matches that are tied 1-1 are immediately decided by one shot rolloffs. In the semifinals, Zach Martinez stopped 30-time champ Jakob Butturff 2-0, while previous day's champ Russ Oviatt got past the always tough Dallas Leong to set up the title match.
Russ was looking for a rare weekend sweep after a thrilling win the day before, while Martinez was looking for his first title since sweeping the Cliff Castle weekend over four years ago! Zach looked sharp in winning the first game, forcing Oviatt to win the next game to get to the tiebreaker. Russ left no question there would be a nervewracker as he ran the front nine, leaving only the question of whether he'd shoot 300 in doing so. That question was answered by three more emphatic strikes, giving Russ only the 5th title match 300 in the JBT's 19 season and 1200 tournament history- joining among others ASU teammate Ben Canfield, who did so just seven days ago (neither of which were shot on easy lane patterns at all)!
Of course, all that only resulted in a 1-1 matchplay tie, meaning Russ (and Zach for that matter, who had struggled to 175 the last game) would have to settle down and regroup for the one-shot rolloff, meaning, crazily, that Oviatt was one shot away from losing the title after shooting 300. It looked like that was exactly what was going to happen, as Russ left a ringing 10-pin on his rolloff shot. However, Martinez countered with an equally vicious 10-pin to force rolloff #2. This time, Oviatt left a 4-pin, but Zach could only manage an 8-count on his turn, and a relieved Russ came away with the win, his 6th career JBT title, and maybe the most thrilling sweep of a weekend in JBT history!
During all this, Adel Wahner was waiting for the Women's Series title match, and she performed well when it was finally her turn, defeating Abby Franklin for her first Women's Series title of the season.
Big thanks to Cactus Bowl, one of JBT's biggest supporters, for hosting our events. You shouldn't miss any of this fun! So, check out our schedule and come on down!
Cactus Bowl- final results and scholarship winners
10/26/2014
Scratch Division
rank
bowler
prize
1
Russ Oviatt
$200
2
Zach Martinez
$143
3
Dallas Leong
$74
4
Jakob Butturff
$40
5
Max Polhill
$20
6
Ben Canfield
7
Josh Demick
$28
8
Matt Zweig
9
Adel Wahner
$24
10
Cortez Schenck
11
KJ Martinez
12
Andrew Esparza
13
Wesley Low
14
Bryan Van Sickle
15
Anthony Inzetta
16
Jarrod Davenport
17
Keith Fung
18
Jake Hilton
19
Nick Pollak
20
Mark Vigil
21
Tim Jacob
22
Ricardo Mendoza
23
Ken Chruscinski
Handicap Division
1
Zach Rapp
$200
2
Kendra Edgett
$160
3
Abby Franklin
$70
4
Aaron Coleman
$40
5
Rachael Berg
$35
6
Phillip Sauve
$35
7
Celeste Valdez
$15
8
James Burke
$60
9
Jarred Starr-Moncayo
10
Tony Edgett
$15
11
David Rohe
12
Paul Colyer
13
Rashaad Jordan
14
Vanessa Romero
15
Ryan Zent
16
Samantha Sellers
17
Gillian Coyle
18
Kyle Ponzo
19
Chad Alexander
20
Bex Boyko
$15
21
Sebastian Polhill
22
Dante Rohe
23
Rob McClelon
$5
24
Matthew Adragna
25
John Newton
26
Joseph Metzer
27
Daryus Alo
28
Sarah Halligan
29
Destiny Johnson
$15
High Games
Scratch
Handicap
1
Oviatt 300
K Edgett 276
2
Oviatt 269
V Romero 264
3
Z Martinez 269
Franklin 259
4
Canfield 266
Berg 255
5
Canfield 265
Colyer 248
High Female
1
Wahner -12*
2
Franklin -81
3
Berg -111
4
Coyle -135
5
V Romero -153
Round Leaders
Scratch
Handicap
1
Esparza
Berg / Adragna
2
Canfield
Franklin
3
Polhill / Oviatt
Coleman
4
Oviatt
Franklin
5
Oviatt
Franklin
6
Coleman
7
K Edgett
8
K Edgett
Total Awarded This Event: $1,164