CAL BOWL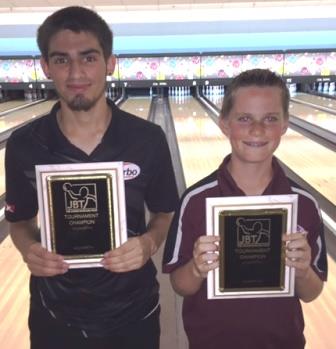 champs Kyle Duster & Costa Gastouniotis
Kyle Duster remained on a major roll, while Costa Gastouniotis tasted victory for the first time, in exciting JBT So Cal Conference action at Cal Bowl in Lakewood.
Harley Sweigart opened up the scratch division stepladder finals with a big 261-219 win over Ben Canfield. Brandon Wanders then turned the tables with a 256-188 win over Sweigart. Brandon kept rolling in the semifinals, defeating Eric Hatchett 235-214 to move on to the title match.
Duster was 100 pins clear of the field going into game seven, then put an exclamation mark on the day with a perfect 300 game, his second in as many JBT events. Sometimes stepladder finals can be tough on top seeds when they lead by so much, but not this time, as Kyle came up with another 11-strike performance in a 262-177 win over Wanders. It's his tenth career JBT title, making him only the 35th bowler in JBT history to achieve that incredible accomplishment.
Kyle Reed opened up the 8-bowler handicap stepladder with a big 236 that defeated Ryland Pimentel's 210 and Jacob McGough's 193. Reed stayed hot in round two, firing 242 to oust Arizonans Kyle Ponzo (172) and Abby Franklin (186). Points leader Zack Long then shot a fine 218 in the semifinal, but could only watch as Costa Gastouniotis got his revenge from a crushing loss to Reed earlier this season by firing a 255 game that just edged Kyle's 245, moving Costa on to his first title match.
Top seed Justin Patten dominated the tournament en route to the number one spot, and showed why with a great title game, but he had his hands full with Costa, matching him strike for strike in an impressive display by both youngsters. Justin ended up needing a tenth frame strike to win, and when he didn't get it, Costa was left with a thrilling 267-250 win, and his first career JBT title.
Two talented ladies home from college, Correen Lieber and Brittany Kolatzny, squared off in the day's girls' title match, and it was Lieber winning 248-199, with the resulting points enough to squeeze both players into the next day's Girls Invitational.
Big thanks to everyone at Cal Bowl for a great job hosting our Tour for the first time. Want in on all this excitement for bowlers of all ages and averages? Just check out our schedule and come on down, that's all there is to it!
Cal Bowl- final results and scholarship winners
5/30/2015
Scratch Division
rank
bowler
prize
1
Kyle Duster
$200
2
Brandon Wanders
$100
3
Eric Hatchett
$90
4
Harley Sweigart
$69
5
Ben Canfield
$30
6
Austin Thompson
7
Matt Zweig
8
Jerome Jordan
$15
9
Kirk Chui
$30
10
James Knapp
11
Joe Grondin
12
Anthony Schanen
13
Alex Watanabe
14
Brittany Kolatzny
15
KJ Martinez
$15
16
Parker Brooks
17
Max Polhill
18
Correen Lieber
19
Randi Speiler
20
Cortez Schenck
21
Kennison Andrews
$45
22
Stephanie Zavala
23
Greg Adler
24
Jacob Camacho
$15
25
Nick Condon
26
BJ Harlan
27
Kyle Andrews
$15
28
Evan Abram
29
Clint Strawmyer
30
Steven Acuff
Handicap Division
1
Costa Gastouniotis
$250
2
Justin Patten
$125
3
Kyle Reed
$100
4
Zack Long
$80
5
Kyle Ponzo
$120
6
Abby Franklin
$50
7
Ryland Pimentel
$40
8
Jacob McGough
$30
9
Cristian Roque
$167
10
Dante Rohe
$30
11
Brandon Lim
$19
12
Maikayla Villa
13
Sebastian Polhill
14
Krystopher Martin
15
Kylie Shishima
16
Jake Murray
17
Faith Bennett
18
Tyler Hedges
$148
19
Matt Green
20
Kyle Gilbert
$44
21
Kaitlynn Martin
$15
22
Leah Zweig
23
Dustin Yauney
24
Shauna Schultz
25
Gael Egana
26
Austin Gilbert
27
Katelyn Corwin
28
Andrew Chan
29
Jared Schiada
30
Marguerite Evans
31
Megan Carpenter
32
Renee Gentry
33
Benjamin Byers
34
Marc Villalobos
35
Brandon Criss
36
Trevor Thompson
37
Katie Kipler
38
Secilia Kalvelage
39
Dawson Reese
40
Matthew Baker
41
Jarred Starr-Moncayo
42
Bex Boyko
43
James McGough
44
Taylor Berry
45
Amanda Atkin
46
Paul Colyer
47
Cameron Criss
48
Dante Villa
49
Ryan Langenhorst
50
Matthew Carpenter
$5
51
Tim Hill
Scratch
Handicap
1
Duster 300
Long 281
2
Wanders 276
Pimentel 269
3
Duster 274
Bennett 269
4
Wanders 269
Long 268
5
Watanabe 269
Gastouniotis 267
High Female
1
Kolatzny -52
2
Lieber -87*
3
Speiler -88
4
Gentry -90
5
Zavala -97
Round Leaders
Scratch
Handicap
1
Zweig
Patten
2
Duster
Gastouniotis
3
Canfield
Patten
4
Hatchett
Patten
5
Duster
Patten
6
Duster
Patten
7
Duster
Patten
8
Duster
Patten
Total Awarded This Event: $1,847