CERBAT LANES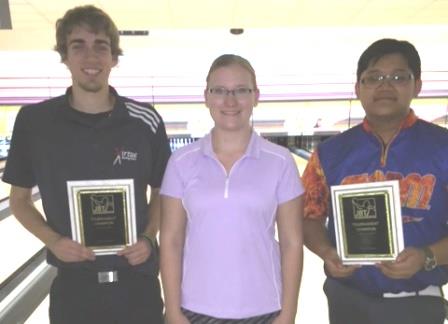 champs Ben Canfield & Jopfel Gafate with Women's Series winner Rachael Berg
Ben Canfield and Jopfel Gafate emerged from an exciting matchplay round to capture JBT titles in dual Arizona and Mojave Conference action at Kingman's Cerbat Lanes.
Canfield's ASU teammate Russ Oviatt fired 254 at Ben in the first of the two-game total pinfall scratch semifinal, but Ben bounced back with 253 in game two to win the match 469-447. In the other semi, Cortez Schenck trailed Eric Hatchett 258-246 after a high scoring first game, but Schenck's 213-184 game two advantage gave him a 459-432 win to propel him to yet another title match.
The title match was more of a grind than the semifinal matches, and Schenck could never get comfortable on teh final pair despite keeping the match close. In the end, the veteran Canfield pulled out a 203-192 win, earning the 22nd title of his exceptional career, tying USBC President and JBT great Andrew Cain (who worked with Ben during the week) for 9th on the all-time list.
Handicap division quarterfinal matches were won by #4 seed Kyle Rendon, #3 Gafate, newcomer #10 Michael Owens, and 16 seed Brendan Lindsey, making an impressive run from sneaking in the cut to oust top seed Brandon Duffy and 9 seed Jarred Starr Moncayo. Rendon then stopped Lindsey's run in the one-game semifinal 230-199, while Gafate beat a tiring Owens 222-147 in the other semi to set up the title match between Vegas JBT regulars.
Jopfel set a pace Kyle couldn't keep up with in the title match, and the 218-173 final result gave Gafate the second title of his JBT career.
The Women's Series title match was a classic between Randi Speiler and Rachael Berg. Speiler, needing a double to win, left a 7-pin on her first shot in the tenth, giving Berg the 202-199 win and her second girls' win of the season.
Thanks as always to the great team at Cerbat for all their weekend-long hospitality at one of our favorite annual stops. Want in on all the fun and excitement for all ages and averages? Just check out our schedule and come on down!
Cerbat Lanes- final results and scholarship winners
3/1/2015
Scratch Division
rank
bowler
prize
1
Ben Canfield
$200
2
Cortez Schenck
$150
3
Eric Hatchett
$60
4
Russ Oviatt
$30
5
KJ Martinez
$40
6
Steven Acuff
7
Brendan Thomas
8
Nick Pollak
9
Keith Fung
10
Cerell Cardines
$400
11
Randi Speiler
12
Anthony Inzetta
13
Andrew Guba
14
Teagan Smale
15
Alex Watanabe
16
Jamison Peyton
17
Tyler Satter
18
Max Polhill
19
Josh Demick
20
Nick Gengler
Handicap Division
1
Jopfel Gafate
$200
2
Kyle Rendon
$100
3
Michael Owens
$50
4
Brendan Lindsey
$40
5
Destiny Johnson
$30
6
Jarred Starr-Moncayo
$25
7
Daryus Alo
8
Dee Handley
$8
9
Brandon Duffy
10
Sebastian Polhill
11
Samantha Potter
$15
12
Tyler Hedges
$159
13
Abby Franklin
$15
14
Rachael Berg
15
Ryan Zent
$15
16
Paul Colyer
17
Derick Poole
18
Danny Hove
$35
19
Kenny Gengler
20
Krystal Amico
21
Kyle Gilbert
22
Bex Boyko
23
Gillian Coyle
24
David Galvan
25
Mathew Adragna
$8
26
Tyler Thomas
27
Zack Long
28
Devyn Patalina
29
Phillip Sauve
30
Amanda Atkin
31
Silas Phillips
32
Dante Rohe
33
Dylan Amico
34
April McDonnell
High Games
Scratch
Handicap
1
Hatchett 279
Johnson 267
2
S Acuff 278
Duffy 261
3
Hatchett 278
Lindsey 258
4
Pollak 265
Alo 257
5
Hatchett 258
Rendon, Potter, Gafate 253
High Female
1
Speiler -7
2
Berg -102
3
Potter -106
4
Coyle -113
5
Franklin -146
Round Leaders
Scratch
Handicap
1
Hatchett
Long
2
Hatchett
Gafate
3
Hatchett
Johnson
4
Hatchett
Duffy
5
Martinez
Duffy
Total Awarded This Event: $1,243