DEER VALLEY LANES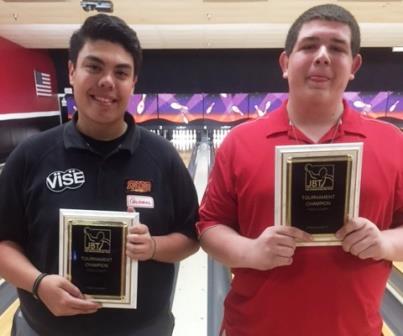 champs Keith Fung & Dante Rohe
Keith Fung and Dante Rohe each claimed their first titles in their divisions, in exciting JBT Arizona Conference action at AMF Deer Valley Lanes in Phoenix.
After five games, bowlers competed in 'pick your poison' matchplay, where higher seeds chose who they wanted to bowl in their matches. Cortez Schenck lapped the field in qualifying, going exactly +300 for his five games. He got past his first round, but chose unwisely in the semifinals, as Keith Fung blasted 298 in the first game against Schenck en route to a 500-347 two game win. In the other semifinal, Ben Canfield got past Dallas Leong to set up the one-game finale.
Fung has struggled for most of the season, but it all clicked back into place here. He started the title match strong to give the veteran Canfield no chance. Keith's 256-194 eventual win gave him a long-awaited first scratch title to go along with an earlier handicap win.
Sixteen handicap division matchplay bowlers were carved down to four, and in exciting one-game semifinal matches, Dante Rohe stopped top-seed Jacob Soulierre, who made an impressive JBT debut, 204-192. The other semi came down to a single pin, as Elijah Melchor defeated Allyssa Caron 229-228, to move on to his second career title match.
Rohe has done consistently well in his JBT career, but had been unable to get into the winner's circle. That changed this time, as Rohe stayed in control for a 227-203 win, and the long awaited first career JBT title.
Adel Wahner continued her solid bowling of late with a 204-166 win against Amanda Atkin to capture the day's Women's Series title.
Thanks as always to the team at Deer Valley for hosting our Tour. Want in on the fun? Just check out our schedule and come on down!
Deer Valley- final results and scholarship winners
3/21/2015
Scratch Division
rank
bowler
prize
1
Keith Fung
$212
2
Ben Canfield
$100
3
Cortez Schenck
$96
4
Dallas Leong
$40
5
Russ Oviatt
$30
6
KJ Martinez
$12
7
Nick Pollak
8
Jake Hilton
9
Anthony Inzetta
10
Ryan Gose
11
Adel Wahner
12
Steven Acuff
13
Gillian Coyle
14
Max Polhill
15
Mark Vigil
16
Josh Demick
17
Conner Scott
Handicap Division
1
Dante Rohe
$200
2
Elijah Melchor
$100
3
Jacob Souliere
$89
4
Allyssa Caron
$50
5
Jake Tucker
$40
6
Zach Lewandowski
$45
7
Michael McQuisten
$20
8
Cristian Roque
$137
9
Kendra Edgett
$74
10
Rashaad Jordan
11
Justin Lawrence
12
Amanda Atkin
$5
13
Christian Caron
14
Bex Boyko
$30
15
Candace Gardner
16
Phillip Sauve
17
Connor Pape
18
Tyler Hedges
$8
19
Mathew Adragna
$15
20
Clifford Robbins
$5
21
William Robbins
22
Sarah Halligan
23
Destiny Johnson
24
Rachael Berg
25
Zack Long
26
Sebastian Polhill
27
Tony Edgett
$15
28
Brooke Collins
29
Kyle Welty
30
Abby Franklin
31
Vanessa Romero
32
Aaron Coleman
33
Kyle Ponzo
34
Marc Villalobos
35
Sean Scheirmann
36
Kyle Lawrence
37
Brad Zagerman
38
Chad Alexander
39
Jarred Starr-Moncyo
40
Wyatt Dessenberger
$5
41
Jacob Ellis
42
Paul Colyer
43
Kyle Gilbert
44
Shawn Clemmer
High Games
Scratch
Handicap
1
Fung 298
Soulierre 286
2
Schenck 280
Soulierre 284
3
Schenck 279
Soulierre 281
4
Oviatt 277
Lewandowski 277
5
Leong 268
K Edgett 274
High Female
1
Wahner -42*
2
Atkin -51
3
K Edgett -53
4
Coyle -77
5
A Caron -77
Round Leaders
Scratch
Handicap
1
Schenck
Tucker
2
Canfield
Soulliere
3
Schenck
K Edgett
4
Schenck
Tucker
5
Schenck
Soulliere
Total Awarded This Event: $1,328