DEER VALLEY LANES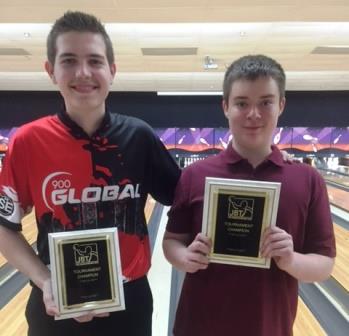 champs Russ Oviatt & Cristian Roque
Russ Oviatt and Cristian Roque each earned exciting JBT victories in Arizona Conference action at Deer Valley Lanes.
Dallas Leong began the scratch division stepladder finals with a 222-142 win over Nick Pollak, who bravely fought through the match after a nasty fall in the last semifinal game. Ben Canfield then beat Leong 212-180, and followed with a 224-188 win over Cortez Schenck to reach the title game.
Russ Oviatt was stuck in sixth place with one game to go, then fired 278 to vault all the way to the top seed. He continued that roll by running the front eight strikes, looking to become the first bowler to ever shoot 300 twice in a JBT title match. The string ended in the ninth, but he still cruised over his ASU teammate in a 266-224 win, good for the 8th title of his JBT career.
Rachael Berg began an 80% female handicap finals with a 215-191 win over first-time finalist Sarah Halligan. Berg then turned it up a lot, beating talented New Mexican Vanessa Romero 262-183. Washington's Brooke Collins then defeated Berg 222-211 to advance to the title match.
Cristian Roque defended the guys' honor by claiming the top seed, like Russ, with a big last semifinal game. The title match turned into a struggle, with both bowlers below the torrid pace they each set earlier. However, Brooke pulled it together with late marks, forcing Roque to do the same. After converting a 10-pin in the ninth, he spared a 3-6-10 in the tenth to lock up a 176-167 win and his first career JBT title.
Collins and Romero also found themselves in the Women's Series title game, and Brooke was dominant in that one, beating Vanessa 214-157 for the day's girl's crown.
Thanks as always to the crew at Deer Valley for a great job hosting us, as well as Racks Pro Shop for their continued sponsorship of Arizona Conference events. Want in on all this fun? Just check out our schedule and come on down!
Deer Valley- final results and scholarship winners
3/22/2015
Scratch Division
rank
bowler
prize
1
Russ Oviatt
$200
2
Ben Canfield
$100
3
Cortez Schenck
$88
4
Dallas Leong
$94
5
Nick Pollak
$20
6
Derek Acuff
$10
7
Jake Hilton
8
Connor Gerchak
9
Anthony Inzetta
10
Aaron Yamamoto
11
KJ Martinez
12
Keith Fung
13
Adel Wahner
14
Mark Vigil
15
Max Polhill
16
Chase Clark
17
Josh Demick
18
Conner Scott
$5
19
Ryan Gose
20
Steven Acuff
Handicap Division
1
Cristian Roque
$245
2
Brooke Collins
$100
3
Rachael Berg
$75
4
Vanessa Romero
$50
5
Sarah Halligan
$70
6
Kyle Lawrence
$45
7
Kyle Ponzo
$80
8
Elijah Melchor
9
Rashaad Jordan
10
Zach Papp
11
Mathew Adragna
$30
12
William Robbins
13
Kyle Gilbert
14
Abby Franklin
15
Zack Long
$59
16
Justin Lawrence
$15
17
Marc Villalobos
18
Katherine Hurley
19
Dante Rohe
$15
20
Destiny Johnson
21
Jake Tucker
22
Wyatt Dessenberger
23
Sebastian Polhill
24
Amanda Atkin
25
Bex Boyko
26
Annie Hurley
27
Clifford Robbins
28
Aaron Coleman
$14
29
Jarred Starr-Moncayo
30
Amelia LaFace
31
Phillip Sauve
32
Joshua Molloy
$5
33
Connor Pape
34
Paul Colyer
35
Brad Zagerman
36
Tyler Hedges
37
Anthony Smith
38
David Coughlin
39
Shawn Clemmer
High Games
Scratch
Handicap
1
Oviatt 278
Collins 298
2
Yamamoto 277
Roque 287
3
Oviatt 266
Gilbert 271
4
Pollak 259
Franklin 271
5
Canfield 258
Romero 268
High Female
1
Collins -2*
2
V Romero -17
3
Wahner -88
4
Berg -112
5
Atkin -123
Round Leaders
Scratch
Handicap
1
Pollak
Collins
2
Pollak
Collins
3
Pollak
Collins
4
Oviatt
Halligan
5
Pollak
Collins
6
Schenck
Roque
7
Schenck
Collins
8
Oviatt
Roque
Total Awarded This Event: $1,409