THE EPICENTER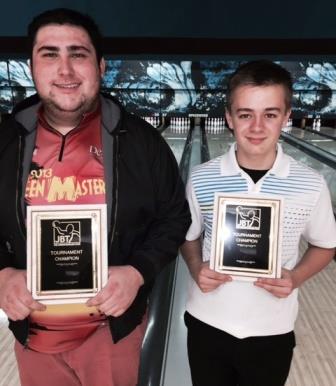 champs Trevor Hiatt & Brendan Hopkins
Trevor Hiatt and Brendan Hopkins captured JBT titles in exciting Pacific Northwest Conference action at The Epicenter in Klamath Falls.
Kelsey Abrahamsen broke through for her first scratch top five finish, and opened her first stepladder in style with a 201-169 win over Brandon Jensen. Brandon Myers then stopped Kelsey in a 213-210 squeaker. Local bowler Trevor Hiatt then ousted Myers 214-191 to advance to the title match.
Top seed Johnny Leggett grabbed the lead with a blistering 724 semifinal set. However, he was unable to maintain that momentum in the title match, as Hiatt came up with a big game in a 245-178 win that earned Trevor the first title of his JBT career.
Newcomer Gabriel Potter began the handicap division stepladder with a 227-187 win over Brian DeLuisa-Anderson. McKenna Jacobe then stopped Potter 200-176. Brendan Hopkins then threw a big game in a 267-206 win over Jacobe to advance to the title match.
Top seed Emily Hankins made a big splash in her first JBT event, leading most of the tournament to grab the top seed. However, Hopkins, a winner last month in Everett, had the experience in title matches, and showed it with a 249-216 win over Hankins, good for his second career JBT title.
Abrahamsen was also the top qualifier for the day's Women's Series event, but Shelby Miller came up with one of the highest games of the day in a 266-200 win over Kelsey for her first girls' title of the season.
Thanks to the whole crew at Epicenter for a great job hosting us, and for the game cards and free cosmic bowling as well! Want in on all the fun and excitement that only JBT offers? Just check out our schedule and come on out to the next JBT event!
Epicenter- final results and scholarship winners
11/22/2014
Scratch Division
rank
bowler
prize
1
Trevor Hiatt
$200
2
Johnny Leggett
$105
3
Brandon Myers
$60
4
Kelsey Abrahamsen
$89
5
Brandon Jensen
$20
6
Nick Devlin
$15
7
Tyger Miller
8
Brian Monnette
$5
9
Tanner Spacey
10
Kolby Crowell
$30
11
Michael Wall
12
Matthew Yaw
$15
13
Tommie McNeal
14
James Jackson
15
Joey Huffman
16
Shelby Miller
17
Ryan DeFazio
18
Kyler Crevier
19
Andrew McCool
20
Tyler Satter
21
Jordan DeLorme
22
Jaycob Hailey
Handicap Division
1
Brendan Hopkins
$243
2
Emily Hankins
$100
3
McKenna Jacobe
$50
4
Gabriel Potter
$30
5
Brian DeLuisa-Anderson
$20
6
Hannah Russell
7
Bailey Peters
$14
8
Jonathan Bautista
$14
9
Josh Leinassar
10
Alex Perini
11
Elijah Gaviola
12
Cameron Cox
13
Didge Miller
14
Tyler Harmon
15
Nickolas Perini
16
Mikayla Hahn
17
Kristene Morris
18
Collins Davis
$5
19
Bryce Hahn
High Games
Scratch
Handicap
1
B Myers 279
DeLuisa-And. 299
2
Hiatt 267
Hopkins 291
3
S Miller 266
N Perini 282
4
Leggett 258
Cox 278
5
Leggett 258
Hankins 269
High Female
1
Abrahamsen +63
2
S Miller -38*
3
Jacobe -82
4
Russell -116
5
Peters -250
Round Leaders
Scratch
Handicap
1
Spacey
Hankins
2
Crowell
Hankins
3
Hiatt
Hankins
4
Hiatt
DeLuisa-Anderson
5
Hiatt
Hopkins
6
Hiatt
Hankins
7
Myers
Hankins
8
Leggett
Hankins
TOTAL AWARDED THIS EVENT: $1,015