THE EPICENTER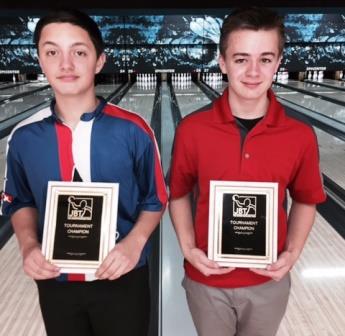 champs Tyger Miller & Brendan Hopkins
Tyger Miller and Brendan Hopkins both burned brightly, winning JBT titles at Klamath Fall's Epicenter, in exciting JBT Pacific Northwest Conference action.
14 year-old Miller dominated the scratch division qualifying round, earning him the #1 seed for the pick-your poison rounds, where higher seeds choose their opponents rather than a standard bracket. Miller chose wisely, getting past Kyler Crevier and Nick Devlin in two-game total pinfall matches to advance to the title game.
Brandon Myers just snuck into the cut, and then survived tough matches to reach the final game. He recovered from a tough game to string the last four strikes to force Tyger to mark for the win. As he'd been doing all day, Miller threw another great shot and struck to lock up a 216-204 win, and the first title of his JBT career. He joins Johnny Leggett as 14 year-old scratch winners just this season in the Pac NW- it's talent, not age, that determines JBT champions!
Hopkins, another 14 year-old, was even more dominant in the handicap division, leading all five rounds and building a 150+ pin cushion over second place. Such a big lead is not ideal for a matchplay format where the pins drop, but he managed to pick his poison wisely, mowing down two opponents to get to the title game.
His opponent was a resurgent Jonathan Bautista, who put on his best performance of the season to reach the title game. However, despite keeping it close early, Hopkins was able to pull away from Bautista. He won the game 236-201 for a sweep of the weekend's handicap titles, and 3 wins in 4 events for the rapidly improving Hopkins, who vaults way into the points lead with the exceptional weekend.
Tyger's sister Shelby Miller also had an exceptional weekend, again beating Kelsey Abrahamsen 183-162 to sweep the weekend's Women's Series events, getting her 2/3 of the way to the Girls TPC in just 24 hours!
Big thanks to the whole crew at Epicenter for a great hob hosting the JBT for the first time. All our families and bowlers appreciated the wonderful hospitality! Want in on all this fun and so much more? Just check out our schedule and come on down!
Epicenter- final results and scholarship winners
11/23/2014
Scratch Division
rank
bowler
prize
1
Tyger Miller
$200
2
Brandon Myers
$110
3
Nick Devlin
$65
4
Tanner Spacey
$30
5
Brian Monnette
$109
6
Tommie McNeal
7
Kyler Crevier
$10
8
Tyler Satter
9
Joey Huffman
$14
10
Johnny Leggett
11
Kelsey Abrahamsen
$45
12
Ryan DeFazio
13
Michael Wall
14
Brandon Jensen
15
Matthew Yaw
16
Shelby Miller
17
Jordan DeLorme
18
Kolby Crowell
$5
19
Trevor Hiatt
Handicap Division
1
Brendan Hopkins
$252
2
Jonathan Bautista
$100
3
Bryce Hahn
$69
4
Bailey Peters
$40
5
Alex Perini
$20
6
Brian De Luisa-Anderson
7
Josh Leinassar
8
Tyler Harmon
9
Tia Riley
10
Dodge Miller
11
Breanna Reed
12
McKenna Jacobe
13
Shayla Guthrie-Marler
14
Kristene Morris
15
Mikayala Hahn
16
Emily Hankins
17
Brianna Guthrie-Marler
18
Hannah Russell
19
Elijah Gaviola
20
Nickolas Perini
21
Cameron Cox
High Games
Scratch
Handicap
1
Devlin 266
Hopkins 296
2
Myers 265
Hopkins 272
3
Myers 258
Hopkins 262
4
Spacey 258
Hopkins 252
5
Devlin 257
Leinassar 251
High Female
1
Abrahamsen -22
2
S Miller -115*
3
Jacobe -190
4
Riley -259
5
B Guthrie -277
Round Leaders
Scratch
Handicap
1
Devlin
Hopkins
2
T Miller
Hopkins
3
T Miller
Hopkins
4
T Miller
Hopkins
5
T Miller
Hopkins
TOTAL AWARDED THIS EVENT: $1,030