EVERGREEN LANES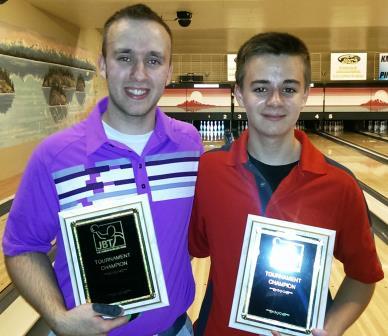 champs Nick Devlin & Brendan Hopkins
Cousins Nick Devlin and Brendan Hopkins both put on clinics in the stepladder finals to win JBT titles in exciting Pacific Northwest Conference action at Everett's Evergreen Lanes.
Brian Monnette began the scratch division finals with a 246-160 win over Brandon Jensen. Devlin then took over, beginning with a front-9 performance in a 277-205 rout of Monnette. Nick flirted with perfection again in the next match, this time running the front-10 in a 289-209 win over Johnny Leggett.
Daniel Hanson led the tournament, which had been medium to low scoring all day, making Devlin's theatrics all the more impressive. Nick did slow down quite a bit, but Daniel never got comfortable on the championship pair. Devlin escaped with a 203-181 win, good for the fifth title of his JBT career.
Michael Baunsgard began the handicap division stepladder finals with a 226-214 win over Zane Hays. Baunsgard then snuck by Michael Creel 205-200. Elisa Couch then beat Baunsgard 202-180 to advance to the title game.
Top seed Hopkins beat out Couch by just six pins for the #1 spot after eight games, but left no doubt as to the winner in the final game, rolling to a 257-228 win, and the first title of his JBT career.
Kelsey Abrahamsen drove to her second Women's Series title of the season with a 170-144 grind over Elise Yates, in what is shaping up to be a great season long battle between the two of them.
Thanks to the crew at Evergreen for hosting our Tour again! Want in on all the action? Just check out our schedule and come on down!
Evergreen Lanes- final results and scholarship winners
10/25/2014
Scratch Division
rank
bowler
prize
1
Nick Devlin
$230
2
Daniel Hanson
$125
3
Johnny Leggett
$130
4
Brian Monnette
$50
5
Brandon Jensen
$45
6
Collin Young
7
Tyler Boe
$115
8
Jake Mullen
9
Brandon Myers
10
Gabe Bogner
11
Simon Dyck
12
Josh Alvarez
13
Joey Huffman
14
Kelsey Abrahamsen
15
Elise Yates
16
Quinton Miller
17
Matthew Yaw
18
Johnny Stephens
$50
19
Kolby Crowell
20
Kyler Crevier
21
AJ Brocket
22
Tyler Hogstrom
23
Steven Acuff
24
Ryan DeFazio
$5
25
Tyler Satter
26
Jonathan Bautista
27
Toby Shepherd
Handicap Division
1
Brendan Hopkins
$260
2
Elisa Couch
$100
3
Michael Baunsgard
$60
4
Michael Creel
$50
5
Zane Hays
$55
6
Alex Perini
$30
7
Cameron Pierre
$65
8
Brian DeLuisa-Anderson
9
Jerry Jennings
10
Tyler Denune
11
Kris Tomer
12
Zoe Mahn
13
Treyshawn Culpepper
14
Hannah Russell
15
Tyler Harmon
16
William Ellis
17
Collins Davis
18
Candice Goldfinch
19
Shannon Bliquez
20
Brooke Collins
21
Celeste Johnson
22
Matthew Anderson
23
Tristan Sievers
24
Bailey Peters
25
Parker Portalski
26
Brandon Nodland
27
Tyler Rasmussen
28
AJ Schock
29
Kate Schmidt
30
Henry Garner
31
Justin Song
32
Andy Herrmann
33
Kyle Hays
34
Paul Rosales
35
Reagan Lorey
36
William Day
37
Richard Sigmond
High Games
Scratch
Handicap
1
Devlin 289
Couch 263
2
Devlin 279
Pierre 254
3
Devlin 277
Hopkins 253
4
Jensen 263
Harmon 252
5
Boe 263
Couch, Ellis 243
High Female
1
Abrahamsen -68*
2
Yates -69
3
Couch -85
4
Goldfinch -124
5
Mahn =167
Round Leaders
Scratch
Handicap
1
Monnette
Tomer
2
Monnette
DeLuisa-Anderson
3
Jensen
DeLuisa-Anderson
4
Monnette
Hopkins
5
Jensen
Hopkins
6
Monnette
Hopkins
7
Hanson
Hopkins
8
Hanson
Hopkins
TOTAL AWARDED THIS EVENT: $1,370