EVERGREEN LANES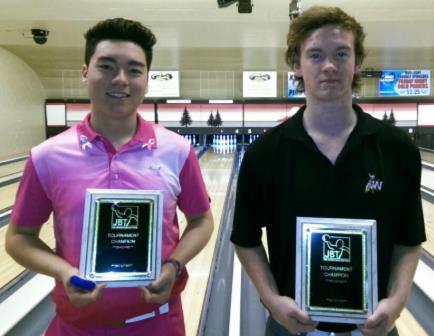 champs Brian Monnette & Michael Baunsgard
Brian Monnette and Michael Baunsgard were the ultimate survivors at Evergreen, capturing JBT titles in exciting Pacific Northwest Conference action.
In our 'super survivor' format, the low individual score, and the two lowest overall totals, are eliminated each game, creating tense action on every pair as higher totals are safer, but nobody is ever totally safe. Twelve scratch semifinalists were carved down to three, and in the resulting penultimate match, Kolby Crowell put up the second highest game of the tournament, a 256, to advance to the finals. He was joined by Brian Monnette, whose 187 was enough to eliminate Kyler Crevier (157).
The short Boardwalk pattern played tough all day, and the title match was no exception. Any score starting with a 2 was likely to be golden, and that was the case, as Brian beat Kolby 207-168 for the win, the third of his career. It was perhaps a signal that Monnette might finally start to string the titles together, while Kolby signaled that another Crowell might be starting to make a big splash on our tour!
The handicap division also had twelve qualifiers whittled down to three, and in their low scoring semifinals Michael Baunsgard led with 200, and Brandon Nodland also qualified for the finals with a 188, while Treyshawn Culpepper bowed out in third with 175, still his career-high JBT finish.
Baunsgard, who also made the finals yesterday, came up with a big came in the title match to defeat Nodland 222-200 and earn the first title of his JBT career.
Elise Yates and Kelsey Abrahamsen went at it again in the Women's Series title match, with Elise reversing yesterday's result with a 160-138 win, matching Kelsey with her second win of the season.
Thanks again to the team at Evergreen for hosting our Tour! If you want to be part of this fun, just check out our schedule and come on down!
Evergreen Lanes- final results and scholarship winners
10/26/2014
Scratch Division
rank
bowler
prize
1
Brian Monnette
$200
2
Kolby Crowell
$100
3
Kyler Crevier
$95
4
Daniel Hanson
$65
5
Gabe Bogner
$30
6
Johnny Leggett
7
Nick Devlin
$60
8
Ryan DeFazio
9
Tyler Boe
$115
10
Brandon Myers
11
Josh Alvarez
12
Justin Song
13
Kelsey Abrahamsen
14
Simon Dyck
15
Tyler Hogstrom
16
Tommie McNeal
17
Matthew Yaw
18
Brandon Jensen
19
Elise Yates
20
AJ Brockett
21
Jake Mullen
$10
22
Tyler Satter
23
Jonathan Bautista
24
Collin Young
25
Joey Huffman
26
Toby Shepherd
27
Steven Acuff
28
Andrei Weber
Handicap Division
1
Michael Baunsgard
$200
2
Brandon Nodland
$100
3
Treyshawn Culpepper
$50
4
Andy Herrmann
$70
5
Collins Davis
$45
6
Tristan Sievers
$15
7
Alejandro Moser-Hernandez
$15
8
Kori Kuntz
9
Brooke Collins
10
Cameron Pierre
$30
11
Daniel Johnson
$30
12
Brian DeLuisa-Anderson
13
Shannon Bliquez
14
Matthew Anderson
15
Brendan Hopkins
$15
16
Kyle Hays
17
Tyler Denune
18
Alex Perini
19
Armando Moser-Hernandez
20
Zoe Mahn
21
Zane Hays
22
AJ Schock
$5
23
Tyler Harmon
24
Jerry Jennings
25
Elisa Couch
26
Candace Goldfinch
27
Kate Schmidt
28
Kris Tomer
29
Parker Portalski
High Games
Scratch
Handicap
1
Dyck 262
Baunsgard 236
2
Crowell 256
B Nodland 234
3
Crowell 247
Herrmann 231
4
Hanson 235
B Nodland 229
5
Boe, Bogner 235
B Nodland 229
High Female
1
Abrahamsen -112
2
Yates -143*
3
Couch -222
4
Schock -237
5
Goldfinch -249
Round Leaders
Scratch
Handicap
1
Hanson
B Nodland
2
Leggett
Alej. Moser-Her.
3
Crevier
Herrmann
4
Hanson
B Nodland
5
Hanson
B Nodland
TOTAL AWARDED THIS EVENT: $1,250