AMF FIREBIRD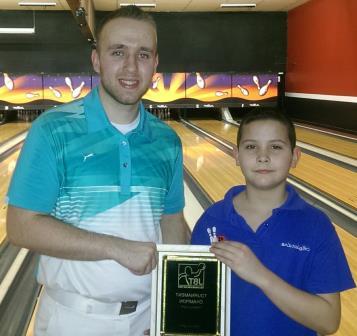 champs Nick Devlin & Alejandro Moser-Hernandez
Nick Devlin and Alejandro Moser-Hernandez added titles to their JBT collection in exciting Pacific Northwest Conference action at AMF Firebird Lanes in Salem.
Devin Choate began an impressive climb up the scratch division stepladder finals with a 228-174 win over Gabe Bogner. Gabe was the winner of the day's Super Bowl contest, missing the correct final score by only one point (his odds were good as only four bowlers picked New England, unsurprisingly). Choate then got by Matthew Yaw 216-198, and followed with a 217-214 thriller over Brian Monnette to reach his first title match.
Top seed Nick Devlin continued his excellent season by leading the event here. He left no doubt as to the winner in the title match, starting with the front four and eventually cruising to the high game of the tournament with a 268-184 victory, and the sixth title of his JBT career.
Jerry Jennings began the handicap division stepladder with a 206-178 victory over Cameron Pierre. Reagan Lorey then stopped Jennings 216-209. In a close semifinal, Bailey Peters then stopped Lorey 218-215 to reach the title match.
Alejandro Moser-Hernandez wowed the Tour with his first title last season, and he was up to it again by leading the event here against a strong field. He stayed in control for the entire title match, eventually beating Bailey 236-188 for the second title of his young JBT career.
Lorey's excellent day continued in the girls' title match, earning the top seed and beating Kelsey Abrahamsen 169-132 for the day's woemn's series title. She also won an Ebonite ball in the day's raffle, for a pretty nice trifecta!
Thanks as always to the great team at Firebird for another great job hosting our Tour. Want in on the most fun for all ages and averages? Just check out our schedule and come on down, that's all you have to do!
AMF Firebird- final results and scholarship winners
1/31/2015
Scratch Division
rank
bowler
1
Nick Devlin
$200
2
Devon Choate
$100
3
Brian Monnette
$150
4
Matthew Yaw
$80
5
Gabe Bogner
$25
6
Josh Alvarez
7
Johnny Leggett
8
Tyler Satter
$30
9
Brandon Jensen
10
Ryan DeFazio
11
AJ Brockett
12
Ryan Nikolas
$30
13
Andrew Sherwood
14
Tommie McNeal
15
Jared Hartrampf
16
Tanner Spacey
$30
17
Tyler Hogstrom
18
Tyler Boe
$15
19
Tristan Sievers
20
Kelsey Abrahamsen
$25
21
Chris Tuholski
22
Greg Miller
23
Kyler Crevier
24
Joy Huffman
25
Kolby Crowell
26
Brandon Myers
$15
27
Hayden Childs
$15
28
Nick Bruketta
29
Donovan Grubaugh
30
Elise Yates
Handicap Division
1
Alejandro Moser-Hernandez
$330
2
Bailey Peters
$125
3
Reagan Lorey
$100
4
Jerry Jennings
$90
5
Cameron Pierre
$80
6
Sara Harris
$55
7
Jeff Jonker
$30
8
Hannah Russell
$20
9
Kerissa Anderson
$30
10
Madison Bash
11
Michael Baunsgard
12
Bryce Hahn
13
Jonathan Bautista
14
Brittany Bland
15
Kyle Jonson
16
Shannon Bliquez
17
Kylee Horner
18
Andy Herrmann
19
Maddison Durr
$15
20
Anastasia Byrd
$15
21
Logan Hoover
22
Alex Perini
$15
23
Armando Moser-Hernandez
$30
24
Brendan Hopkins
25
Josh Leinassar
$15
26
McKenna Jacobe
27
Kristen Blank
28
AJ Schock
29
Mikayla Hahn
30
Dayton Wickham
31
Collins Davis
32
Zane Hays
33
Mackenzie Brumbaugh
34
Amanda Knowles
35
Danyelle Moore
36
Shaylie Westmorland
37
Zoe Mahn
38
Treyshawn Culpepper
39
Kyle Hays
40
Jake Lepley
41
Ariana Montagne
42
Marissa Cuno
43
Justin Song
44
Brian DeLuisa-Anderson
45
Nick Perini
46
Cindy ReSue
47
Daniel Johnson
48
Matthew Anderson
High Games
Scratch
Handicap
1
Devlin 268
Lorey 283
2
Yaw 266
Al. M-H 283
3
Bogner 257
Peters 264
4
Devlin 248
Peters 257
5
Devlin,Alvarez,Grubaugh 237
Jonker 256
High Female
1
Lorey -38*
2
Abrahamsen -115
3
Bliquez -128
4
Anderson -156
5
Harris -158
Round Leaders
Scratch
Handicap
1
Devlin
Lorey
2
Devlin-Alvarez
Lorey
3
Yaw
Lorey
4
Yaw
Lorey
5
Yaw
Lorey
6
Monnette
Lorey
7
Monnette
Al. M-H
8
Devlin
Al. M-H
TOTAL AWARDED THIS EVENT: $1,665