FOUNTAIN BOWL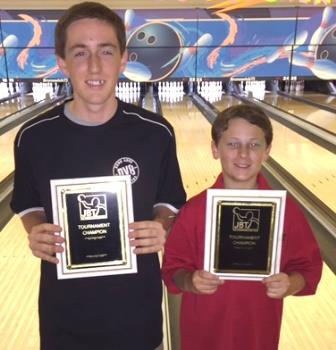 champs Joe Grondin & Jacob Murray
Joe Grondin and Jacob Murray earned JBT titles in a great day of So Cal Conference fun and action at Foutain Bowl.
Michael Ma opened the handicap division stepladder finals with the closest of wins, throwing all three strikes in the tenth frame for a 208-207 win over Tre Mitchell. Ma rolled on with a 236-190 win over Dawson Reese. Ryan Galland then threw a big game to stop Ma 269-206 and advance to the title match.
Top qualifier Jake Murray is from San Diego, not State Farm as his shirt suggests, but he ensured himself at least a second place finish by running away with the tournament for the #1 seed. He left no doubt in the title match either, defeating a tiring Galland 252-152 for the first title of his JBT career.
The scratch division enjoyed the debut of our 'tennis' format, where finalists played a series of one-frame rolloffs, scored just like a game of tennis. Tied rolloffs began 'rallies', making every single shot pivotal to a bowler's score. Oscar Chan won the first game against Brandon Wanders after Wanders made a nice comeback from 15-40. Grondin then stepped in and proved to be as tough as they come, as every time his opponent struck, he would answer with a strike of his own, then putting points away with his own clutch shots. He defeated Chan at love, frustrating him at every chance. Wesley Low then took him to deuce, but Grondin kept answering the call and put him away from there.
The title match west best-of-3 games, and after Grondin won the first game, top seed Kyle Duster put on a gritty performance to tie it up. The tiebreaker game was intense, as Grondin was so far left he was running out of boards to move to, while Kyle, um, skirted along the edge of defeat but hung in there. Finally, at 40-30, Joe put the match away, earning the second title of his JBT career.
Ashley Dunn and Renee Gentry put on a clinic in the Women's Series title match, with Dunn coming up with a 244-224 win in a rematch from the Mira Mesa girl's title match.
Want in on the most unique and exciting fun around? Just check out our schedule and come on down!
Fountain Bowl- final results and scholarship winners
10/4/2014
Scratch Division
rank
bowler

prize

1
Joe Grondin
$200
2
Kyle Duster
$110
3
Wesley Low
$109
4
Oscar Chan
$55
5
Brandon Wanders
$20
6
Austin Thompson
7
Jerome Jordan Jr
8
Derek Acuff
9
Cortez Schenck
$8
10
Steven Acuff
11
Kirk Chui
12
Ryan Miller
13
Anthony Schanen
14
Nick Pollak
15
Steven Kampley
16
Ricardo Mendoza
17
Kennison Andrews
$29
18
Ashley Dunn
$8
19
Billy Dacanay
20
Nick Condon
21
Terrence Robinson
22
Anthony Cando
23
Bobby Hornacek
24
Randi Speiler
25
Tyler Espinola
26
Greg Adler
Handicap Division
1
Jacob Murray
$200
2
Ryan Galland
$100
3
Michael Ma
$50
4
Dawson Reese
$54
5
Tre Mitchell
$30
6
David Lowen
$20
7
Tyler Hedges
$44
8
James McGough
$15
9
Alli Azvedo
10
Andrew Chan
11
Matthew Carpenter
$34
12
Jackie Azvedo
13
Brian Lim
14
Nicholas Dorn
$15
15
Megan Carpenter
16
Trevor Thompson
17
Antoine Allmon
$25
18
Amanda Atkin
19
Marguerite Evans
$75
20
Katelyn Abigania
$15
21
Zack Long
22
Kyle Ponzo
$15
23
Leah Zweig
24
Kyle Reed
$10
25
Amanda Buettner
26
Renee Gentry
27
Abby Franklin
28
Taylor Berry
29
Jarred Starr-Moncayo
30
Kylie Shishima
$15
31
Michaela Buhain
32
Joshua Abigania
33
Secilia Kalvelage
34
Allex Zieg
Scratch
Handicap
1
Duster 297
Murray 285
2
Grondin 279
Galland 280
3
Chan 279
Mitchell 279
4
J Jordan 279
McGough 277
5
Grondin 278
Ma 277
High Female
1
Dunn +22*
2
Gentry -24
3
Speiler -71
4
M Carpenter -81
5
A Azvedo -119
Round Leaders
Scratch
Handicap
1
Grondin
A Azvedo
2
Grondin
Reese
3
Grondin
A Azvedo
4
Low
A Azvedo
5
Low
Murray
6
Duster
Murray
7
Duster
Murray
8
Duster
Murray
Total Awarded This Event: $1,256