GLENFAIR LANES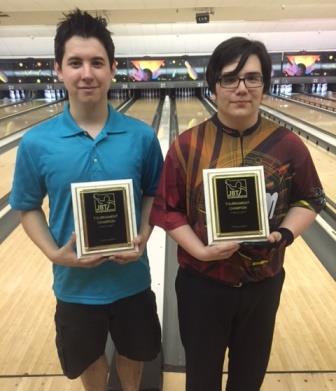 champs Jakob Butturff & Jarred Starr-Moncayo
Two JBT veterans added another JBT title to their impressive credentials in exciting Arizona Conference action at Glendale's Glenfair Lanes.
Bowlers competed in the exciting super-survivor format, where the low game and the lowest overall totals are eliminated game by game until only the victor remains standing. In the scratch division, ten survivors were carved down to four, and in that round Bryan Van Sickle went out with the low game, while Eric Hatchett was eliminated with the low overall total, leaving Jakob Butturff and Dallas Leong alive for the title game.
Dallas has a lot of title matches this season with not enough wins in those matches to satisfy him, and the always-tough Jakob wasn't about to reverse that trend. Buttruff poured on the strikes in the title game for a 253-209 win, earning the 31st title of his excellent JBT career.
On the day before the PBA"s Tournament of Champions, which happened to be lefty-dominated, the handicap division JBT lefties came up strong, as in a five-way semifinal match, righties Zach Rapp, John Newton, and Justin Lawrence were all eliminated, leaving Mathew Adragna and Jarred Starr-Moncayo left alive to vie for the title. Moncayo got red-hot at the end of last season, and he showed that form again here, winning a close match with Mathew 212-210 for the 5th title of his JBT career.
Gillian Coyle defeated Adel Wahner 181-154 to earn the day's Women's Series title on a day where the ladies struggled on the very demanding pattern.
Big thanks to the team at Gelnfair for a great job hosting us at one of the most tournament-friendly centers anywhere. Want in on the most excitement in youth bowling? Just show up at a JBT event and come have fun!
Glenfair Lanes- final results and scholarship winners
2/14/2015
Scratch Division
rank
bowler
prize
1
Jakob Butturff
$200
2
Dallas Leong
$184
3
Bryan Van Sickle
$50
4
Eric Hatchett
$40
5
Russ Oviatt
$30
6
Brendan Thomas
7
Cortez Schenck
8
Anthony Inzetta
9
Ben Canfield
10
Wesley Low
11
Keith Fung
12
KJ Martinez
$15
13
Nick Devlin
14
Alex Watanabe
15
Zach Huglin
16
Josh Demick
17
Tim Jacob
18
Matt Zweig
19
Jake Hilton
20
Adel Wahner
21
Jacob Merki
22
Tyler Satter
23
Johnny Leggett
24
Max Plhill
25
Kyle Welty
Handicap Division
1
Jarred Starr-Moncayo
$268
2
Mathew Adragna
$168
3
John Newton
$75
4
Justin Lawrence
$55
5
Zach Rapp
$40
6
Michael Chamot
$30
7
Kyle Lawrence
$50
8
Zack Long
$14
9
Phillip Sauve
10
Abby Franklin
$34
11
Rachael Berg
12
Amanda Atkin
13
Destiny Johnson
14
Chris Rouse
15
Clifford Robbins
16
Kyle Ponzo
17
Celeste Valdez
$15
18
Shelby Dempsey
19
Gillian Coyle
20
William Robbins
21
Rashaad Jordan
$5
22
Aaron Coleman
23
Marguerite Evans
$29
24
Bex Boyko
$14
25
Bella Flowers
26
Kyle Gilbert
27
Megan Carlson
28
Tarik McMaster
29
Cristian Roque
$72
30
Ryan Zent
31
Zach Lewandowski
32
Madison Holman
33
Elijah Melchor
34
Tyler Hedges
35
Joseph Metzer
36
Sarah Halligan
37
Sebastian Polhill
38
Jerod Walker
39
Paul Colyer
40
Michael McQuisten
41
Joshua Mabry
High Games
Scratch
Handicap
1
Butturff 279
J Lawrence 261
2
Oviatt 276
Newton 253
3
B Thomas 264
Z Rapp 244
4
Butturff 253
Z Rapp 242
5
Z Huglin 247
Berg 241
High Female
1
Wahner -172
2
Coyle -176*
3
Dempsey -180
4
Atkin -184
5
Berg -190
Round Leaders
Scratch
Handicap
1
Leong
Sauve
2
Oviatt
Starr-Moncayo
3
Leong
Starr-Moncayo
4
Leong
Starr-Moncayo
5
Leong
Starr-Moncayo
Total Awarded This Event: $1,388