GOLD COAST LANES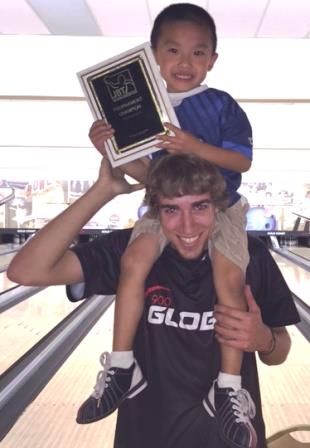 champs Ben Canfield & Tyler Fujimoto
Ben Canfield and Tyler Fujimoto are at the extremes of the JBT height and age spectrums, but they're both champions, earning titles in exciting Mojave Conference action at Gold Coast Lanes in Las Vegas.
Eric Hatchett and Dallas Leong opened the scratch division stepladder finals with an unusually high scoring (albeit mulligan-aided) match on the super-challenging Bear pattern, with Eric coming out on top 258-242. Hatchett then got past KJ Martinez 224-181. Canfield stopped Hatchett's run with a 246-229 semifinal win to move on the title match.
Cortez Schenck used a huge 274 game six to vault into the lead, but did not have the right look on the championship pair, rapidly burning through the four 'mulligans' he had stockpiled, while Ben only needed to use one to lock up a 227-174 win, and the 23rd title of his illustrious JBT career.
Dee Handley began the handicap stepladder finals with a 191-183 over Abby Franklin. Tyler Hedges then won round two over Dee 204-169 to set up a most interesting semifinal match. Hedges suddenly became the older and taller Tyler on the pair, as the 9 year-old took on 6 year-old Tyler Fujimoto (check out the picture below). Giving 50 pins was a new experience for Hedges, and his consequent struggles helped Fujimoto to a 212-172 win to move up to the title match.
Zach Rapp survived very well on the brutal pattern, as his +52 score, which doesn't even make the first cut some days, was good enough to lead the tournament today. What carry he had found went away in the title game, though, as too many 9 counts sealed a 204-179 victory for Fujimoto. Tyler becomes the fourth youngest bowler to win a JBT title, behind Ashley Lamb, Stacey Lamb, and Sebastian Polhill. We say any age and any average, and Tyler is the latest to show just how true that is!
Leah Glazer was the top girls' qualifier by one pin over Dee Handley, but it was Dee who came away with a 192-149 win for the day's women's series title.
Thanks as always to the team at Gold Coast for hosting our Tour. Want in on the fun? Just check out our schedule and come on down!
Gold Coast- final results and scholarship winners
4/25/2015
Scratch Division
rank
bowler

prize

1
Ben Canfield
$200
2
Cortez Schenck
$151
3
Eric Hatchett
$54
4
KJ Martinez
$60
5
Dallas Leong
$30
6
Joe Gerencser
$51
7
Jake Hilton
8
Teagan Smale
$8
9
Cerell Cardines
10
Max Polhill
11
Brandon Russom
12
Nick Pollak
13
Leah Glazer
$5
14
Talon Hendrickson
15
Brendan Thomas
16
Steven Acuff
17
Randi Speiler
18
Alex Watanabe
19
Kirk Chui
20
Jamison Peyton
21
Eddie Allen III
Handicap Division
1
Tyler Fujimoto
$250
2
Zach Rapp
$125
3
Tyler Hedges
$130
4
Dee Handley
$89
5
Abby Franklin
$50
6
Brett McEachern
$40
7
Dante Rohe
$146
8
Emi Leong
$20
9
Krystal Amico
10
Matt Baker
11
Kendal Bennett-Jordan
12
Brandon Duffy
13
Kyle Gilbert
14
Derick Poole
15
Ed Rassuchine
16
Crystalene Pineda
17
Sergio Torres
18
Daryus Alo
19
Zack Velosa
20
Michael Owens
21
Garrett Sulzer
$15
22
David Galvan
23
Devyn Patalina
24
Tyler Thomas
25
Tyler Schlei
26
Jarred Starr-Moncayo
27
Garrett Thompson
28
Bella Flowers
29
Dylan Amico
30
Phillip Sauve
31
Justin Freeman
32
Amanda Atkin
33
Kyle Rendon
34
Paul Colyer
35
Elisa Loden
36
Elijah Melchor
37
Brendan Lindsey
38
Jopfel Gafate
39
Zack Long
40
Kelley Johnson
41
Stacey Cuevas
42
Samantha Conti
43
Laurren Takahata
44
Sam Espiritu
45
Sebastian Polhill
46
Nate Farmer
47
Cole Telford
$15
High Games
Scratch
Handicap
1
Schenck 274
Hedges 268
2
Hatchett 258
Leong 259
3
Canfield 246
Rapp 253
4
Canfield 245
Rohe 249
5
Acuff 243
Schlei 240
Franklin 240
High Female
1
Glazer -129
2
Handley -130*
3
Leong -140
4
Pineda -156
5
Franklin -167
Round Leaders
Scratch
Handicap
1
Leong
Schlei-Franklin
2
Leong
Schlei
3
Canfield
Fujimoto
4
Canfield
Fujimoto
5
Canfield
Rapp
6
Hatchett
Rapp
7
Schenck
Fujimoto
8
Schenck
Rapp
TOTAL AWARDED THIS EVENT: $1,400