HAZEL DELL LANES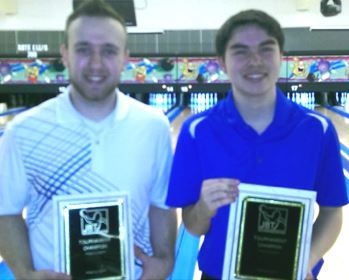 champs Nick Devlin & Michael Creel
Nick Devlin piled another title onto a terrific season's resume, while Michael Creel captured JBT victory for the first time, in exciting Pacific Northwest Conference action at Vancouver's Hazel Dell Lanes.
Ryan Nikolas earned the top seed for the two-game matchplay round, but previous day's champ Andrew Heritage took him down in the round of eight 454-368. Devlin then stopped Heritage's bid for a weekend sweep with a 174-152 semifinal win. On the other side of the bracket, 8 seed Tyler Boe ended Tommie McNeal's fine weekend with a 247-186 win to set up the title game.
Devlin didn't allow there to be any drama in the title match except whether he'd shoot a perfect game on the challenging Mexico City lane pattern. Nick's run was ended at the front seven, and he cruised from there 266-186 for the 8th title of his JBT career.
Previous day's champion Cameron Nodland stayed red-hot in the handicap division, earning the top seed, but his great run was stopped in the round of eight, upset 365-360 by 16th and final qualifier Daniel Johnson. Johnson then won a single-game squeaker in the semifinals, 198-195 over newcomer Matthew Peterson, to advance to the title game. He was joined by Creel, who also had a tough road as the #13 seed, beating AJ Schock, Bailey Peters, and Brandon Nodland 212-164 in the semifinals to advance to the finals.
The title match was all Michael, as he rolled a solid game start to finish for a 235-196 win over Johnson, earning himself the first title of his JBT career.
Elise Yates qualified first in the day's Women's Series event, and left no doubt in that title match either, as she got by #2 qualifier AJ Schock 207-139 for the day's girls' crown.
Thanks as always to the team at Hazel Dell for hosting our Tour. Over $3,400 in scholarships were awarded on the weekend. Want your piece of the fun and prizes? Just check out our schedule and come on down to the next JBT event!
Hazel Dell- final results and scholarship winners
4/26/2015
Scratch Division
rank
bowler
prize
1
Nick Devlin
$260
2
Tyler Boe
$115
3
Tommie McNeal
$60
4
Andrew Heritage
$40
5
Ryan Nikolas
$60
6
Daniel Hanson
$80
7
Chris Tuholski
8
Dayton Wickham
9
Brian Monnette
10
Brandon Myers
$60
11
Collin Young
12
Kolby Crowell
13
Josh Alvarez
14
Elise Yates
15
Luke Jordan
16
Joey Huffman
17
Nick Bruketta
18
Jake Mullen
19
Kyler Crevier
20
Gabe Bogner
21
Brandon Jensen
22
Ryan DeFazio
23
Tyler Hogstrom
24
Johnny Leggett
25
Aaron Althoff
26
Tyler Satter
27
Andrew Sherwood
28
Kelsey Abrahamsen
29
Justin Song
Handicap Division
1
Michael Creel
$250
2
Daniel Johnson
$240
3
Mathew D Peterson
$100
4
Brandon Nodland
$75
5
Cameron Nodland
$65
6
Bailey Peters
$40
7
Madison Bash
$30
8
Caleb R Peterson
$25
9
Jeff Jonker
$20
10
Brian DeLuisa-Anderson
$10
11
Shaylie Westmorland
12
Anastasia Byrd
$45
13
Logan Hoover
14
Shannon Bliquez
15
AJ Schock
16
Maddi Durr
17
Michayla Garden
$15
18
Kristen Blank
19
Zoe Mahn
$30
20
Kyle Hays
$15
21
Jordan Jonker
22
Hannah Russell
23
Jonathan Bautista
24
Sienna Stoner
$5
25
Brendan Hopkins
26
Kerissa Anderson
27
Reagan Lorey
28
Andy Herrmann
$25
29
Jerry Jennings
30
Collins Davis
$15
31
Kris Tomer
32
Zane Hays
33
Treyshawn Culpepper
34
Rperrin Easley-Clark
35
Kyle Jonson
36
Mathew Boespflug
37
Alexa Lanning
38
Kate Schmidt
39
Tamika Taylor
40
Alex Perini
41
Josh Leinassar
42
Aidghan Ziegler
43
Sara Harris
44
Brittany Bland
45
Mathew Anderson
46
Nick Perini
47
Cameron Pierre
48
Kelsey Wylie
49
Isaac Richardson
50
Gabriel Potter
High Games
Scratch
Handicap
1
Nikolas 278
Peters 284
2
Devlin 266
B Nodland 280
3
Devlin 264
C Nodland 269
4
Devlin 257
D Johnson 264
5
Heritage 248
Westmorland 263
High Female
1
Yates -58*
2
Schock -94
3
Mahn -129
4
Peters -142
5
Russell -187
Round Leaders
Scratch
Handicap
1
Heritage
Peters
2
Nikolas
Creel
3
Nikolas
Jeff Jonker
4
Nikolas
C Nodland
5
Nikolas
C Nodland
TOTAL AWARDED THIS EVENT: $1,680