MOJAVE DOUBLES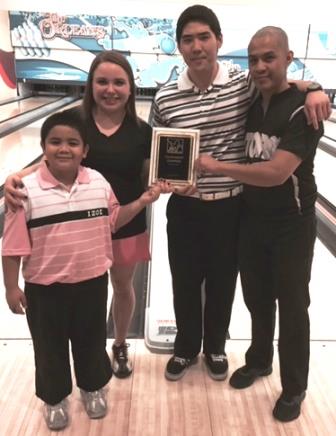 champs Daryus Alo & Marguerite Evans, and Alex Watanabe & Steven Villanueva; additional pictures below
Four bowlers claimed JBT titles in exciting action at the JBT Mojave Doubles tournament, hosted by The Orleans.
The sister duo of Shauna and Courtney Schultz opened the handicap division baker-style stepladder finals with a 177-163 win over Jarred Starr-Moncayo and her son Jarred. Recent JBT grad Casey Nagamine and Sebastian Polhill then teamed up to beat Shauna and Courtney 215-171. Marguerite Evans and Daryus Alo then turned the tables on Casey and Sebastian with a 188-165 win to move on to the title match.
Top seeds RJ and Sabrina Reyes have had previous success in this event, but this result would mark their career high finish. Evans finally claimed her first JBT title just two weeks ago in the So Cal doubles event, and with the help of 8 year-old "babyloft" Daryus, they kept the lead most of the title game. Needing a double to win, RJ couldn't get the first strike, and Evans and Alo each claimed their second career JBT title with the win.
The scratch division finals began with one of the most bizarre finishes in JBT history. Against Junior Gold champs Cortez Schenck and Wesley Low, scratch newcomer Jake Hilton needed all three strikes to tie the game in the tenth. After getting the first two, Hilton's final shot went way wide right- but the 1-2-4 caved in backwards for a 191 tie. Then his partner Ray Johnson struck in tehe tiebreaker to win the rolloff 10-9 and advance. The following matches were calmer, with Ian and Nathan Hanuscin stopping Hilton and Johnson 212-151. Dallas Leong and Zack Hattori outsriking teh Hanuscins 225-205 to set up the title match.
Top seeds Alex Watanabe and adult star Steven Villanueva made it an all-Vegas finale for the crown, and the match was one-sided in favor of the #1 qualifiers. Alex and Steven won the match 247-176, earning the long awaited first title of his JBT career.
Thanks as always to The Orleans for hosting our events, and to all the adults who took the time to bowl with today's JBT bowlers. If you want in on the fun, just come on down to our next event!
Mojave Doubles- final results and scholarship winners
12/13/2014
Scratch Division
rank
bowler
prize
bowler
prize
total
1
Alex Watanabe
$300
Steven Villanueva
$300
2
Dallas Leong
$94
Zach Hattori
$80
$714
3
Nathan Hanuscin
Ian Hanuscin
$100
$100
4
Jake Hilton
$80
Raymond Johnson
$80
5
Wesley Low
$40
Cortez Schenck
$40
$80
6
Kyle Duster
Correen Lieber
7
Talon Hendrickson
James Boyce
8
Brandon Wanders
Nick Pollak
9
Randi Speiler
$14
Chase Nadeau
$14
10
Eric Hay
Jamison Peyton
11
Derek Acuff
Eric Hatchett
12
TJ Rock
$58
KJ Martinez
$58
13
Brendan Thomas
Mike Super
14
Kyle Andrews
Kennison Andrews
15
John Polhil
Max Polhil
16
Tyler Satter
Rick Satter
Handicap Division
1
Marguerite Evans
$165
Daryus Alo
$150
$315
2
RJ Reyes
$100
Sabrina Reyes
$100
$200
3
Casey Nagamine
Sebastian Polhill
$150
$150
4
Shauna Schultz
$100
Courtney Schultz
$100
5
Evet Starr-Moncayo
Jarred Starr-Moncayo
$80
$80
6
Wendy Macpherson
April McDonnell
7
Zack Long
Tyler Hedges
$43
$43
8
Dante Rohe
Paul Colyer
$5
$5
9
Dee Handley
$44
Daryl Purdy
$44
10
Destiny Johnson
Alayna Purdy
11
Bill Thompson
Tyler Thomas
$5
$5
12
Ron Goodnight
Jake Goodnight
13
Anthony Dang
Crystalene Pineda
14
Garrett Thompson
Marcy Thompson
15
James Wilson
Devyn Patalina
16
Abby Franklin
$19
Alexis Atkin
$19
17
Ronnie Goodnight
Joe Claspell
18
Steven Acuff
Amanda Atkin
19
LeeAnn Reyes
Rossel Reyes
20
Austin Signoretti
Jenna Scott
21
Cerell Cardines
Jeremy Cardines
22
Kyle Rendon
Rick Rendon
23
Cole Telford
Jeremy Telford
24
Collin Deppe
Ryan Blakely
25
David Rocha
Tyler Greene
26
Ashley Thomas
Kelley Johnson
27
George Acurero
Jorge Acurero
High Games
Scratch
Handicap
1
Pollak 279
Handley 259
2
Lieber 256
RJ Reyes 253
3
Nadeau 256
S Reyes 252
4
Low 254
Dang 252
5
Hattori 252
S Polhill 251
Round Leaders
Scratch
Handicap
1
Pollak - Wanders
Reyes-Reyes
2
Leong - Hattori
Reyes-Reyes
3
Watanabe - Villanueva
Rohe-Colyer
4
Watanabe - Villanueva
Nagamine-Polhill
5
Watanabe - Villanueva
Nagamine-Polhill
6
Watanabe - Villanueva
Reyes-Reyes
7
Watanabe - Villanueva
Reyes-Reyes
TOTAL AWARDED THIS EVENT: $1,767