MOJAVE INVITATIONAL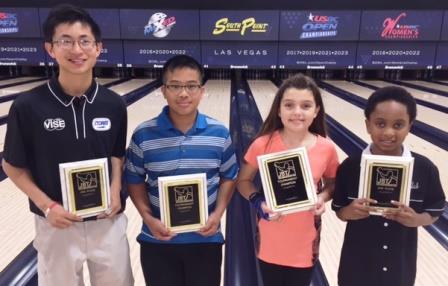 champs Cerell Cardines & Bella Flowers with runners-up Wesley Low & Sebastian Polhill
Talent, not age, was again the deciding factor as two bowlers totaling 25 years old earned titles at the JBT Mojave Invitational, contested at South Point's beautiful new Bowling Plaza.
Veteran Las Vegan Eric Hatchett grabbed the top seed after five qualifying games on a very demanding pattern, and hung on after two early losses in the triple-elimination matchplay format, bowing out in round seven to #10 Cortez Schenck. In the same round, #14 Cerell Cardines, the last non-exempt bowler to make matchplay, eliminated #8 Ben Canfield, and #9 Wesley Low gave #2 Harley Sweigart his second loss. In the next round, Low eliminated Schenck and Cardines eliminated Sweigart, leaving Cerell having to beat Wesley twice to win the title.
Fifteen year-old Cardines showed no fear in a first game win over Wesley, who struggled getting the 7-pin to cooperate. Moving pairs for the title game produced the same result for Low, so he made a brave ball change that temporarily got him back in the match, but Cardines would not be denied. A late game big string by Cerell iced a 254-223 win, earning his third career title and $1,000 scholarship payday. He also joins his older brother Jeremy as Invitational champs (though Jeremy would remind you he went undefeated in matchplay).
Top seeds in handicap struggled in matchplay, as #1 Sergio Torres was ousted in three games, and #2 Rachael Berg had to withdraw to due to injury. That high-seed carnage resulted in #9 Sebastian Polhill and #6 Bella Flowers as the last undefeated bowlers, and it was Bella winning that resulting match. They'd meet again in round eight, and this time Sebastian handed Bella her second loss. In the same round, Matt Baker eliminated Paul Colyer (but Paul earned enough to lock up Bowler of the Year), and 8 year-old Daryus Alo ousted Dante Rohe. In the next round, Matt Baker stayed alive with a win over Polhill, while Flowers ousted Alo. This left three players, and Bella got a bye while Polhill beat Baker, setting up a third meeting between Sebastian and Flowers, this time for the title.
The title game between the two ten year-olds was all Flowers, as she marked in eight of the first nine frames to lock up the win, second career JBT title, and a cool grand in scholarship prizes.
Berg's excellent bowling in the qualifying round also earned her the top seed for the day's Girls Invitational, and her withdrawl from the main Invite was partially to focus on the Girls title match. Though she fought bravely through her unfortunate leg injury, the veteran Lieber won the game for the Girls title and $200 scholarship bonus.
Huge thanks to the team at South Point for a fantastic job hosting one of our premier events. Want to get in on all this? Just check out our schedule and come on down!
Mojave Invitational- final results and scholarship winners
6/13/2015
Scratch Division
rank
bowler
prize
1
Cerell Cardines
$1,000
2
Wesley Low
$514
3
Harley Sweigart
$353
4
Cortez Schenck
$225
5
Eric Hatchett
$110
6
Ben Canfield
7
Alex Watanabe
8
Brendan Thomas
$50
9
Zack Hattori
$28
10
TJ Rock
$58
11
Talon Hendrickson
12
Joe Grondin'
13
Matt Zweig
14
Russ Oviatt
15
Teagan Smale
16
Brandon Russom
17
Joe Gerencser
18
Kyle Duster
19
KJ Martinez
20
Randi Speiler
21
Josh Demick
22
Leah Glazer
23
Nick Pollak
24
Andrew Guba
25
Brandon Wanders
26
Tyler Satter
27
Jamison Peyton
28
Max Polhill
29
Jake Hilton
Handicap Division
1
Bella Flowers
$1,000
2
Sebastian Polhill
$500
3
Matt Baker
$330
4
Daryus Alo
$229
5
Dante Rohe
$195
6
Paul Colyer
$125
7
Phillip Sauve
$100
8
Tyler Hedges
$75
9
Cameron Criss
$65
10
Marguerite Evans
$15
11
Zack Long
$50
12
Sam Espiritu
13
Brandon Duffy
14
Dee Handley
$50
15
Sergio Torres
16
Kelley Johnson
17
Rachael Berg
$119
18
Justin Freeman
19
Samantha Conti

$45

20
Shauna Schultz
21
Brett McEachern
22
April McDonnell
23
Jarred Starr-Moncayo
$15
24
Jopfel Gafate
25
Kyle Rendon
26
Brendan Lindsey
27
Dylan Amico
$15
28
Marc Villalobos
29
Michael Owens
30
Alayna Purdy
31
Destiny Johnson
32
Devyn Patalina
33
Tyler Greene
34
Sabrina Reyes
35
Garrett Thompson
36
David Galvan
37
Katie Cox
38
Kyle Gilbert
39
Amanda Atkin
40
Mike Rose
41
Cole Telford
42
Andrew Chan
43
RJ Reyes
44
Derick Poole
45
Tyler Thomas
$15
46
Austin Veteto
47
Max Heibl
High Games
Scratch
Handicap
1
Low 279
Baker 272
2
Schenck 276
Baker 266
3
Grondin 265
Hedges 263
4
Cardines 259
Schultz 259
5
Hendrickson 258
Colyer 257
Sauve 257
Girls Invitational
1
Correen Lieber
$200
2
Rachael Berg
3
Randi Speiler
4
Leah Glazer
5
Marguerite Evans
6
Dee Handley
Round Leaders
Scratch
Handicap
1
Grondin
Sauve
2
Hatchett
Sauve
3
B Thomas
Sauve
4
Hatchett
Berg
5
Hatchett
Torres
Total Awarded This Event: $5,486