NARROWS PLAZA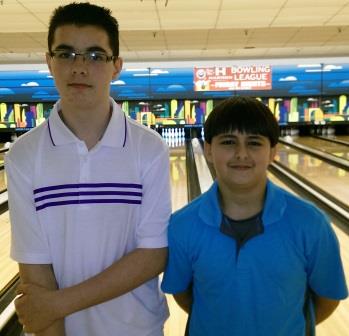 champs Johnny Leggett and Alex Perini
Johnny Leggett and Alex Perini were the last ones not swept away by the 'rising tide', capturing JBT titles in exciting Pac NW Conference action at Tacoma's Narrows Plaza Bowl.
In the rising tide format, pins carry forward all the way through, with an increasing number of bowlers with the lowest totals eliminated after every game until the 'tide' washes away all but the champ. Twelve scratch qualifiers were carved down in five rounds to the final two. Going into the last game Ryan Nikolas had the lead at +205, while Johnny Leggett stood at +166. But, with a 50 pin 'lifeline' bonus to the winner of the game, it meant the better game this game would win it all. In the match it was Leggett who had the better look, and the 222-207 final score gave Johnny his 5th career JBT title, while Nikolas was relegated to the runner-up spot for the second consecutive day.
Nineteen handicap bowlers reached the rising tide rounds, which took six games to carve down to the final four. Alex Perini had the lead at +271 coming into the finale, but with a 60-pin lifeline up for grabs, even fourth place Zane Hays (+146) still had a chance. Hays couldn't come up with a big game, and second place Michael Creel could only muster his average, allowing Maddison Durr to jump past him into second. But nobody could touch Perini, who came up with 234 scratch to pull away from the other finalists and swim to shore while the other three were swept away, giving Alex his first career JBT title.
Elise Yates ground out a 164-145 win over Wylica Flaey to win the day's Women's Series title.
Big thanks to Chris Goddard and the team at Narrows for another great job hosting our Tour. Want in on all the fun for all ages and averages? Just check out our website and come on down!
Narrows Plaza- final results and scholarship winners
1/11/2015
Scratch Division
rank
bowler
prize
1
Johnny Leggett
$200
2
Ryan Nikolas
$160
3
Brian Monnette
$90
4
Tyler Boe
$95
5
Ryan DeFazio
$40
6
Jake Mullen
$60
7
AJ Brockett
8
Brandon Jensen
9
Kyler Crevier
10
Elise Yates
11
Kolby Crowell
12
Matt Yaw
13
Daniel Hanson
14
Josh Alvarez
15
Wylicia Faley
16
Gabe Bogner
17
Tyler Hogstrom
18
Nick Bruketta
19
Nick Devlin
$30
20
Brandon Myers
21
Joey Huffman
22
Tyler Satter
23
Kelsey Abrahamsen
24
Collin Young
25
Justin Song
26
Tommie McNeal
27
Parker Portalski
28
Andrei Webber
Handicap Division
1
Alex Perini
$225
2
Maddison Durr
$185
3
Michael Creel
$100
4
Zane Hays
$90
5
Brandon Nodland
$60
6
Collins Davis
$50
7
Zoe Mahn
$70
8
Bailey Peters
$30
9
Daniel Johnson
$30
10
Taylor Martin
11
Gabriel Potter
12
Shaylie Westmorland
13
Josh Leinassar
$15
14
Sienna Stoner
$5
15
AJ Schock
$5
16
Nikita Benton
17
Michael Baunsgard
18
Kate Schmidt
19
Ally Paolo
20
Tristan Sievers
21
Jeremy Latham
22
Matthew Anderson
23
Jonathan Bautista
$15
24
Candice Goldfinch
25
Kylee Horner
26
Cassie Hill
27
Brendan Hopkins
28
Brooke Collins
29
Katelyn Denune
30
Nick Perini
$5
31
Reagan Loney
32
Andy Herrmann
33
Treyshawn Culpepper
34
Cameron Pierre
35
Robby Lavin
36
Bryce Hahn
37
Kori Kuntz
38
Alejandro Moser-Hernandez
$30
39
Jerry Jennings
40
Kyle Jonson
41
Sara Harris
42
Cameron Nodland
43
Karlee Nuss
44
Brian DeLuisa-Anderson
45
Hannah Russell
46
Logan Hoover
47
Tyler Denune
High Games
Scratch
Handicap
1
Crevier 278
Z Hays 286
2
Nikolas 267
A Perini 284
3
DeFazio 265
Martin 269
4
Leggett 261
Johnson 267
5
Nikolas, Boe 258
C Nodland 267
Monnette 258
High Female
1
Yates -15*
2
Faley -33
3
Schock -42
4
Mahn -46
5
Abrahamsen -74
Round Leaders
Scratch
Handicap
1
Faley
Z Hays
2
Leggett
Z Hays
3
Crevier
Z Hays
4
Monnette-Crevier
Westmorland
5
Nikolas
Z Hays
TOTAL AWARDED THIS EVENT: $1,590