NM-TX INVITATIONAL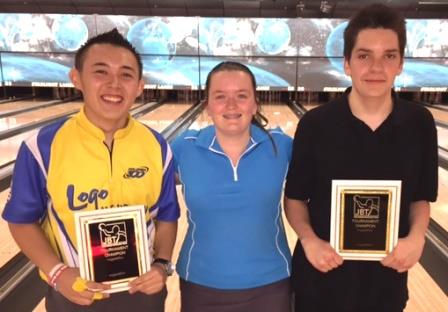 champs Dallas Leong, Adel Wahner, and Thomas Whitley
Dallas Leong, Adel Wahner, and Thomas Whitley captured JBT major titles, winning their divisions of the New Mexico-Texas JBT Invitational tournament, hosted by Starlight Lanes at Santa Ana Star Casino.
Cortez Schenck grabbed the top seed for the tense triple-elimination matchplay rounds, and survived the first four rounds undefeated, but things fell apart from there, as he lost to Ahkeen Williams, Dallas Leong, and William Yoder to bow out in fifth. In the same round, #3 Danny Cobine got a bye, while Leong elimiated Williams. That left three survivors, and this time Leong got the bye, while Yoder ousted Cobine, setting up a one game title match. The final game was well bowled, and after Yoder doubled in the ninth and tenth, Dallas needed to double to capture the title. Leong calmly threw a perfect double, winning the game 226-221, for a sweep of the weekend and the $1,000 windfall for his 11th career JBT title.
#14 Noah Martinez had the best early run in matchplay, starting 5-0. However he then last three straight, ending with a loss to #11 Jeremiah McClelon to finish in fourth, which was enough to wrap up Bowler of the Year. In that same round, top qualifier Thomas Whitley gave #5 Jake Lucero his second loss. That left three bowlers, so McClelon got a bye, and in a close rematch it was Whitely eliminating Lucero, setting up a scenario where Jeremiah had to beat Thomas twice to win the title. Whitley was able to win the first game, locking up his first career JBT title and $1,000 top scholarship prize.
Adel Wahner had a fantastic season everywhere, including five girls wins in her home state. She played fellow Las Cruces bowlers Vanessa Romero for the Girls Invitational title, and in that match rolled to the win and $200 bonus prize.
The top 20 in season long points now advance to the TPC to play the best of the JBT best for the $2,000 top prizes! Thanks to the team at Starlight for a great job hosting a busy weekend. Want in on all the fun? Just check out our schedule and come on down, that's all there is to it!
NM-TX Invitational- final results and scholarship winners
6/21/2015
Scratch Division
rank
bowler
prize
1
Dallas Leong
$1,115
2
William Yoder
$500
3
Danny Cobine
$300
4
Cortez Schenck
$210
5
Ahkeen Williams
$100
6
Wesley Low
$50
7
Joe Balistreri
8
Stefan Wood
9
Zach Wojciechowski
10
Adel Wahner
11
Levi Fintel
12
Curtis Lindeman
13
Jacob Gill
$50
14
Isziah Zuni
$5
15
John Ellis
16
Ben Stedman
$50
17
Alex Watanabe
18
Carson Opela
19
Sara Vargas
20
Josh Demick
21
Gillian Coyle
22
Bree Vargas
23
Brad Harvey
24
Zach Harvey
25
Olivia Stedman
26
Error
27
Mark Vigil
28
Sophie Diaz
29
Ryan Gose
30
Christian Apolonio
31
Matthew Tran
Handicap Division
1
Thomas Whitley
$1,000
2
Jeremiah McClelon
$500
3
Jacob Lucero
$300
4
Noah Martinez
$200
5
Justin Hackney
$193
6
Jacob Marquis
$173
7
Jarred Starr-Moncayo
$90
8
Quirino Sanchez
$50
9
Morgan Ellis
10
Montana Cdebaca
$5
11
Jonah Seawright
$50
12
Vanessa Romero
$50
13
Cesar Duran
14
Nathan Nguyen
15
Josiah Ficklin
16
Nick Sanchez
$50
17
Xzavier Rede
18
Mateo Gonzalez
19
Gerilynn Delegarito
20
Abby Franklin
21
Aarin Jeffries
22
Jeffrey Breining
23
Sierra Jones
24
Donius Jeffries
$29
25
Jay Heffer
26
Isaac Duran
27
Krysta Carlisle
28
Aileen Linares
29
Lindsey Sanchez
$10
30
James Fine
31
Zack Long
32
Kelly McNeil
33
Blayne Hurst
34
Jennifer Fortenberry
35
Chris Ortega
36
Katie McNeil
$29
37
Taylor Herson
38
3lizab3th Rom3ro
39
Nathaniel Duran
40
Alyssa Williams
41
Nathan Tran
42
Toby Cdebaca
43
Kallista Fritts
44
Trevor Hicks
45
Yarelis Alvarez
Girls' Invitational
1
Adel Wahner
$200
2
Vanessa Romero
3
Morgan Ellis
4
Sara Vargas
5
Gillian Coyle
6
Bree Vargas
7
Olivia Stedman
8
Sophie Diaz
9
Montana Cdebaca
10
Gerilynn Delegarito
11
Elizabeth Romero
12
Alyssa Williams
High Games
Scratch
Handicap
1
Schenck 289
Whitley 299
2
Cobine 269
Whitley 294
3
Cobine 258
Marquis 271
4
Cobine 256
Whitley 267
5
Lindeman 254
J McClelon 260
Round Leaders
Scratch
Handicap
1
Schenck
V Romero
2
Lindeman / Schenck
Whitley
3
Lindeman
Whitley
4
Lindeman
Marquis
5
Schenck
Whitley
TOTAL AWARDED THIS EVENT: $4,909