NOB HILL BOWL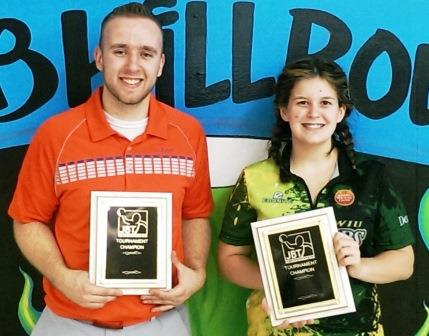 champs Nick Devlin & Sara Harris
Nick Devlin and Sara Harris outlasted big fields in a long and fun day of JBT Pac NW Conference action at Yakima's Nob Hill Bowl.
After two 5-game qualifying rounds, bowlers advanced to 'pick your poison', where the higher seeded bowler chooses who they want to play head to head. Jake Mullen, rapidly improving to the high level his brother Josh has acheived, qualified first, earning a one round bye and then beat Collin Young to get to the final four. That match was a struggle against Brandon Jensen, but Mullen escaped 161-158 to reach the title match. The other semi featured Josh (yes, Jake didn't pick Josh to bowl) and Devlin, and in a much higher scoring but also close match, Nick won 229-221 to advance to yet another title match.
Devlin stayed in control in the final game, eventually winning 214-181 for the ninth title of his impressive JBT career.
Top handicap seed Treyshawn Culpepper got past points leader Brendan Hopkins in a brave round one pick, but Brooke Collins picked him off in round two, setting up a confusing Collins/Collins semifinal. In that match Collins (Brooke) beat Davis (Collins) 209-200 to reach the title game. In the other semifinal, Sara Harris got past Daniel Johnson 224-198 to set up an all-ladies' title game.
Brooke and Sara have each already won once this season, but this time Sara had the good look, winning the match 209-150 for her second career JBT title.
Candice Goldfinch beat AJ Schock 178-164 to earn the day's Women's Series title.
Thanks as always to the Kent family for a great job hosting a jam packed day of fun and excitement for all ages and averages. Want in on the fun? Just check out our schedule and come on down!
Nob Hill Bowl- final results and scholarship winners
5/30/2015
Scratch Division
rank
bowler
prize
1
Nick Devlin
$230
2
Jake Mullen
$130
3
Brandon Jensen
$75
4
Josh Mullen
$125
5
Collin Young
$30
6
Ryan Nikolas
$60
7
Brian Monnette
$45
8
AJ Brockett
9
Tyler Boe
$110
10
Johnny Leggett
$15
11
Kyler Crevier
12
Josh Alvarez
13
Justin Song
14
Gabe Bogner
15
Ryan DeFazio
16
Andrew Heritage
17
Tommie McNeal
18
Joey Huffman
19
Brandon Myers
20
Tyler Satter
21
Kolby Crowell
22
Luke Jordan
23
Jacob Herriges
24
Hayden Childs
25
Kelsey Abrahamsen
26
Tyler Hogstrom
Handicap Division
1
Sara Harris
$330
2
Brooke Collins
$200
3
Daniel Johnson
$195
4
Collins Davis
$140
5
Treyshawn Culpepper
$100
6
Caleb Peterson
$75
7
Candice Goldfinch
$50
8
Tristan Sievers
$40
9
Brian DeLuisa-Anderson
$30
10
AJ Schock
$30
11
Jacob Doney
12
Brendan Hopkins
13
Jerry Jennings
$30
14
Cameron Pierre
$15
15
Sheri Hill
16
Andy Herrmann
17
Kerissa Anderson
18
Logan Hoover
$30
19
Aidghan Ziegler
20
Jeff Jonker
21
Nikita Benton
22
Austin Vik-Rae
23
Karlee Nuss
$50
24
Hannah Russell
25
Zane Hays
$15
26
Kyle Hays
27
Alexa Lanning
28
Molly Warshaw
$15
29
Jordan Muir
$10
30
Michelle Jensen
31
Isaac Richardson
32
Tyler Ficek
33
Bailey Peters
34
Alex Perini
35
Maddi Durr
36
Michael Creel
37
Kyle Jonson
38
Madison Bash
39
Zoe Mahn
$30
40
Matthew Boespflug
41
Jordan Jonker
42
Gabriel Potter
43
Holden Childs
44
Michael Baunsgard
45
Shannon Bliquez
46
Armando Moser-Hernandez
47
Matthew Anderson
48
Reagan Lorey
49
Brittany Bland
50
Chevy Nowlin
51
Natasha Richardson
52
Alejandro Moser-Hernandez
High Games
Scratch
Handicap
1
Jake Mullen 276
Sievers 283
2
C Young 267
Ziegler 271
3
Devlin 256
Hopkins 268
4
Devlin 253
Schock 265
5
Josh Mullen 249
Jordan Jonker 265
High Female
1
Goldfinch -2
2
Schock -13*
3
Collins -51
4
K Anderson -122
5
Lanning -155
5
S Harris -155
Round Leaders
Scratch
Handicap
1
Monnette
Goldfinch
2
Young
Johnson
3
Monnette
Hopkins
4
R Nikolas
Goldfinch
5
Jake Mullen
Culpepper
TOTAL AWARDED THIS EVENT: $2,220