PAC NW INVITATIONAL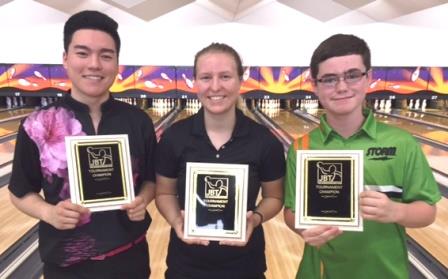 champs Brian Monnette, AJ Schock, & Brian DeLuisa-Anderson
Brian Monnette, AJ Schock, and Brian DeLuisa-Anderson captured titles in the JBT Pacific Northwest Invitational, hosted by Bowlero Lanes in Lakewood.
Daniel Hanson led the field into triple elimination matchplay on a highly demanding lane pattern, but it was Ryan Nikolas who gained the hot hand, starting matchplay 5-0. It fell apart from there though, as he lost three straight, eventually bowling out to Luke Jordan. In the same round, Eric Hatchett had a bye, and Monnette eliminated Hanson. That left three bowlers, and Jordan earned the bye, and Brian eliminated Eric, setting up a one game title match for all the marbles. Needing only a high count in the tenth, Monnette pured a perfect strike to lock up the win over Jordan, his fourth career and first major JBT title, and the $1,000 payday.
Reagan Lorey qualified ninth for matchplay, then got red-hot with a 5-0 matchplay start. She survived until round eight, where #13 Kyle Hays eliminated her. In the same round, #10 Daniel Johnson gave #14 Brian De Luisa-Anderson his second loss. With three bowlers left, that gave Johnson the bye, while Brian eliminated Kyle, setting up a one game rematch that was also the title match. The finale remained close throughout, and when Johnson couldn't find a tenth frame double, DeLuisa-Anderson claimed his first career JBT title and the $1,000 scholarship windfall.
Both Elise Yates and AJ Schock made their respective finals in the main Invitational, and found themselves as the 1-2 seeds for the Girls Invitational. Yates struggled a bit in the title match, and Schock took advantage for the win and $200 prize as Pac NW Girls Invitational champ.
Huge thanks goes to the team at Bowlero for a great job hosting a JBT event for the first time. Over $5,000 in scholarships was awarded to the field. Want to be Invite champ next year? Check out our schedule and come on down!
Pac NW Invitational- final results and scholarship winners
6/27/2015
Scratch Division
rank
bowler
prize
1
Brian Monnette
$1,008
2
Luke Jordan
$500
3
Eric Hatchett
$325
4
Daniel Hanson
$239
5
Ryan Nikolas
$227
6
Brandon Myers
$50
7
Nick Devlin
$72
8
Josh Mullen
9
Josh Alvarez
10
AJ Brockett
$15
11
Kyler Crevier
12
Elise Yates
13
Nick Bruketta
14
Johnny Leggett
$50
15
Ryan DeFazio
16
Kelsey Abrahamsen
$15
17
Gabe Bogner
18
Joey Huffman
19
Kolby Crowell
20
Tyler Boe
$10
21
Collin Young
22
Jeff Jonker
23
Jake Mullen
24
Tyler Hogstrom
25
Tyler Satter
Handicap Division
1
Brian DeLuisa-Anderson
$1,000
2
Daniel Johnson
$514
3
Kyle Hays
$328
4
Reagan Lorey
$200
5
Zane Hays
$114
6
Kaytelyn Denune
$50
7
Bailey Peters
$62
8
Hannah Russell
9
AJ Schock
10
Alex Perini
$50
11
Brendan Hopkins
$50
12
Tyler Denune
13
Andy Herrmann
$84
14
Maddi Durr
$12
15
Nick Perini
16
Michayla Garden
17
Candice Goldfinch
18
Kyle Jonson
19
Michael Creel
20
Brittany Bland
21
Michael Baunsgard
22
Matthew Peterson
23
Matthew Anderson
24
Collins Davis
25
Sheri Hill
26
Treyshawn Culpepper
27
Zoe Mahn
28
Jonathan Bautista
29
Brooke Collins
30
Gabriel Potter
$29
31
Tristan Sievers
32
Kris Tomer
33
Sara Harris
34
Jerry Jennings
35
Michelle Jensen
36
Shannon Bliquez
High Games
Scratch
Handicap
1
Monnette 266
Schock 288
2
Mullen 258
Z Hays 275
3
Buketta 246
Herrmann 257
4
Hanson 246
M Baunsgard 248
5
Mullen 235
M Anderson 244
Girls Invitational
1
AJ Schock
$200
2
Elise Yates
3
Kelsey Abrahamsen
4
Candice Goldfinch
5
Reagan Lorey
6
Zoe Mahn
7
Hannah Russell
8
Elisa Couch
9
Correen Lieber
10
Michelle Jensen
11
Shannon Bliquez
Round Leaders
Scratch
Handicap
1
Mullen
Schock
2
Mullen / Alvarez
Schock
3
Mullen
Z Hays
4
Yates
T Denune
5
Hanson
T Denune
TOTAL AWARDED THIS EVENT: $5,204