RED ROCK LANES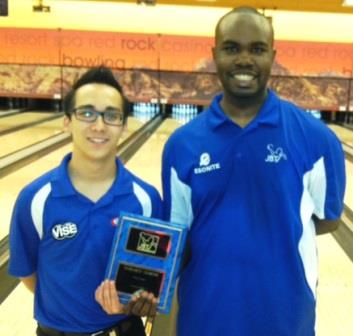 champs Zack Hattori & Justin Freeman
Zack Hattori and Justin Freeman survived challenging conditions and tough opponents to earn JBT titles in exciting Mojave Conference action at the beautiful Red Rock Lanes in Las Vegas.
Ten scratch division survivors advanced to matchplay, where higher seeds chose the roster on each pair. When it got down to four bowlers, top seed Wesley Low chose to play Joe Gerencser, who was making his second straight top 5 to start his scratch career, and beat him 234-171. In the other semifinal, Hattori stopped Dallas Leong, who settled for back to back third place finishes on the weekend with a 233-219 loss.
The title match between former and present Team USA bowlers was a one-sided affair, and if we told you that, you might think Wesley won, since he was crushing the tough pattern all day and Hattori owned the incredibly unlikely stat of not having won a JBT event since December of 2009. However, it was Zack who made the shots in the title game, throwing the second highest game of the day in a 255-187 win to FINALLY earn the 12th title of his excellent JBT career.
Fifteen handicap survivors were carved down to six, and in that round Elijah Lomotan beat Veronica Schleicher 212-169, Freeman ousted Nathan Hanuscin 231-191, and top seed Josh Wilson was upset by Kyle Rendon 190-167. A three-way semifinal match then ensued, with Lomotan (209) and Freeman (198) eliminating Rendon (187), who had come all the way from the bottom seed, to set up the title match.
The two first-time finalists struggled through a back and forth match on the tough 'Phantom' lane condition, but in the end the likable (and loud!) Freeman pulled away for a 208-183 win, and the first JBT title of his career.
Veronica Schleicher made the women's series title game for the second straight day, but had to settle for the runner-up spot again as well, as this time Leah Glazer grabbed the top seed after qualifying and then beat Schleicher 190-171 for the day's girls title.
Thanks as always to the crew at the spectacular Red Rock for hosting our Tour again. What a great opening weekend for the Mojave Conference- you need to be a part of this! In order to do so, just check out our schedule and come on down, that's all you have to do!
Red Rock Lanes- final results and scholarship winners
9/21/2014
Scratch Division
rank
bowler

prize

1
Zach Hattori
$214
2
Wesley Low
$184
3
Dallas Leong
$60
4
Joe Gerencser
$20
5
Jamison Peyton
$20
6
Joe Grondin
7
Cortez Schenck
8
Russ Oviatt
9
Tyler Satter
10
Matt Zweig
11
Leah Glazer
12
Teagan Smale
13
KJ Martinez
14
Zach Martinez
15
Brendan Thomas
16
Andrew Guba
17
Ricardo Mendoza
18
Nick Pollak
19
Isiah Chavez
20
Randi Speiler
$5
21
Cerell Cardines
22
Talon Hendrickson
23
Eric Hatchett
24
Josh Franz
25
Paul Colyer
Handicap Division
1
Justin Freeman
$200
2
Elijah Lomotan
$100
3
Kyle Rendon
$65
4
James Wilson
$40
5
Nathan Hanuscin
$30
6
Veronica Schleicher
$30
7
Tyler Hedges
$89
8
Brendan Lindsey
9
Daryus Alo
10
Cameron Peck
11
Ezekiel Lomotan
12
Dee Handley
$14
13
Garrett Thompson
14
Sergio Torres
15
Abby Franklin
$15
16
Marc Villalobos
17
April McDonnell
18
David Galvan
$5
19
Destiny Johnson
20
Brandon Duffy
21
Brooke Martinez
22
Jopfel Gafate
23
Devyn Pataliona
24
Tyler Thomas
25
Crystalene Pineda
26
Dante Rohe
27
Kevin Mette
28
Jarred Starr-Moncayo
29
Alayna Purdy
30
Jake Hilton
31
Kyle Gilbert
2
Dylan Amico
Scratch
Handicap
1
Peyton 288
Lomotan 270
2
Hattori 255
Wilson 266
3
Oviatt 250
Peck 252
4
Low 249
Hedges 246
5
Oviatt 237
Wilson 246
Freeman 246
High Female
1
Glazer -119*
2
Schleicher -158
3
Speiler -173
4
B Martinez -205
5
Handley -227
Round Leaders
Scratch
Handicap
1
Oviatt
Freeman
2
Leong / Low
Lomotan
3
Low
Lomotan / Wilson
4
Low
Wilson
5
Low
Wilson
Total Awarded This Event: $1,081