REVOLUTIONS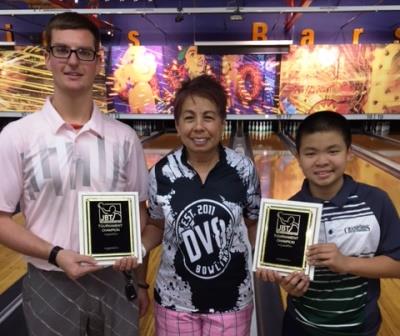 champs Harley Sweigart and Andrew Chan with co-owner Paula Vidad
Harley Sweigart and Andrew Chan picked up JBT titles in exciting dual conference action at Revolutions Barstow Bowl.
After five qualifying games, bowlers competed in 'survivor', with the lowest bowler on each pair eliminated until only one champion remained standing. Ten scratch qualifiers were carved down to four, and in those matches, Wesley Low stopped Cerell Cardines 241-223, and Sweigart outstruck Dallas Leong in an exciting 259-247 match.
In the ensuing title match, Sweigart continued the solid bowling that has carried him for most of his 2015 performances, and his tenth frame strike locked up a 236-223 victory over Low. It's the sixth title of Harley's JBT career.
Twenty handicap survivors were eventually whittled down to the final four, with Andrew Chan eliminating Kyle Gilbert, and Jopfel Gafate stopping Matt Baker in that round, to set up the title match.
Chan's previous best JBT finish was third, while Gafate is a tough two time champ, but both bowlers struggled in the title match this time. In the end, Chan put enough late marks together to scrape out a 193-177 win, earning the first title of his JBT career,
Ashley Dunn and Randi Speiler went at it yet again in the day's girls title match. Speiler made a great ball change and struck out all the way from the sixth, but Dunn gave her no chance at a comeback, blasting away for a 255-224 win and yet another Women's Series title.
Thanks as always to the incredible Paula Vidad and her team for hosting our Tour. Want in on all this fun and excitement for all ages? Just check out our schedule and come on down!
Revolutions- final results and scholarship winners
5/9/2015
Scratch Division
rank
bowler
prize
1
Harley Sweigart
$200
2
Wesley Low
$115
3
Cerelll Cardines
$50
4
Dallas Leong
$55
5
Cortez Schenck
$30
6
Brandon Wanders
7
Eric Hatchett
8
Bobby Hornacek
9
Austin Thompson
$89
10
Brendan Thomas
11
Anthony Schanen
$5
12
Talon Hendrickson
13
Chris Tucker
14
Josh Demick
$5
15
Randi Speiler
16
Jamison Peyton
17
Joe Gerencser
$15
18
Ashley Dunn
19
Nick Condon
20
Teagan Smale
21
Evan Abram
22
Joe Lewandowski
Handicap Division
1
Andrew Chan
$200
2
Jopfel Gafate
$100
3
Matt Baker
$75
4
Kyle Gilbert
$90
5
Trevor Thomspn
$95
6
Marc Villalobos
$55
7
Zack Velosa
$30
8
Jarred Starr-Moncayo
$20
9
Zack Long
$30
10
Sergio Torres
11
Brandon Duffy
12
Secilia Kalvelage
13
Katie Cox
14
Tim HIll
15
Ryan Langenhorst
$22
16
Michael Owens
17
Edward Rassuchine
18
Elijah Melchor
19
Randall Berkheimer
$82
20
Staci Villalobos
21
Matthew Green
22
Marguerite Evans
23
Garrett Sulzer
24
Dawson Reese
$15
25
Matt Alford
26
Kyle Rendon
27
Paul Colyer
28
Jacob Murray
29
Kevin Carpenter
30
Austin Gilbert
31
Matthew Carpenter
$15
32
Taylor Berry
33
Kyle Reed
$40
34
Dante Rohe
35
Dustin Yauney
36
Daryus Alo
37
Dee Handley
38
Tyler Thomas
39
Abby Franklin
40
Katie Kipler
41
Garrett Thompson
42
Tyler Hedges
43
Derick Poole
44
April McDonnell
45
Michaela Buhain
Scratch
Handicap
1
Leong 298
Baker 311
2
C Cardines 279
Z Long 282
3
Sweigart 268
Colyer 273
4
Schenck 268
Cox 265
5
Sweigart 259
Baker 265
High Female
1
Speiler -41
2
Dunn -86*
3
Kalvelage -106
4
Carpenter -134
5
Cox -139
Round Leaders
Scratch
Handicap
1
Schenck
T Thompson
2
Schenck
T Thompson
3
Schenck
Cox
4
Schenck
Cox
5
Schenck
Long
Total Awarded This Event: $1,433