REVOLUTIONS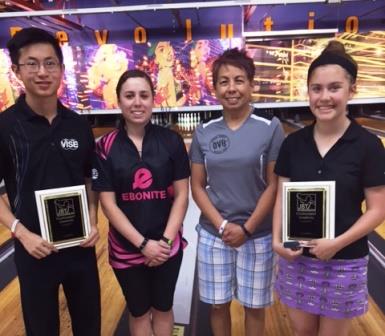 champs Wesley Low and Abby Franklin flank girls champ Randi Speiler and co-owner Paula Vidad
Wesley Low evened up his personal title count again, while Abby Franklin added another win to her collection, in dual Mojave and So Cal Conference action at Paula Vidad's Revolutions in Barstow.
13 year-old Evan Abram made his second scratch finals in three attempts, but veteran Randi Speiler came up with a clutch double to win their opening stepladder match 202-192. Cortez Schenck then ground out a 199-183 win over Speiler, and followed with another low-scoring win, this time 191-180 over Dallas Leong to move on to the title game.
Top seed Wesley Low made an increasingly squirrelly pattern look easy, firing 776 in the semifinals to grab the top seed. Schenck had no answers in the title game, and Wesley was able to cruise 203-171 to the win, good for the 22nd title of his JBT career, matching his JAT title total for an incredible double-resume.
8 year-old Daryus Alo continues to amaze, winning round one of the handicap division stepladder finals 235-226 over Jarred Starr-Moncayo. In the next game Daryus rolled a very respectable 218, but could only watch as Paul Colyer came up with twelve in a row for a perfect 300, the first of his career! The first game after a 300 is often a tough one, and Paul struggled a bit, letting veteran Abby Franlin take advantage for a 204-178 win and a trip to the title match.
Top seed Katie Kipler was right at home in Barstow, leading since round two in by far her best JBT performance of her young career. She slowed down a bit in the title match though, while Franklin finished strong again, winning the match 212-198 for the fifth title of her JBT career.
It was Speiler and Ashley Dunn for the day's girls title, and for the second time on the day Speiler got a tenth frame strike she needed, throwing the hit to beat Dunn 171-160 to split the weekend's women's titles.
Thanks as always to the incredible Paula Vidad and her team for hosting our Tour. The field is now set for the Mojave Invitational, while So Cal still has one event to get into their finale. There's still time for you too! Check out our schedule and come on down to the next JBT event!
Revolutions- final results and scholarship winners
5/10/2015
Scratch Division
rank
bowler
prize
1
Wesley Low
$275
2
Cortez Schenck
$154
3
Dallas Leong
$75
4
Randi Speiler
$40
5
Evan Abram
$30
6
Matt Zweig
7
TJ Rock
8
Joe Grondin
9
Josh Demick
10
Joe Gerencser
11
Andrew Guba
12
Ashley Dunn
13
Eric Hatchett
14
Talon Hendrickson
15
Greg Adler
16
Harley Sweigart
17
Brandon Wanders
18
Brendan Thomas
19
Austin Thompson
20
Joe Lewandowski
21
Anthony Schanen
22
Teagan Smale
23
Leah Glazer
24
Nick Pollak
Handicap Division
1
Abby Franklin
$230
2
Katie Kipler
$140
3
Paul Colyer
$75
4
Daryus Alo
$60
5
Jarred Starr-Moncayo
$64
6
Matt Baker
$85
7
Marguerite Evans
$30
8
Marc Villalobos
$35
9
Jopfel Gafate
10
Jacob Murray
11
Edward Rassuchine
12
Megan Carpenter
$15
13
Austin Gilbert
14
Dawson Reese
$60
15
April McDonnell
$75
16
Taylor Berry
17
Tyler Thomas
18
Zack Long
$20
19
Matt Green
$15
20
Brandon Duffy
21
Andrew Chan
22
James McGough
$15
23
Dante Rohe
24
Dustin Yauney
25
Trevor Thompson
$15
26
Ryan Langenhorst
$15
27
Garrett Thompson
28
Randall Berkheimer
29
Michael Owens
30
Kyle Gilbert
$20
31
Dylan Amico
32
Matt Carpenter
33
Madison Wellman
34
Kyle Reed
35
Kyle Rendon
36
Michaela Buhain
37
Dee Handley
38
Krystal Amico
39
Derfick Poole
40
Tim Hill
41
Sergio Torres
42
Tyler Hedges
43
Leah Zweig
44
April McDonnell
45
Michaela Buhain
Scratch
Handicap
1
Low 276
Colyer 316
2
Grondin 269
Kipler 284
3
Low 267
T Thomas 283
4
Speiler 266
Berry 280
5
Zweig 264
Duffy 264
High Female
1
Speiler +41*
2
Dunn -19
3
Kipler -55
4
Franklin -58
5
Carpenter -58
Round Leaders
Scratch
Handicap
1
Zweig
Starr-Moncayo
2
Abram
Kipler
3
Speiler
Kipler
4
Low
Kipler
5
Low
Kipler
6
Low
Kipler
7
Low
Kipler
8
Low
Kipler
Total Awarded This Event: $1,543