CENTER CITY LANES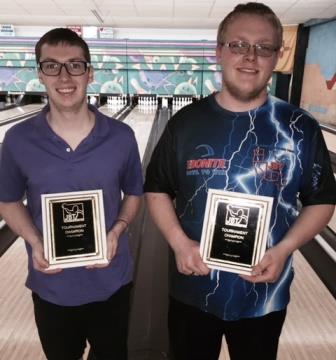 champs William Yoder & James Fine
William Yoder and James Fine earned JBT titles in exciting New Mexico-Texas Conference action at Roswell's Center City Lanes.
Newcomer David McKay, who earlier excited the crowd with a 299 game to open the event, began the scratch division stepladder finals with a 236-222 win over Mark Vigil. McKay then edged Joey Balistreri 215-210, before Ben Stedman stopped McKay's run 236-187 to reach the title match.
Except for one game. top seed Yoder had thrown nothing under 224 all day. He slowed down to 210 in the title match, but it turned out to be plenty. He best Stedman 210-171 for the fourth title of his JBT career.
Morgan Ellis began the handicap division finals with a 252-190 win over Vanessa Romero. Noah Martinez then got exactly the 17 pins he needed in the tenth for a 225-224 win over Ellis. Brandy Main then stopped Martinez 261-213 to move on to the title match.
Fine had the best event of his JBT career to grab the lead, and was eager to improve on his second place finish in Doubles last month. However, Main, who last won a JBT event seven years ago, provided a tough challenge. In the end, James won the game 220-188 to capture the first title of his JBT career.
Kyla Casaus captured her first Women's Series event of the season with a 164-159 grindout win over Sophie Diaz, who bowled well in a cameo appearance home from Nebraska.
Thanks as always to the team at Center City, as well as the incomparable Brian Casaus, for making sure the event ran smoothly. Want in on all this fun? Just come on down to our next JBT event! .
Center City Lanes- final results and scholarship winners
1/3/2015
Scratch Division
rank
bowler
prize
1
William Yoder
$200
2
Ben Stedman
$100
3
David McKay
$50
4
Joey Balistreri
$30
5
Mark Vigil
$49
6
Josh Garcia
7
Taylor Behpour
8
Kyla Casaus
$5
9
Jacob Gill
10
Josh Demick
$24
11
Zach Wojciechowski
$24
12
Ahkeen Williams
13
Sophie Diaz
14
Dustin Dolan
15
Carson Opela
16
John Ellis
17
Ryan Gose
18
Olivia Stedman
Handicap Division
1
James Fine
$200
2
Brandy Main
$100
3
Noah Martinez
$75
4
Morgan Ellis
$50
5
Vanessa Romero
$40
6
Gerilynn Delegarito
$53
7
Jacob Marquis
$43
8
Vanessa Harvey
$30
9
Jacob Lucero
$15
10
Krishawna Casaus
$30
11
Josie Herson
$15
12
Breeanna Nieto
$30
13
Blayne Hurst
$15
14
Nick Sanchez
15
Michael Calderon
$30
16
Taylor Herson
$15
17
Cesar Duran
18
Daryl Nieto
19
Joseph Hicks
20
Jonah Seawright
21
Lucien Betancur
22
Hunter Palma
23
Gracie Mitchell
$15
24
Nathaniel Duran
25
Kara Casaus
26
Jay Heffer
27
Manny Rivera
$5
28
Faith Main
$14
29
Alyssa Williams
30
Sean West
31
Lindsey Sanchez
32
Mathew West
33
Stacie Gleason
34
Eddie Gomez
35
Savannah Palma
36
Damien Betancur
37
Devan Charboneau
38
Kristina Casaus
39
Kyra Casaus
40
Isaac Duran
41
Ryan Casaus
42
Zayden Palma
Women's Series
1
Kyla Casaus +10
2
Diaz -37
3
V Romero -71
4
M Ellis -99
5
B Main -131
High Games
Scratch
Handicap
1
McKay 299
N Martinez 278
2
Yoder 269
V Romero 270
3
Diaz 257
N Sanchez 264
4
Behpour 246
Fine 264
5
Balistreri 246
Fine 264
Round Leaders
Scratch
Handicap
1
McKay
N Sanchez
2
McKay
B Main
3
McKay
N Sanchez
4
McKay
N Sanchez
5
Yoder
Fine
6
Yoder
Fine
7
Yoder
Fine
8
Yoder
Fine
TOTAL AWARDED THIS EVENT: $1,257