SAM'S TOWN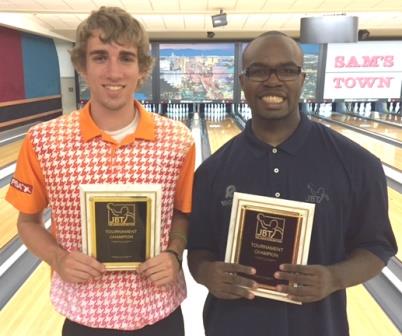 champs Ben Canfield & Justin Freeman
Multiple historic storylines resolved into Ben Canfield and Justin Freeman earning JBT titles in very exciting Mojave Conference action at Sam's Town Bowling Center in Las Vegas.
Scratch division scoring was very polarized on the Boardwalk lane condition, with the ones that had it figured out able to put up high scores on the otherwise challenging pattern. This was evident in the semifinal matches, with Cortez Schenck defeating Austin Thompson 224-210, and Ben Canfield winning a 254-248 thriller over Dallas Leong.
Whenever anyone plays Cortez for a title, they must think they'll need a big number given Schenck's gaudy resume, but Canfield shouldn't - and doesn't- fear anyone with an incredible record of his own. His look got better as the event went on, and when he got to the front nine, everyone crowded around to see a shot at history. Canfield's shots in the tenth were all terrific, and when the dead flush final ball crushed the rack, he had himself a 300-197 win, became just the 10th person ever to win 20 JBT titles, and shot the fourth ever title match perfect game in JBT history!
Plenty of historic storylines dotted the handicap division as well. Justin Freeman, looking for his second consecutive title, which would make him the first handicap bowler to do so this season, won his semifinal match against Jopfel Gafate 236-180. In the other semifinal, veteran Marguerite Evans was looking to finally win her first JBT title, but she ran into Zack Long, who had the block of his life in qualifying, and didn't stop once matchplay began either. He beat Marguerite 212-174 to advance to his first career title match.
In the title game, Zach finally slowed down a bit, while Freeman was focused on his mission, and made the shots he needed to beat Long 228-206, and win his second JBT title in a row. Even though Justin got the win, Long won everything else- and we mean everything. Nobody has ever earned every point available at a JBT event, and Zack led every round, had all five high games, and thus just needed the win to set that historic mark!
Even the women's series match had some history as Randi Speiler and Leah Glazer set a record for the lowest scoring tie title match in girls history, as both talented girls struggled to 149! The rolloff was a struggle as well, as Randi got 7 on her rolloff shot, but Glazer missed left on the demanding condition to only get 3, giving Speiler her first women's series win of the season.
Thanks to the whole crew at Sam's Town for hosting our Tour. Want in on all this record setting fun? Just come on out to the next event, it's as simple as that!
Sam's Town- final results and scholarship winners
10/18/2014
Scratch Division
rank
bowler
prize
1
Ben Canfield
$200
2
Cortez Schenck
$166
3
Dallas Leong
$60
4
Austin Thompson
$30
5
Joe Gerencser
$50
6
Nick Pollak
$5
7
Ricardo Mendoza
8
Eric Hatchett
9
Wesley Low
10
Zack Hattori
11
Brendan Thomas
12
Garrett Thompson
13
Jamison Peyton
14
Teagan Smale
15
KJ Martinez
16
Cerell Cardines
17
Zach Martinez
$5
18
Leah Glazer
19
Tyler Satter
20
Randi Speiler
$5
21
Max Polhill
22
Nick Condon
Handicap Division
1
Justin Freeman
$200
2
Zack Long
$202
3
Marguerite Evans
$64
4
Jopfel Gafate
$30
5
Trevor Thompson
$20
6
Devyn Patalina
7
Abby Franklin
8
Sebastian Polhill
9
Tyler Hedges
$56
10
Jarred Starr-Moncayo
$14
11
Paul Colyer
12
Michael Rose
13
Elijah Lomotan
14
Daryus Alo
15
Sergio Torres
16
Kyle Rendon
17
Kevin Mette
18
Brooke Martinez
19
Dylan Amico
20
April McDonnell
21
Brendan Lindsey
22
Tyler Thomas
23
Katie Cox
24
Dee Handley
25
Collin Deppe
26
Austin Veteto
27
Garrett Thompson
28
Crystalene Pineda
29
Dante Rohe
30
Veronica Schleicher
Scratch
Handicap
1
Canfield 300
Long 274
2
Pollak 279
Long 266
3
Long 279
Long 263
4
Schenck 268
Long 260
5
B Thomas 265
Long 255
High Female
1
Glazer -141
2
Speiler -147*
3
B Martinez -222
4
Evans -233
5
Franklin -265
Round Leaders
Scratch
Handicap
1
Pollak
Long
2
Leong
Long
3
Leong
Long
4
Leong
Long
5
Leong
Long
Total Awarded This Event: $1,107