SKIDZ FAMILY ENTERTAINMENT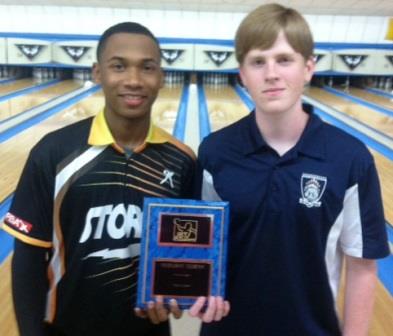 champs Trey Sledge & Doug Griffith
Trey Sledge and Doug Griffith celebrated the first event of the 2014-15 JBT NM-TX Conference season by each winning their first JBT titles, in exciting action at Albuquerque's Skidz Family Entertainment.
WT bowler and JBT newcomer Casey Snow opened the scratch division stepladder finals with a 216-188 win over Josh Helmick. Snow then got past fellow WT teammate Joey Mogavero 225-186. In the semifinals, Sledge stopped Snow 236-202 to advance to the title match.
Sledge made his mark on Tour with back to back runner-up finishes at his home center last season. To avoid the unfortunate three-peat he'd have to get past always tough Danny Cobine, who emerged from a six-way battle for the top seed with a big last game. However, Danny struggled in the title game, and Sledge took immediate advantage, opening with a turkey and eventually coasting to a 211-180 win, capturing the first title of his JBT career.
Griffith began the handicap division stepladder finals with a 240-172 over yet another newcomer, Amarillo's Blayne Hurst. Griffith then rolled the high handicap game of the day in a 283-242 win over Rodrigo De La O. Doug stayed hot in the semifinals, getting by Vanessa Romero 237-208 to advance to the title game.
Top seed Nicole Pinge battled with De La O for much of the day for the #1 position, eventually wrapping it up the last two games. Griffith, meanwhile, had been hot in final rounds before only to cool off in the championship games. That wasn't the case this time though, as Doug stayed in control the whole title game, eventually winning 214-199 for the first title of his JBT career.
Sara Vargas picked up right where she left off last season, defeating Vanessa Romero in a strike filled contest, 258-222, to win the day's Women's Series event.
Thanks as always to the great crew at SkidZ for hosting our Tour. We're just getting started in a great new season- you should be a part of it to! Check out our schedule and come on down, that's all you have to do!
SkidZ- final results and scholarship winners
9/13/2014
Scratch Division
rank
bowler
prize
1
Trey Sledge
$228
2
Danny Cobine
$110
3
Casey Snow
$70
4
Joey Mogavero
$79
5
Josh Helmick
$109
6
Cole Schroyer
$20
7
William Yoder
$10
8
Angel Ortega
9
Sara Vargas
$15
10
Dale Coffee
11
Zach Wojciechowski
$44
12
Levi Fintel
13
Zach Martinez
14
Nick Pollak
15
Josh Demick
16
Isziah Zuni
17
Marcus Ortiz
18
Christian Apolonio
19
Cortez Schenck
20
Adel Wahner
$5
21
Brian Monnette
$15
22
Carson Opela
23
Brad Harvey
$5
24
Joey Balistreri
25
Ryan Gose
26
Jacob Gill
27
Nick Sanchez
28
Brandon Gill
29
Ahkeen Williams
30
Matthew Tran
31
Bree Vargas
32
Ben Stedman
33
Taylor Behpour
34
Matt Wemken
35
Riley Groom
36
Armando Ortega
37
James Fine
38
John Ellis
39
Zach Harvey
Handicap Division
1
Doug Griffith
$200
2
Nicole Pinge
$90
3
Vanessa Romero
$60
4
Rodrigo De La O
$171
5
Blayne Hurst
$30
6
Aileen Linares
$30
7
Quirino Sanchez
$20
8
Lindey Sanchez
9
Mikie Cates
10
Brooke Martinez
$14
11
Christina Ward
$14
12
Gillian Coyle
13
Rhiannon May
$30
14
Aedyn May
15
Jacob Marquis
$14
16
Justin Hackney
17
Cerra Strickland
18
Morgan Ellis
19
Krysta Carlisle
20
Matteo Bergonzi
$30
21
Melissa Waters
22
Alyssa Williams
23
3lizab3th ROm3ro
24
Destiny Johnson
$5
25
Gerilynn Delegarito
26
Kelly McNeil
$15
27
Nathaniel Duran
28
Isaac Duran
29
Abby Franklin
30
Katie McNeil
31
Noah Martinez
32
Mariano Garcia
33
Nathan Tran
34
Jonah Seawright
35
Donius Jeffries II
36
Lacey Shelton
37
Jake Helmick
38
Andrea Griego
Women's Series
1
V Romero +5
2
S Vargas +5*
3
Wahner -8
4
B Martinez -48
5
Coyle -59
High Games
Scratch
Handicap
1
Yoder 279
Griffith 283
2
Wojciechowski 269
Coyle 269
3
Helmick 260
Linares 268
4
Snow 259
Pinge 267
5
Schenck 258
V Romero 266
Round Leaders
Scratch
Handicap
1
Fintel
Coyle
2
Coffee
De La O
3
Schroyer
De La O
4
Helmick
De La O
5
Helmick
Pinge
6
Helmick
De La O
7
Mogavero
Pinge
8
Cobine
Pinge
TOTAL AWARDED THIS EVENT: $1,393