STARLIGHT LANES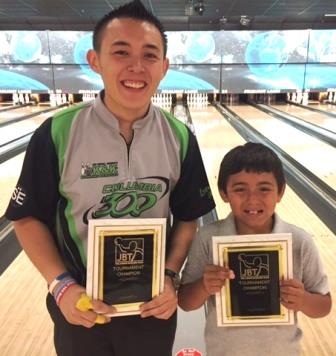 champs Dallas Leong and Jeremiah McClelon
Dallas Leong and Jeremiah McClelon wrapped up the NM-TX Conference regular season with exciting wins at Starlight Lanes in Bernalillo.
Zach Wojciechowski already had a highlight before the stepladder finals, firing a perfect 300 on an otherwise very low scoring day. He continued the big day with a 218-168 win over Sara Vargas. 'Wojo' then put up an impressive two-fer, beating Team USA players Wesley Low (195-181) and Cortez Schenck (188-177) in succession to reach the title match.
The reward for running that gauntlet was a third Team USA member, top seed Dallas Leong. Leong made the long trip from Las Vegas worth it, stopping Wojciechowski 253-150, for the title. He becomes just the 36th bowler in JBT history to reach the 10-title mark in his excellent JBT career.
Eight bowlers made the handicap stepladder thanks to a good turnout, and Zack Long threw a clutch double in the tenth to win round one with a 194 over 189 efforts from Taylor Herson and Montana Cdebaca. Long then turned it up to 239 to eliminate Thomas Whitley (204) and Xzavier Rede (205), a 6 year-old making his second consecutive finals. Another youngster, 8 year-old Jeremiah McClelon, then rolled 197 to stop Jarred Starr-Moncayo (191) and Long (170) to set up the title match.
Justin Hackney claimed the top seed after eight tough games, but McClelon came up with his high game of the day to roll to a 241-204 win, and his first career JBT title, beating big brother Rob to the punch.
Adel Wahner capped off a great NM-TX girls season with a 168-158 win to earn the day's girls title.
Thanks as always to the team at Starlight for a great job hosting our Tour. The field is all set for the NM-TX Invitational, with over $5,000 to be awarded to the happy qualifiers! .
Starlight Lanes- final results and scholarship winners
6/20/2015
Scratch Division
rank
bowler
prize
1
Dallas Leong
$200
2
Zach Wojciechowski
$100
3
Cortez Schenck
$133
4
Wesley Low
$59
5
Sara Vargas
$35
6
Angel Ortega
7
Alex Watanabe
8
William Yoder
9
Ahkeen Williams
10
Joe Balistreri
11
Carson Opela
12
Jacob Gill
13
Adel Wahner
14
Ben Stedman
15
Isziah Zuni
16
Gillian Coyle
17
Zach Harvey
18
Ryan Gose
19
Bree Vargas
20
Josh Demick
21
Levin Fintel
22
Sophie Diaz
23
Danny Cobine
24
John Ellis
$5
25
Curtis Lindeman
26
Christian Apoliono
27
Brad Harvey
$5
28
Matthew Tran
29
Olivia Stedman
30
Armando Ortega
Handicap Division
1
Jeremiah McClelon
$250
2
Justin Hackney
$225
3
Jarred Starr-Moncayo
$125
4
Zack Long
$100
5
Xzavier Rede
$75
6
Thomas Whitley
$60
7
Montana Cdebaca
$40
8
Taylor Herson
$90
9
Aarin Jeffries
$50
10
Jay Heffer
11
Destiny Johnson
12
3lizab3th Rom3ro
13
Christina Ward
14
Alyssa Williams
15
Quirino Sanchez
16
Jacob Lucero
17
Trevor Dodson
18
Rob McClelon
$30
19
Lindsey Sanchez
$10
20
Andrea Griego
21
James Fine
22
Dante Rohe
23
Sierra Jones
24
Tyler Hedges
$30
25
Jonah Seawright
26
Katie McNeil
27
Nathan Nguyen
28
Gerilynn Delegarito
29
Noah Martinez
30
Aileen Linares
31
Jacob Marquis
32
Ben Hindes
33
Morgan Ellis
34
Kallista Fritts
35
CJ Todeschi
36
Josie Herson
37
Vanessa Romero
38
Krysta Carlisle
39
Bex Boyko
40
James Jeffries
41
Trevor Hicks
42
Abby Franklin
43
Chris Ortega
44
Nick Sanchez
45
Jacob Lang
46
Robin Prioleau
47
Alyssa Williams
48
Shaniece Williams
49
Toby Cdebaca
50
Blayne Hurst
51
Kory Hetmer
Women's Series
1
S Vargas -9
2
Wahner -98*
3
Coyle -125
4
B Vargas -137
5
Diaz -153
High Games
Scratch
Handicap
1
Wojo 300
Starr-Moncayo 255
2
S Vargas 277
Whitley 251
3
Leong 259
A Jeffries 245
4
Low 258
Starr-Moncayo 244
5
Watanabe 257
Hackeny, J McClelon 241
Round Leaders
Scratch
Handicap
1
Watanabe
T Herson
2
Low
T Herson
3
Low
T Herson
4
Low
T Herson
5
Low
Hackney
6
Leong
Starr-Moncayo
7
Schenck
Hackney
8
Leong
Hackney
TOTAL AWARDED THIS EVENT: $1,622