STARLIGHT LANES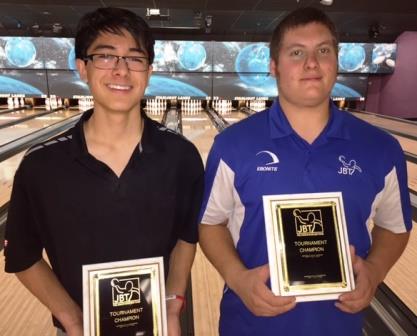 champs Cortez Schenck & Nathaniel Duran
Cortez Schenck reached another milestone, while Nathaniel Duran doubled his personal title count, in exciting JBT action at Santa Ana Star Casino's Starlight Lanes.
After five games of qualifying, bowlers moved on to head to head matchplay. If you were a Williams, you earned a #1 by your name, as siblings Ahkeen and Alyssa led their respective divisions, a first for that family. Matchplay went well for Ahkeen, as he rolled past Isziah Zuni and Josh Demick to reach the title match. Alyssa did not enjoy the same success, though, as #8 Chris Ortega eliminated her in round two. Ortega then beat Andrea Griego to get to the handicap division title match.
Ahkeen's opponent was Cortez Schenck, who had an unspectacular day by his standards, but did what he had to do to grind out wins and get to the final. In that match, the great look Williams had all day seemed to go away, and Schenck took advantage for a 223-167 win. It's the 43rd title of his BT career, moving him past the great Steven Black for sole possession of the #2 spot on our all-time titles list!
Ortega would face Nathaniel Duran for the title, who had to go through three rounds as the #7 seed to reach the final. It was Duran who stayed in control in this match, as too many opens proved costly for Chris. The 224-195 final score was good for the second title of Nathaniel's JBT career.
Unfortunately, the other shoe dropped for Alyssa as well, as Adel Wahner was able to defeat Williams, who was the top seed for the Women's Series, 171-133 for the day's crown.
Thanks as always to the crew at Starlight for hosting our Tour! Want to be a part of it? Just check out our schedule and come on down!
Starlight Lanes- final results and scholarship winners
11/9/2014
Scratch Division
rank
bowler
prize
1
Cortez Schenck
$243
2
Ahkeen Williams
$100
3
Josh Demick
$50
4
Josh Helmick
$30
5
Zach Wojciechowski
$34
6
William Yoder
$58
7
Jacob Gill
8
Isziah Zuni
9
Ben Stedman
10
Ryan McGuire
11
Carson Opela
12
Joey Balistreri
13
Adel Wahner
14
Angel Ortega
15
Zach Harvey
16
Joe Lewandowski
17
Brad Harvey
18
Christian Apolonio
19
Brandon Gill
20
Kyle Salazar
$5
Handicap Division
1
Nathaniel Duran
$214
2
Chris Ortega
$100
3
Nick Sanchez
$50
4
Andrea Griego
$30
5
Alyssa Williams
$80
6
Jake Helmick
7
Morgan Ellis
$15
8
Rhiannon May
$43
9
Aedyn May
10
Justin Hackney
$14
11
Padraig Callan
12
Nathan Price
13
Gerilynn Delegarito
14
Gillian Coyle
$15
15
Audrey Campbell
16
Mariano Garcia
17
Vanessa Romero
18
Quirino Sanchez
19
Matthew Tran
20
Lindsey Sanchez
$10
21
Lacey Shelton
22
James Fine
23
Jonah Seawright
24
Noah Martinez
25
Paul Sanchez
26
Justin Garcia-Vigil
$50
27
Aileen Linares
28
Isaac Duran
29
Jacob Marquis
30
Cerra Strickland
31
Rodrigo De La O
Women's Series
1
A Williams -109
2
Wahner -117*
3
Coyle -144
4
M Ellis -161
5
V Romero -194
High Games
Scratch
Handicap
1
A Williams 247
N Duran 252
2
Wojo. 237
A Williams 247
3
Zuni 237
R May 241
4
Z Harvey 237
Griego 240
5
Schenck 236
A Williams 236
Round Leaders
Scratch
Handicap
1
Zuni - Z Harvey
A Williams
2
A Williams
Griego
3
J Gill
A Williams
4
A Williams
A Williams
5
A Williams
A Williams
TOTAL AWARDED THIS EVENT: $1,131