STARLIGHT LANES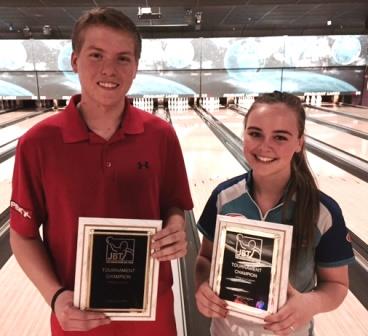 champs Zach Wojciechowski & Gillian Coyle
Zach Wojciechowski won the scratch title with a dramatic stepladder climb, but it was Gillian Coyle who stole the show on the day, winning her first handicap title in exciting JBT New Mexico-Texas Conference action at Starlight Lanes.
Zach began his march to victory with a 194-169 win over first time scratch finalist Brad Harvey. Wojciechowski then got past Josh Helmick 194-169. In a thrilling semifinal match, Zach and previous night's winner Angel Ortega tied at 214, with 'Wojo' winning the rolloff 10-9 to advance to the title match.
Top seed William Yoder completed a solid weekend by leading the event here, but could not find a good look on the championship pair, while Zach, who made the finals all three days this weekend, opened with a three bagger. He hung on for the 183-181 win, good for the second title of his JBT career.
Noah Martinez opened the handicap division stepladder finals with a 191-183 win over Morgan Ellis. Jacob Marquis then put up a big number to defeat Martinez 244-187. Toby Cdebaca then came up with an even bigger number, beating Marquis 277-170 to move on to the title match.
Gillian Coyle not only dominated the handicap division, but the entire tournament. She led after qualifying by over 100 pins, and her +101 scratch total would have been good enough to lead in the scratch division. She extended her lead to over 200 in the semifinals, and her 8-game total again would have led the scratch field. Sometimes that much dominance can backfire in bowling, especially in stepladder situations when you have to win one more game no matter how big your lead. However, Gillian showed no sign of slowing down, as only back-to-back solid-7s prevented her from starting with the front seven in the title match, a barrage that Cdebaca could not withstand. The 258-194 final score was good for the first title of her JBT.
Coyle also, unsurprisingly, won the day's Women's Series event, but always-tough Bree Vargas brought it down to the last ball, with Coyle escaping with a 184-177 to complete the sweep on the day.
Thanks as always to the crew at Starlight for a great job hosting our Tour. Want in on all this fun for all ages and averages? Just check out our schedule and come on down!
Starlight Lanes- final results and scholarship winners
11/11/2014
Scratch Division
rank
bowler
prize
1
Zach Wojciechowski
$214
2
William Yoder
$143
3
Angel Ortega
$50
4
Josh Helmick
$30
5
Brad Harvey
$64
6
Zach Harvey
7
Jacob Gill
8
Carson Opela
9
Christian Apolonio
10
Bree Vargas
11
Ben Stedman
12
Joey Balistreri
13
Doug Griffith
14
Danny Cobine
15
Ryan Byer
16
Ahkeen Williams
17
Josh Demick
18
Kyle Salazar
$5
19
Armando Ortega
20
Isziah Zuni
Handicap Division
1
Gillian Coyle
$229
2
Toby Cdebaca
$114
3
Jacob Marquis
$69
4
Noah Martinez
$40
5
Morgan Ellis
$20
6
Donius Jeffries II
$14
7
Jonah Seawright
$14
8
Rhiannon May
9
Quirino Sanchez
$5
10
Justin Hackney
11
Gerilynn Delegarito
$29
12
Padraig Callan
13
Nick Sanchez
14
Aileen Linares
15
Nicole Pinge
16
3lizab3th Rom3ro
$15
17
Montana Cdebaca
18
Alyssa Williams
19
Aedyn May
20
Cerra Strickland
21
Katie McNeil
$5
Women's Series
1
Coyle +101*
2
Bree Vargas -94
3
M Ellis -183
4
Pinge -208
5
Linares -214
High Games
Scratch
Handicap
1
Yoder 258
Seawright 279
2
Yoder 248
T Cdebaca 277
3
Helmick 245
Coyle 276
4
A Ortega 238
Q Sanchez 267
5
A Ortega, Vargas 237
Coyle 258
Round Leaders
Scratch
Handicap
1
Yoder - Wojo
Q Sanchez
2
Ortega
Coyle
3
Ortega
Coyle
4
B Harvey
Coyle
5
Yoder
Coyle
6
Yoder
Coyle
7
Yoder
Coyle
8
Yoder
Coyle
TOTAL AWARDED THIS EVENT: $1,060