SUNCOAST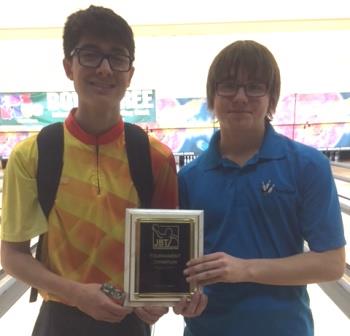 champs Cortez Schenck & Tyler Thomas
Cortez Schenck added an unbreakable record to his stellar resume, while Tyler Thomas reached the winner's circle for the first time, in exciting JBT Mojave Conference action at Suncoast.
Schenck won all four matches in the scratch division stepladder finals, beginning with a 259-203 win over TJ Rock. Cortez kept the strikes coming in a 266-214 round two win over Eric Hatchett, and followed with a 192-182 win over Randi Speiler to reach the title match.
Zack Hattori was brilliant all day in leading the tournament wire to wire, but couldn't find the look on the right hand lane in the title match. Meanwhile, Schenck recovered from the transition in the semifinal game to get locked in again in the final. Bowling quickly, he strung the front nine in a hurry to end the match, and then threw three perfect strikes in the tenth for a 300-214 win. The perfecto is the sixth ever in JBT title matches, and the win is the 48th of his JBT career.
Scores were high in the handicap division as well, with Tyler Thomas opening the handicap division stepladder with a 273-243 win over Zack Long. Thomas snuck by Kyle Rendon in round two 227-218, and followed with another close one, 207-198 over Paul Colyer, to reach the title match.
8 year-old Daryus Alo kept up his amazing season by leading the event here, and held his own against Tyler's impressive charge up the stepladder. A short count on Alo's fill ball left him at 241, and Thomas got the tenth frame mark he needed for a thrilling 244-241 win, and the first title of his JBT career.
Speiler's excellent day in the main tournament continued in the women's series, leading by a wide margin, but Dee Handley, who has been bowling well lately as well, spoiled the party in the girls' final, defeating Randi for the day's title.
Thanks to everyone at Suncoast for a great job hosting our Tour. Want in on all the fun? Just check out our schedule and come on down, that's all you have to do!
Suncoast- final results and scholarship winners
2/7/2015
Scratch Division
rank
bowler
prize
1
Cortez Schenck
$210
2
Zack Hattori
$120
3
Randi Speiler
$50
4
Eric Hatchett
$40
5
TJ Rock
$50
6
Talon Hendrickson
7
Kevin Mette
$5
8
Dallas Leong
$10
9
Brendan Thomas
10
Jamison Peyton
11
Garrett Page
12
Nick Pollak
13
Alex Watanabe
14
Cerell Cardines
15
Max Polhill
16
Brandon Ramos
17
John Davis
18
Zak Velez
Handicap Division
1
Tyler Thomas
$200
2
Daryus Alo
$100
3
Paul Colyer
$115
4
Kyle Rendon
$30
5
Zack Long
$25
6
Cole Telford
$15
7
Dee Handley
8
Abby Franklin
$15
9
Dante Rohe
10
Veronica Schleicher
11
Devyn Patalina
12
Marco Ramirez-Buckles
13
April McDonnell
$15
14
Garrett Thompson
15
Brett McEachern
16
Laurren Takahata
17
Crystalene Pineda
$29
18
Jarred Starr-Moncayo
$29
19
Kyle Gilbert
20
Kelley Johnson
21
Samantha Conti
22
Daniel Warner
23
Travis Cummings
24
Tyler Hedges
25
Sebastian Polhill
26
Ashley Thomas
27
Austin Garrett
28
Carter Smith
29
Justin Freeman
30
Tyler Schlei
High Games
Scratch
Handicap
1
Schenck 300
T Thomas 273
2
Hattori 269
Long 273
3
Speiler 267
Colyer 269
4
Schenck 266
Garrett 267
5
Schenck 259
Rendon 266
High Female
1
Speiler +96
2
Handley -96*
3
Schleicher -128
4
Pineda -134
5
Franklin -145
Round Leaders
Scratch
Handicap
1
Hattori
Rendon
2
Hattori
Alo
3
Hattori
Alo
4
Hattori
Alo
5
Hattori
Rendon
6
Hattori
Colyer
7
Hattori
Alo- Rendon
8
Hattori
Alo
TOTAL AWARDED THIS EVENT: $1,058