SURF BOWL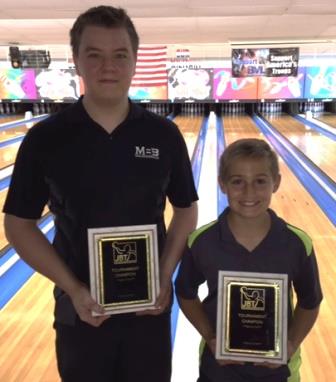 champs Austin Thompson & Gael Egana
Austin Thompson and Gael Egana each pulled off title match upsets to claim JBT titles in exciting JBT Southern California Conference action at Oceanside's venerable Surf Bowl.
Wesley Low began the scratch division stepladder finals with a 257-146 win over Joe Grondin. Thompson then snuck by Low 212-204, and in another thriller snuck by Cortez Schenck 192-189 to advance to the title match.
Top seed Nick Pollak had rolled 279 in qualifying and then 278 in the semifinals to take over the lead, and appeared to have a good look on the increasingly squirrelly pair. However, Thompson, who had the highest game of the day with a 299 in qualifying, built a big lead mid-game. An eleventh frame solid-8 derailed a great comeback effort from Nick, and with the 212-205 final score, Austin claimed the 5th title of his JBT career.
Egana snuck in as the #5 seed for the stepladder finals, then began a climb to victory with a 222-202 win over Maikayla Villa. Egana then poured it on in a 256-215 win over Tre Mitchell. In the semifinal he took on Trevor Thompson, who has had a lot of JBT success at Surf, but this time it was Egana escaping with a 204-198 win, advancing him to the title match.
Top seed Marguerite Evans has been having a fantastic season, and this looked to be her best chance yet to finally break through for that first JBT title. A low scoring match came down to the final frame, and when Marguerite missed a 4-pin, it was heartbreak for Evans but relief for Gael, as Egana pulled out the 197-190 win, and the second title of his JBT career.
Ashley Dunn defeated Randi Speiler in the day's Women's Series match 187-163 to claim the girls' crown and extend her points lead in that category.
Thanks as always to the crew at Surf for hosting our event. Want in on all the fun? Just check out our schedule and come on down!
Surf Bowl- final results and scholarship winners
11/1/2014
Scratch Division
rank
bowler
prize
1
Austin Thompson
$259
2
Nick Pollak
$100
3
Cortez Schenck
$90
4
Wesley Low
$45
5
Joe Grondin
$30
6
Bobby Hornacek
7
Bryan Van Sickle
$15
8
Kennison Andrews
$15
9
Ashley Dunn
$30
10
Joe Lewandowski
11
Nick Condon
12
Randi Speiler
13
TJ Rock
14
Kyle Andrews
15
Max Polhill
16
Brandon Wanders
17
Ricardo Mendoza
18
Dayton Wickham
19
Terrence Robinson
20
Miguel Meraz
21
Alberto Bernal
22
Marco Flores
Handicap Division
1
Gael Egana
$200
2
Marguerite Evans
$115
3
Trevor Thompson
$120
4
Tre Mitchell
$50
5
Maikayla Villa
$40
6
Sebastian Polhill
$30
7
Kyle Sidileau
$20
8
Zack Long
9
Harrison Cole
10
Michaela Buhain
$15
11
Megan Carpenter
$30
12
Kylie Shishima
$60
13
Ryan Galland
14
Hunter Brown
15
Katelyn Abigania
$30
16
Leah Zweig
17
Destiny Johnson
18
Matt Alford
19
Austin Gilbert
$15
20
Ethan Hirschorn
21
Tyler Hedges
$15
22
Abby Franklin
$15
23
Kyle Reed
24
Ryland Pimental
25
Matthew Carpenter
$14
26
Austin Veteto
27
Jarred Starr-Moncayo
$15
28
Joshua Abigania
29
Brandon Lim
30
James McGough
31
Dawson Reese
32
Secilia Kalvelage
33
Jacob Murray
34
Taylor Berry
35
Jacob McGough
36
Jozef Corwin
37
Ryan Langenhorst
38
Dante Villa
$5
39
Eric Torrence
40
Justin Rico
41
Renee Gentry
42
Israel Ramirez
Scratch
Handicap
1
A Thompson 299
Long 269
2
Ken Andrews 289
Buhain 262
3
Pollak 279
T Thompson 257
4
Pollak 278
Egana 256
5
Grondin 267
T Thompson 249
High Female
1
Dunn +20*
2
Speiler -48
3
Buhain -102
4
Evans -122
5
M Carpenter -141
Round Leaders
Scratch
Handicap
1
Kyle Andrews
Long
2
Schenck
Sidileau
3
Schenck
T Thompson
4
Schenck
T Thompson
5
Grondin
T Thompson
6
Pollak
T Thompson
7
Pollak
Evans
8
Pollak
Evans
Total Awarded This Event: $1,373