TOURNAMENT OF ALL-TIME CHAMPS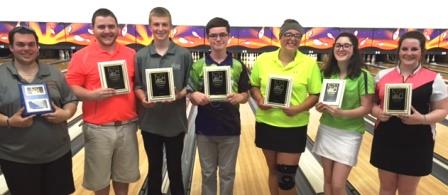 runner-up Josh Jackson, champs Ryan DeFazio, Daniel Hanson, Brian DeLuisa-Anderson, Michayla Garden; runners-up Regan Lorey and Alexa Lanning
Four bowlers claimed impressive wins in the JBT Tournament of All-Time Champs and Future Champs, hosted by Lakewood's Bowlero Lanes.
Collin Young began the scratch division Future Champ's stepladder finals with a 237-202 win over Jonathan Bautista. Young then defeated Shelly Goodwin, visiting from Florida, 187-158. Top seed Ryan DeFazio left no doubt that he'd be a future champ no more, blasting the high game of the tournament in a 276-183 win over Young to earn his first career JBT title.
Michayla Garden went all the way up the handicap Future Champs ladder, with a high scoring 266-234 win over Isaac Richardson to begin. She followed with a 204-174 win over Girls Invitational champ AJ Schock, and finished it off with a close 203-194 win over top seed Regan Lorey to join the JBT Champions' club.
In the handicap T of C, former Invitational champ Tyler Denune won the first stepladder match 203-180 over Sara Harris. Former Main Event champ Alexa Lanning then stopped Denune 243-200. However, she- just like everyone else- had no answer for top seed Brian DeLuisa-Anderson. After winning his first title the previous day in the Invitational, he backed it up with a 224-210 win for the T of C title for an amazing doubleheader sweep!
The scratch T of C field is always among the toughest of the year, since many of the big names of the past come back to test their skills against the best current JBT kids. The opening stepladder match featured two of the very best of the recent JBT past, as Cameron Weier strung big to defeat Perry Crowell IV 267-202. Daniel Hanson, the lone current JBT bowler to make the finals, then stopped Weier 226-205 to reach the title match. Top seed Josh Jackson, the 2009 Pac NW Invitational champ, came on strong in the semifinals, but struggled a bit in the title match. Everyone knows that current JBT kids can hold their own against any caliber adult, and Hanson's tenth frame spare sealed a 212-200 win over Jackson for the title, the fifth of his JBT career.
Big thanks to the team at Bowlero for hosting our Tour. Want in on all this fun and action for all ages and averages? Just check out our schedule and come on down, that's all there is to it!
Tournament of Champions- final results and scholarship winners
6/29/2015
Scratch Division
rank
bowler
prize
1
Daniel Hanson
$345
2
Josh Jackson
$150
3
Cameron Weier
$75
4
Perry Crowell IV
$50
5
Cameron Smith
$40
6
Jake Mullen
$30
7
Josh Mullen
8
Tyler Boe
$29
9
Ryan Nikolas
$15
10
John Jordan
11
Nick Devlin
$75
12
Johnny Leggett
13
Darren Stanley
14
Jeff Jonker
15
Kolby Crowell
16
Correen Lieber
17
Nick Bruketta
18
Tyler Hogstrom
19
Josh Alvarez
20
Evan Olson
21
Joey Huffman
22
Brandon Myers
23
Eric Hatchett
24
Brian Monnette
$15
25
Toby Shepherd
26
Jeremy Witt
27
Sarah Jackson
28
Tyler Satter
Handicap Division
1
Brian DeLuisa-Anderson
$300
2
Alexa Lanning
$150
3
Tyler Denune
$75
4
Sara Harris
$55
5
Michael Creel
6
Maddi Durr
7
Collins Davis
8
Michelle Jensen
9
Nick Perini
10
Brooke Collins
11
Jerry Jennings
$5
12
Brendan Hopkins
13
Sheri Hill
14
Sam Cox
Round Leaders
Scratch
Handicap
1
Leggett
Lanning
2
Mullen
Lanning
3
Leggett
Denune
4
Mullen
Denune
5
Devlin
Denune
6
Mullen
DeLuisa-Anderson
7
Jackson
DeLuisa-Anderson
8
Jackson
DeLuisa-Anderson
Tournament of Non-Champions- final results and scholarship winners
6/15/2015
Scratch Division
rank
bowler
prize
1
Ryan DeFazio
$300
2
Collin Young
$150
3
Shelly Goodwin
$75
4
Jonathan Bautista
$64
5
AJ Brockett
6
Elise Yates
7
Gabe Bogner
8
Hayden Childs
Handicap Division
1
Michayla Garden
$300
2
Reagan Lorey
$150
3
AJ Schock
$143
4
Isaac Richardson
$50
5
Candice Goldfinch
6
Brittany Bland
7
Parker Portalski
8
Logan Hoover
$29
9
Holden Childs
10
Gabriel Potter
11
Kris Tomer
12
Austin Portalski
13
Bailey Peters
$5
14
Shannon Bliquez
15
Treyshawn Culpepper
16
Jordan Jonker
17
Blake Portalski
18
Aidghan Ziegler
Round Leaders
Scratch
Handicap
1
Goodwin
Lorey
2
DeFazio
Lorey
3
Goodwin
Garden
4
Goodwin
Richardson
5
Goodwin
Richardson
6
Goodwin
Richardson
7
DeFazio
Richardson
8
DeFazio
Lorey
Total Awarded This Event: $2,675