TOURNAMENT OF ALL-TIME CHAMPS & FUTURE CHAMPS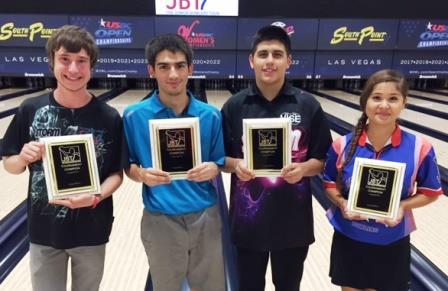 champs Teagan Smale, Kyle Duster, Sergio Torres, and Rachel Csanyi
Four bowlers captured JBT titles- including two who are 'future champs' no more, at the JBT's Tournament of All-Time Champions and simultaneous Non-Champs event, hosted at the incredible new South Point Bowling Plaza.
In the scratch champions division, Eric Hatchett defeated Zack Hattori in a very well bowled 247-237 match to begin the stepladder. Kyle Duster then stopped Hatchett 257-218 to advance to yet another title match. Top seed Wesley Low was looking to avenge his runner-up finish at the previous day's Invitational, but was again plagued by bad corner pin carry. Duster, who is as hot as you can be in title matches, fired yet another huge game, winning 268-214 for the 12th title of his JBT career.
Utah's Garrett Thompson opened the handicap champions stepladder with a 203-172 win over defending T of C champion Shauna Schultz. Sergio Torres then stopped Thompson 248-168 to move on to the title game. Austin Gilbert put together a huge semifinal set to take the lead, but Torres was torrid in the title tilt, winning 248-206 for his second career JBT title, both of which coming at the Plaza.
Rachel Csanyi didn't look like a non-champ in running up the handicap future-champ stepladder. She started with a 235-169 win over Jacob McGough. Rachel then stopped Phillip Sauve 222-179, and finished things off with a 234-181 win over top seed Tyler Schlei to claim her first career JBT title.
Teagan Smale was equally impressive running up the scratch non-champs ladder, starting with a 227-194 defeat of Austin Schleidt. He then snuck by Jamison Peyton-Hemer 213-208. But he saved his best (and the best of the whole weekend by anyone) for last, running the front ten strikes in a 284-186 win over top seed Zack Long to ice his first career JBT title in most dramatic fashion.
Thanks go to a lot of folks- Mike, Angie, and the team at South Point for an awesome job hosting a jam-packed weekend, Ebonite, Racks on Racks, and all our other incredible sponsors, and every champ and future champ, present and past, for attending a wonderful event! Want to be a part of it? Just come on down to the next JBT event, it's as simple as that!
Tournament of Champions- final results and scholarship winners
6/14/2015
Scratch Division
rank
bowler
prize
1
Kyle Duster
$300
2
Wesley Low
$150
3
Eric Hatchett
$110
4
Zack Hattori
$150
5
Ben Canfield
$50
6
Chase Nadeau
$40
7
Cortez Schenck
$30
8
Cameron Smith
9
Andrew Guba
10
Harley Sweigart
$45
11
Russ Oviatt
12
Nick Pollak
13
Joe Gerencser
$59
14
KJ Martinez
$15
15
Andy Reynoso
16
Cerell Cardines
17
Kris George
18
Keith Fung
19
Brandon Wanders
20
Allie Ijams
21
Tyler Satter
22
Correen Lieber
23
Alexis Atkin
24
Joe Grondin
25
Jake Hilton
26
DJ Sloan
27
TJ Rock
28
Randi Speiler
29
Kennison Andrews
30
Matt Zweig
31
Jeremy Cardines
32
Brandon Russom
33
Ian Hanuscin
34
Kyle Andrews
35
Alex Watanabe
36
Mark Hugelmaier
37
Steven Conti
38
Josh Demick
39
Greg Adler
Handicap Division
1
Sergio Torres
$300
2
Austin Gilbert
$244
3
Garrett Thompson
$150
4
Shauna Schultz
$100
5
Nick Condon
$75
6
Alayna Purdy
$58
7
Jopfel Gafate
$40
8
Samantha Conti
$30
9
James McGough
$88
10
Kyle Reed
$15
11
Dante Rohe
$163
12
Bella Flowers
$15
13
Donius Jeffries
$15
14
Destiny Johnson
$15
15
Elijah Lomotan
16
Andrew Chan
17
William Robbins
18
Devyn Patalina
19
Justin Freeman
20
Tyler Hedges
$15
21
Amanda Atkin
22
Dee Handley
23
Marguerite Evans
24
Austin Hart
25
Jarred Starr-Moncayo
$15
26
David Galvan
27
Cristian Roque
$60
28
James Wilson
29
Leah Zweig
30
Jerod Walker
31
Daryus Alo
32
Marc Villalobos
33
Montana Cdebaca
$5
34
Kyle Gilbert
35
Brendan Lindsey
36
Casey Nagamine
37
Paul Colyer
38
Brandon Duffy
39
Elijah Melchor
40
Matt Snow
41
Costa Gastouniotis
42
Kevin Badke
Round Leaders
Scratch
Handicap
1
Canfield
Torres
2
Hattori
Torres
3
Sweigart
Torres
4
Sweigart
Torres
5
Sweigart
Torres
6
Duster
Torres
7
Hattori
Gilbert
8
Low
Gilbert
Tournament of Non-Champions- final results and scholarship winners
6/15/2015
Scratch Division
rank
bowler
prize
1
Teagan Smale
$330
2
Zack Long
$193
3
Jamison Peyton
$75
4
Austin Schleidt
$50
5
Isaiah Chavez
6
Leah Glazer
7
Brittany Kolatzny
8
Tim Crosswhite
9
Kyle Perry
Handicap Division
1
Rachel Csanyi
$300
2
Tyler Schley
$150
3
Phillip Sauve
$130
4
Jacob McGough
$90
5
Katie Cox
$50
6
Leeann Reyes
$40
7
Garrett Sulzer
$30
8
Sam Espiritu
9
Dylan Amico
$15
10
Jonah Pantoja
11
Mason Snow
12
Clifford Robbins
13
Tre Mitchell
14
Matt Baker
$23
15
Toby Cdebaca
$15
16
Justin Hackney
$15
17
April McDonnell
18
Sarah Halligan
$15
19
Dillon O'Neil
20
Kaitlynn Martin
21
Laurren Takahata
22
Katelyn Spagnola
$15
23
Zack Velosa
24
Krystopher Martin
25
Kyle Rendon
$5
26
Krystal Amico
27
Michael Spagnola
28
Max Hiebl
$15
29
Cameron Criss
30
Josh Beckett
31
Derick Poole
32
Ryan Perry
33
Michael Owens
34
Dawson Reese
$5
35
Brandon Criss
36
Anthony Villalobos
37
Jackson Russell
38
Jacob Soulliere
Round Leaders
Scratch
Handicap
1
Chavez
Baker
2
Kolatzny
Schlei
3
Kolatzny
Mitchell
4
Smale
Schlei
5
Long
Schlei
6
Long
Sauve
7
Long
Schlei
8
Long
Schlei
Total Awarded This Event: $5,486