TEXAS STATION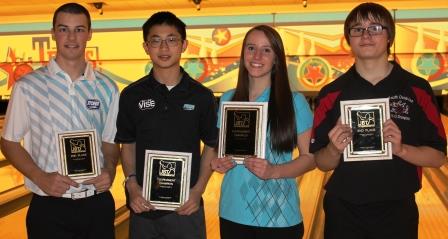 champs Wesley Low & Brooke Collins (center), with runners-up Sam Cantrell & Tyler Thomas
Wesley Low and Brooke Collins rang out 2014 in style, capturing titles at the JBT 'Super Regional' held at Texas Station to wrap up Main Event week.
Las Vegan Dallas Leong began the scratch division stepladder finals with a 195-185 win over Florida's Michael Coffey. Tyler Boe, a Pac NW star from Washington, then stopped Leong 253-194. Sam Cantrell then represented Northern California with a 200-163 win to move on to the title match.
Top seed Wesley Low torched the lanes to an even +400 after eight games, and then earned a $400 prize by defeating Cantrell 246-191 to win the 19th title of his exceptional JBT career.
Austin Veteto survived a high scoring round one of the handicap stepladder finals with a 256-245 win over Dee Handley. Kelley Johnson then made his first finals a success with a 264-202 win over Veteto. Fellow Utah bowler Tyler Thomas then beat Johnson 218-203 to reach the title game.
Brooke Collins had a breakthrough event, as the Washington bowler grabbed the lead in the semifinals, then stayed ahead most of the title match in a 214-176 final score, good for the first championship of her JBT career.
Huge thanks to Jerry Francomano and the crew at Texas for another stellar Main Event week. Want in on all the fun? Just check out our schedule and come on down, that's all you have to do!
Texas Station- final results and scholarship winners
12/31/2014
Scratch Division
rank
bowler
prize
1
Wesley Low
$415
2
Sam Cantrell
$200
3
Tyler Boe
$100
4
Dallas Leong
$90
5
Michael Coffey
$30
6
Jamison Peyton
$20
7
Josh Mullen
$43
8
Russ Oviatt
9
Heather Penatzer
10
Harley Sweigart
$24
11
Anthony Cando
12
Jacob Camacho
$15
13
Brendan Thomas
14
Brandon Myers
$105
15
Ahkeen Williams
16
Zack Hattori
17
Kyle Duster
18
Alex Watanabe
19
Ben Canfield
20
Nick Pollak
21
Josh Alvarez
22
Daniel Hanson
$15
23
Jerome Jordan Jr
$14
24
Josh Demick
25
Bryan Van Sickle
26
Correen Lieber
27
Cerell Cardines
28
Talon Hendrickson
29
Randi Speiler
30
Adel Wahner
31
Matt Zweig
32
Reed Ross
Handicap Division
1
Brooke Collins
$400
2
Tyler Thomas
$200
3
Kelley Johnson
$100
4
Austin Veteto
$90
5
Dee Handley
$95
6
Brandon Rouse
$40
7
Veronica Schleicher
$30
8
Krystopher Martin
$50
9
Zoe Mahn
10
Amanda Atkin
11
Marguerite Evans
12
Ryland Pimentel
13
Kyle Ponzo
14
John Newton
15
Treyshawn Culpepper
16
Saphyre Nofuente
17
Alyssa Williams
18
Tyler Hedges
$29
19
Jerod Walker
20
Gerilynn Delegarito
$28
21
Zack Long
$5
22
Michael Ma
23
James McGough
$30
24
James Burke
25
EJ Barajas
26
Dante Villa
27
Daryus Alo
28
Abby Franklin
29
Bex Boyko
30
Zahn Bouder
31
James Wilson
32
April McDonnell
$29
33
Chris Rouse
34
MJ Valenzuela
35
Alayna Purdy
36
Jonathan Bautista
$49
37
Rob McClelo
38
Crystalene Pineda
39
Celeste Valdez
40
Maikayla Villa
41
Mikaela Rouse
42
Kaitlynn Martin
43
Ashley Thomas
44
Aaron Coleman
High Games
Scratch
Handicap
1
Myers 290
K Johnson 300
2
Cantrell 290
B Rouse 289
3
Camacho 288
B Rouse 283
4
Low 279
J Newton 282
5
Penatzer 278
Schleicher 270
High Female
1
Penatzer +186*
2
Amanda Atkin +4
3
Collins -31
4
Lieber -37
5
Evans -60
Round Leaders
Scratch
Handicap
1
Penatzer
Newton
2
Penatzer
Newton
3
Mullen
Newton
4
Penatzer
B Rouse
5
Penatzer
B Rouse
6
Low
Collins
7
Low
Collins
8
Low
Collins
Total Awarded This Event: $2,246