TEXAS STAR LANES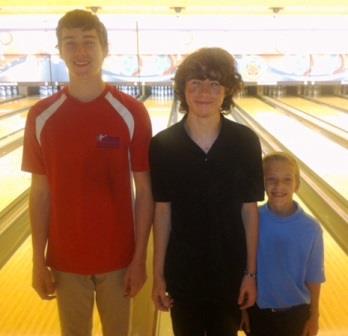 champs Brendan Thomas & Garrett Thompson, with runner-up Cole Telford
After a very exciting day of action, Utah bowlers Brendan Thomas and Garrett Thompson came out on top at the JBT Mojave Conference season opening event at Texas Star Lanes.
TPC champion Dallas Leong opened the scratch division stepladder finals with a 249-221 win over Joe Gerencser, who made a successful switch to the scratch division. Leong then raised his score even higher, getting by KJ Martinez 251-172. Thomas stopped Leong in the semifinals 225-181 to move on to his second career title match.
Top seed Russ Oviatt rolled the first 300 game of the season (followed just a few minutes later by KJ's perfect game) en route to the #1 spot. He struggled early in the title match though, while Thomas came out red-hot with a five bagger. A great ball change got Russ back in contention, but when he didn't strike in the tenth, Brendan had the margin he needed for a 246-212 win, earning the first title of his JBT career.
9 year-old Cole Telford made a very impressive run up the handicap division stepladder, beginning with a 219-185 win over Crystalene Pineda. The next match was a thriller, as Brendan Lindsey got the first strike in the tenth but not the second, giving Telford the 246-243 win. Round three was just as tense, and again Cole escaped, this time with a 206-199 win over Paul Colyer, to advance to the title match.
Top seed Garrett Thompson and Telford, both Utah bowlers, ensured it would be a Utah sweep on the day, but which bowler would complete the sweep wasn't determined until the final shot. After Cole finished the title match at 217, Thompson needed a 20-fill in his tenth to tie. Instead, he got up and calmly flushed two strikes, earning a 226-217 victory, and his first career JBT title.
The women's series saw two new faces, as top seed Crystalene Pineda beat Veronica Schleicher 179-154 for the title, the first of three women's wins she needs to qualify for the 2015 Girls TPC next summer.
If all that wasn't enough, Dante Rohe correctly called 10-7-5 to win PowerBowl's $500 jackpot, making him the second PowerBowl big winner in two weeks, after Randi Speiler's $1,000 win in San Diego. Come get PowerBowl while it's hot!
Thanks as always to Jerry Francomano and the crew at Texas for their usual stellar hosting job. If you don't like this, you don't like bowling! To get in on the fun, just check out our schedule and come down, that's all there is to it!
Texas Star- final results and scholarship winners
9/20/2014
Scratch Division
rank
bowler

prize

1
Brendan Thomas
$200
2
Russ Oviatt
$100
3
Dallas Leong
$75
4
KJ Martinez
$40
5
Joe Gerencser
$48
6
Wesley Low
7
Nick Pollak
8
Cerell Cardines
9
Joe Grondin
10
Zach Hattori
$44
11
Alex Watanabe
12
Isaiah Chavez
13
Ricardo Mendoza
14
Eric Hatchett
15
Tyler Satter
16
Teagan Smale
17
Cortez Schenck
18
Matt Zweig
19
Talon Hendrickson
20
Zach Martinez
21
Randi Speiler
22
Andrew Guba
23
Jamison Peyton
24
Leah Glazer
Handicap Division
1
Garrett Thompson
$200
2
Cole Telford
$130
3
Paul Colyer
$70
4
Brendan Lindsey
$30
5
Crystalene Pineda
$20
6
Keilani Pracale-Bermudez
$20
7
Veronica Schleicher
8
April McDoneell
$14
9
Alayna Purdy
10
Devyn Patalina
11
Kevin Mette
12
Dante Rohe
$631
13
Tyler Thomas
14
Jake Hilton
15
Dylan Amico
16
Sergio Torres
17
Daryus Alo
18
Jarred Starr-Moncayo
$10
19
Hezy Miller
20
Justin Freeman
21
Brooke Martinez
22
Kyle Gilbert
23
Dee Handley
$15
24
Krystal Amico
25
Abby Franklin
26
Jopfel Gafate
27
Tyler Hedges
28
Cameron Peck
$14
29
Kyle Rendon
$50
30
Destiny Johnson
31
Marc Villalobos
Scratch
Handicap
1
Oviatt 300
Schleicher 301
2
KJ Martinez 300
Colyer 288
3
Joe Gerencser 288
G Thompson 281
4
B Thomas 279
Lindsey 276
5
I Chavez 279
Schleicher 265
High Female
1
Pineda +14*
2
Schleicher +10
3
Speiler -81
4
B Martinez -86
5
Bermudez -90
Round Leaders
Scratch
Handicap
1
I Chavez
Patalina
2
Oviatt
Schleicher
3
Oviatt
Schleicher
4
Gerencser
Schleicher
5
Oviatt
Colyer
6
Oviatt
Colyer
7
Oviatt
G Thompson
8
Oviatt
G Thompson
Total Awarded This Event: $1,721