scroll below for complete round by round games bowled and some great pictures!
2015 TOURING PLAYERS' CHAMPIONSHIP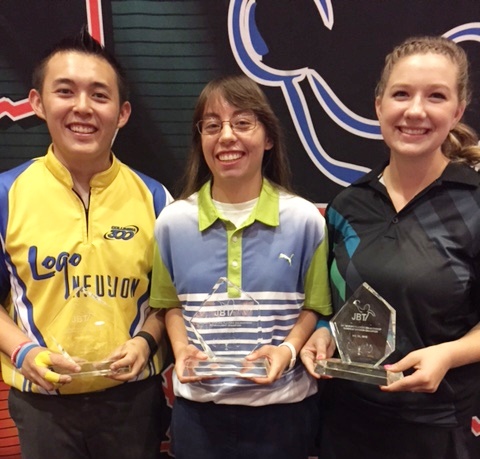 champs Dallas Leong, Ashley Dunn, & Zoe Mahn
Dallas Leong and Ashley Dunn completed most impressive defenses of our most coveted title, while Zoe Mahn earned her first major in commanding fashion, capturing titles at the 2015 JBT Touring Players Championship, hosted by Henderson's Strike Zone.
The scratch division stepladder finals featured three repeat finalists from last season, a surprising result given the level of talent at this tournament. Kyle Duster was the only finals newcomer, and 2014 runner-up Russ Oviatt ousted him in the first finals match, 217-178. Defending champion Dallas Leong qualified second, and in the resulting rematch of the 2014 title game, it was Dallas again, as he beat Oviatt 215-193 to reach the title match again this year.
Top seed Wesley Low, off to Wichita after a career setting a diverse and impressive set of records both in and out of JBT, wanted to finish things off with a TPC title. Both finalists bowled outstanding games on the super-tough Sphinx lane pattern, and when Low struck out in the tenth, it forced Dallas to get the first strike in his tenth to win it all. Leong summoned up all his experience and threw a dead perfect ball, and when the pins all fell he earned his second consecutive TPC title, 12th career JBT win, and the $2,000 top scholarship prize.
So Cal bowler Kyle Gilbert had one of his best performances of the year at TPC, and kept it rolling with a round one finals victory over the Pac NW's Zane Hays. Zoe Mahn tehn stopped Gilbert 223-182 to advance to the title match.
Top seed Noah Martinez grabbed the #1 spot after a very competitive eight-game matchplay round that saw both he and Zoe lead the event for multiple games. Noah, the NM-TX Bowler of the Year, and Zoe, a Pac NW veteran, were both two-time JBT title winners looking for their first major, but Zoe left no doubt as to the winner, firing a 230 scratch game to roll past Martinez 258-209 for the title. Mahn earned a $2,000 prize for the major title, while Martinez claimed $1,000 for the runner-up spot.
Bree Vargas, who has along with her sister been a major factor in New Mexico girls' bowling for many years, took on current NM-TX Girls Bowler of the Year Adel Wahner in the Girls TPC semifinal match. In a close one, Bree advanced by a 197-182 score when Wahner could not get a tenth frame double.
Ashley Dunn is a factor in whatever she bowls, so it was no surprise she was able to nab the top seed here. She defended that seed to defend her TPC crown, beating Vargas 217-157 for the back-to-back, best-of-the-best win, and a $400 scholarship bonus.
Individual highlights came from Angel Ortega, who fired a 300 game during Friday's Top Dawg side event, and Teagan Smale, who fired a perfecto during the scratch final matchplay round, the first 300 in JBT competition for both bowlers.
Over $18,000 in scholarships was awarded to the best of the best from all five JBT conferences, thanks in part to our amazing sponsors Ebonite, Rolltech, Valley Crest Landsaping, Racks on Racks Pro Shop, and Logo Infusion, who all made significant contributions to the TPC prize fund. Thanks to everyone for attending a truly special weekend- if you want to get into the 2016 TPC, thie time is now to start making plans to get to as many JBT events as you can!
TPC- final results and scholarship winners
7/27/2014
SCRATCH
Rank
Bowler
Prize
1
Leong, Dallas
$2,264
2
Low, Wesley
$1,643
3
Oviatt, Russ
$850
4
Duster, Kyle
$400
5
Devlin, Nick
$340
6
Canfield, Ben
$650
7
Cardines, Cerell
$250
8
Smale, Teagan
$150
9
Martinez, KJ
$140
10
Wojciechowski, Zach
$145
11
Hattori, Zack
$270
12
Hatchett, Eric
$60
13
Balistreri, Joey
14
Huffman, Joey
$15
15
Nikolas, Ryan
$30
16
Boe, Tyler
$149
17
Zweig, Matthew
18
Opela, Carson
$10
19
Pollak, Nick
20
Wanders, Brandon
$50
21
DeFazio, Ryan
$60
22
Yoder, William
23
Monnette, Brian
$115
24
Acuff, Derek
$105
25
Sweigart, Harley
26
Fung, Keith
27
Jacob, Tim
28
Crowell, Kolby
$15
29
Vargas, Bree
$200
30
Guba, Andrew
31
Leggett, Johnny
32
Jensen, Brandon
$80
33
Dunn, Ashley
$400
34
Satter, Tyler
35
Schanen, Anthony
36
Gerencser, Joe
$15
37
Watanabe, Alex
38
Thomas, Brendan
39
Ortega, Angel
$40
40
Myers, Brandon
41
Wahner, Adel
$319
42
Chan, Oscar
43
Polhill, Max
44
Demick, Josh
45
Zuni, Isziah
$180
46
Crevier, Kyler
47
Andrews, Kennison
48
Speiler, Randi
49
Penatzer, Heather
50
Demick, Josh
51
Gill, Jacob
$25
52
Thompson, Austin
$15
53
Williams, Ahkeen
54
Abrahamsen, Kelsey
55
Hilton, Jake
56
Hendrickson, Talon
$100
57
Acuff, Steven
58
Apolonio, Christian
59
Chui. Kirk
$55
60
Condon, Nick
61
Peyton, Jamison
62
Hogstrom, Tyler
63
Harvey, Zach
$30
64
Stedman, Ben
65
Harvey, Brad
x
Nadeau, Chase
$30
HANDICAP
Rank
Bowler
prize
1
Mahn, Zoe
$2,000
2
Martinez, Noah
$1,000
3
Gilbert, Kyle
$500
4
Hays, Zane
$415
5
Kalvelage, Secilia
$425
6
Long, Zack
$560
7
Pierre, Cameron
$535
8
Ortega, Chris
$180
9
Gafate, Jopfel
$195
10
Cdebaca, Montana
$215
11
Evans, Marguerite
$115
12
Alo, Daryus
13
Delegarito, Gerilynn
$60
14
Buhain, Michaela
15
Flowers, Bella
16
Hackney, Justin
$102
17
Johnson, Destiny
$45
18
Hedges, Tyler
$305
19
Freeman, Justin
20
Lorey, Reagan
21
Peters, Bailey
$20
22
Sanchez, Lindsey
23
Collins, Brooke
$40
24
Yauney, Dustin
$70
25
Perini, Nickolas
26
Sanchez, Quirino
$20
27
Thomas, Tyler
28
Polhill, Sebastian
29
Durr, Maddison
$100
30
Lucero, Jacob
31
Ponzo, Kyle
$30
32
Chan, Andrew
$50
33
Schock, AJ
$390
34
Hays, Kyle
$44
35
Rohe, Dante
$70
36
Perini, Alex
37
Reese, Dawson
$5
38
Sanchez, Nick
39
Davis, Collins
40
Anderson, Matthew
$45
41
Franklin, Abby
$40
42
Romero, Vanessa
43
Jordan, Rashaad
44
Villalobos, Marc
45
Boyko, Bex
$100
46
Lindsey, Brendan
47
Atkin, Amanda
48
Torres, Sergio
$200
49
Harris, Sara
50
Starr-Moncayo, Jarred
$59
51
Fine, James
52
Pineda, Crystalene
53
Hopkins, Brendan
54
Colyer, Paul
55
McDonnell, April
$15
56
Zweig, Leah
57
Lucero, Jake
58
Pineda, Crystalene
59
Herson, Taylor
60
DeLuisa-Anderson, Brian
$125
61
Russell, Hannah
$50
62
Adragna, Mathew
$20
63
Hopkins, Brendan
64
Handley, Dee
65
Williams, Alyssa
$14
66
Reed, Kyle
$100
67
Thompson, Garrett
$20
68
Berry, Taylor
69
Herrmann, Andy
70
McGough, James
$30
71
Thompson, Trevor
$15
72
Rendon, Kyle
73
Duffy, Brandon
74
Murray, Jacob
$20
75
Berg, Rachael
$20
76
Seawright, Jonah
x
Buhain, Lawrence
$150
x
Romero, Elizabeth
$60
x
Csnayi, Douglas
$50
x
Hackney, JA
$40
x
Conti, Samantha
$210
x
Amico, Dylan
$100
x
Patalina, Devyn
$50
x
Cdebaca, Toby
$30
GIRLS' TPC
#
Bowler
1
Dunn, Ashley
2
Vargas, Bree
3
Wahner, Adel
4
Schock, AJ
5
Romero, Vanessa
6
Atkin, Amanda
7
Speiler, Randi
8
Abrahamsen, Kelsey
9
Franklin, Abby
10
Berg, Rachael
11
Penatzer, Heather
TOTAL AWARDED THIS EVENT: $18,254
TPC SCORES:
| | | | | | | | | | | | | |
| --- | --- | --- | --- | --- | --- | --- | --- | --- | --- | --- | --- | --- |
| | SCRATCH SEMIFINALS: | | | | | | | | | | | |
| Rank | Bowler | previous | gm 1 | gm 2 | gm 3 | gm 4 | gm 5 | gm 6 | gm 7 | gm 8 | wins | total |
| 1 | Low, Wesley | 3283 | 210 | 204 | 228 | 182 | 236 | 144 | 222 | 225 | 6 | 5114 |
| 2 | Leong, Dallas | 3202 | 182 | 242 | 200 | 202 | 241 | 203 | 205 | 219 | 6 | 5076 |
| 3 | Oviatt, Russ | 3411 | 162 | 205 | 222 | 182 | 195 | 181 | 178 | 191 | 4 | 5047 |
| 4 | Duster, Kyle | 3330 | 168 | 168 | 236 | 173 | 197 | 164 | 218 | 184 | 3 | 4928 |
| | | | | | | | | | | | | |
| 5 | Devlin, Nick | 3248 | 196 | 190 | 193 | 181 | 163 | 203 | 190 | 192 | 5.5 | 4921 |
| 6 | Canfield, Ben | 3151 | 184 | 212 | 181 | 187 | 214 | 207 | 227 | 174 | 6 | 4917 |
| 7 | Cardines, Cerell | 3292 | 155 | 143 | 152 | 160 | 203 | 154 | 194 | 190 | 1 | 4673 |
| 8 | Smale, Teagan | 3046 | 157 | 159 | 156 | 199 | 212 | 300 | 178 | 174 | 3 | 4671 |
| 9 | Martinez, KJ | 3022 | 176 | 190 | 151 | 179 | 163 | 189 | 214 | 206 | 3.5 | 4595 |
| 10 | Wojciechowski, Zach | 3009 | 153 | 170 | 152 | 214 | 164 | 166 | 162 | 180 | 2 | 4430 |
| | | | | | | | | | | | | | |
| --- | --- | --- | --- | --- | --- | --- | --- | --- | --- | --- | --- | --- | --- |
| | HANDICAP SEMIFINALS: | | | | | | | | | | | | |
| Rank | Bowler | hcp | previous | gm 1 | gm 2 | gm 3 | gm 4 | gm 5 | gm 6 | gm 7 | gm 8 | wins | TOTAL |
| 1 | Martinez, Noah | 27 | 3190 | 245 | 211 | 220 | 184 | 249 | 225 | 203 | 205 | 6 | 5112 |
| 2 | Mahn, Zoe | 27 | 3187 | 216 | 217 | 228 | 231 | 205 | 237 | 201 | 198 | 6 | 5100 |
| 3 | Gilbert, Kyle | 30 | 3151 | 209 | 233 | 208 | 244 | 192 | 233 | 233 | 207 | 6 | 5090 |
| 4 | Hays, Zane | 48 | 3150 | 221 | 181 | 207 | 244 | 228 | 199 | 208 | 201 | 5 | 4989 |
| | | | | | | | | | | | | | |
| 5 | Kalvelage, Secilia | 34 | 3199 | 206 | 193 | 210 | 175 | 170 | 204 | 230 | 215 | 4 | 4922 |
| 6 | Long, Zack | 13 | 3157 | 169 | 209 | 191 | 168 | 216 | 182 | 240 | 236 | 4 | 4888 |
| 7 | Pierre, Cameron | 39 | 3158 | 161 | 188 | 200 | 238 | 201 | 157 | 233 | 203 | 3 | 4829 |
| 8 | Ortega, Chris | 24 | 3173 | 177 | 214 | 207 | 165 | 221 | 186 | 181 | 160 | 3 | 4774 |
| 9 | Gafate, Jopfel | 28 | 3185 | 200 | 180 | 173 | 164 | 216 | 242 | 153 | 178 | 2 | 4751 |
| 10 | Cdebaca, Montana | 42 | 3144 | 199 | 184 | 205 | 177 | 183 | 179 | 254 | 183 | 1 | 4738 |
SCRATCH QUARTERFINALS:
Rank
Bowler
previous
gm 11
gm 12
gm 13
gm 14
gm 15
wins
pins
1
Oviatt, Russ
2181
219
213
215
215
218
5
3411
2
Duster, Kyle
2197
188
198
213
190
254
3
3330
3
Cardines, Cerell
1959
217
237
278
182
269
5
3292
4
Low, Wesley
2026
247
201
207
235
247
4
3283
5
Devlin, Nick
2049
181
259
234
178
212
4.5
3248
6
Leong, Dallas
2029
234
167
230
239
213
3
3202
7
Canfield, Ben
2120
201
146
204
191
199
3
3151
8
Smale, Teagan
1947
231
165
190
204
189
4
3046
9
Martinez, KJ
1912
221
255
203
201
170
2
3022
10
Wojciechowski, Zach
1979
167
211
234
169
189
2
3009
11
Hattori, Zack
1956
149
186
212
199
210
3
3002
12
Hatchett, Eric
1903
191
166
258
187
204
3
2999
13
Balistreri, Joey
1850
182
189
218
191
211
5
2991
14
Huffman, Joey
2057
166
171
156
180
231
1
2991
15
Nikolas, Ryan
1953
168
188
254
211
178
1
2982
16
Boe, Tyler
1984
193
164
221
188
170
2
2980
17
Zweig, Matthew
1841
202
232
157
230
228
3
2980
18
Opela, Carson
1936
245
181
173
174
173
3
2972
19
Pollak, Nick
1792
178
222
199
246
181
5
2968
20
Wanders, Brandon
1887
213
182
153
186
220
3
2931
21
DeFazio, Ryan
1897
150
222
171
192
159
4
2911
22
Yoder, William
1850
204
199
156
185
207
3
2891
23
Monnette, Brian
1954
174
159
187
168
179
2
2881
24
Acuff, Derek
1860
190
173
156
203
234
2
2876
25
Sweigart, Harley
1862
208
180
195
168
200
2
2873
26
Fung, Keith
1874
164
170
151
244
174
3
2867
27
Jacob, Tim
1809
152
223
245
192
178
2
2859
28
Crowell, Kolby
1894
161
189
223
160
165
2
2852
29
Vargas, Bree
1805
219
182
176
164
212
3
2848
30
Guba, Andrew
1863
146
191
227
193
151
2
2831
31
Leggett, Johnny
1803
208
161
236
190
167
2
2825
32
Jensen, Brandon
1792
201
155
191
203
158
4
2820
33
Dunn, Ashley
1852
189
201
152
214
180
1
2818
34
Satter, Tyler
1868
151
170
204
169
157
3
2809
35
Schanen, Anthony
1827
213
173
196
199
140
2
2808
36
Gerencser, Joe
1910
176
142
172
183
194
1
2807
37
Watanabe, Alex
1915
134
145
220
148
191
1
2783
38
Thomas, Brendan
1803
205
191
180
176
169
1
2754
39
Ortega, Angel
1892
164
200
151
163
148
1
2748
40
Myers, Brandon
1824
209
183
141
146
175
2
2738
41
Wahner, Adel
1861
179
146
177
203
160
0
2726
42
Chan, Oscar
1798
165
161
163
192
174
1
2683
43
Polhill, Max
1792
171
157
152
179
184
1
2665
44
Demick, Josh
1792
151
156
155
178
187
1.5
2664
HANDICAP QUARTERFINALS:
Rank
Bowler
hcp
previous
gm 1
gm 2
gm 3
gm 4
gm 5
wins
TOTAL
1
Kalvelage, Secilia
34
1996
187
177
176
166
177
5
3199
2
Martinez, Noah
27
2049
178
164
220
151
173
4
3190
3
Mahn, Zoe
27
2003
189
151
213
210
166
4
3187
4
Gafate, Jopfel
28
2018
191
168
185
167
226
3
3185
5
Ortega, Chris
24
1947
217
140
247
190
192
4
3173
6
Pierre, Cameron
39
2116
175
170
133
132
162
2.5
3158
7
Long, Zack
13
1995
171
184
199
233
190
4
3157
8
Gilbert, Kyle
30
1949
188
190
156
191
177
5
3151
9
Hays, Zane
48
2027
147
120
157
203
136
4
3150
10
Cdebaca, Montana
42
1957
168
175
134
166
184
5
3144
11
Evans, Marguerite
30
2017
150
254
192
143
169
2
3135
12
Alo, Daryus
45
1986
171
135
143
161
175
4
3116
13
Delegarito, Gerilynn
45
2023
177
130
157
168
166
2
3106
14
Buhain, Michaela
23
1958
216
159
181
157
192
4
3098
15
Flowers, Bella
69
1918
121
152
150
142
114
5
3092
16
Hackney, Justin
48
1972
157
110
184
193
140
3
3086
17
Johnson, Destiny
45
2022
137
192
143
142
162
2
3083
18
Hedges, Tyler
47
1970
165
169
170
161
136
2
3066
19
Freeman, Justin
32
1910
150
151
191
207
175
4
3064
20
Lorey, Reagan
33
2035
150
190
164
152
145
2
3061
21
Peters, Bailey
47
1903
154
161
158
167
191
3
3059
22
Sanchez, Lindsey
42
1999
143
157
179
115
164
3
3057
23
Collins, Brooke
27
1925
197
147
219
173
168
3
3054
24
Yauney, Dustin
29
2040
158
154
206
148
157
1
3038
25
Perini, Nickolas
19
2028
156
180
133
170
182
2.5
3019
26
Sanchez, Quirino
19
1905
221
188
163
191
166
3
3019
27
Thomas, Tyler
26
1995
165
136
166
208
182
1
3012
28
Polhill, Sebastian
46
1842
202
169
150
149
166
3
2998
29
Durr, Maddison
40
1909
189
163
142
162
136
3
2991
30
Lucero, Jacob
53
1841
172
108
182
148
155
4
2991
31
Ponzo, Kyle
10
1931
198
187
164
247
184
1
2991
32
Chan, Andrew
33
1977
153
188
144
142
160
2
2989
33
Schock, AJ
18
1903
215
167
187
162
169
3
2983
34
Hays, Kyle
38
1864
165
178
153
173
169
3
2982
35
Rohe, Dante
23
1887
136
186
184
153
191
4
2972
36
Perini, Alex
44
2011
169
120
128
136
127
2
2971
37
Reese, Dawson
36
1847
134
191
154
158
203
3
2957
38
Sanchez, Nick
18
1844
216
158
178
186
191
3
2953
39
Davis, Collins
28
1954
155
170
145
165
153
2
2942
40
Anderson, Matthew
68
1933
106
130
144
133
121
1
2937
41
Franklin, Abby
35
1874
135
145
177
187
178
2
2931
42
Romero, Vanessa
20
1885
177
183
188
170
161
2
2924
43
Jordan, Rashaad
29
1850
169
179
159
181
168
2
2911
44
Villalobos, Marc
16
1870
201
203
158
162
198
1
2902
45
Boyko, Bex
32
2009
148
153
143
142
144
0
2899
46
Lindsey, Brendan
20
1913
161
219
150
154
123
2
2880
47
Atkin, Amanda
20
1842
235
148
200
167
145
1
2867
48
Torres, Sergio
10
1896
155
183
198
202
181
0
2865
49
Harris, Sara
37
1854
165
134
167
178
149
1
2862
50
Starr-Moncayo, Jarred
33
1917
158
157
180
143
130
0
2850
51
Fine, James
18
1876
121
139
179
197
197
1
2829
52
Pineda, Crystalene
29
1842
161
166
160
168
152
1
2824
53
Hopkins, Brendan
51
1842
108
145
139
102
106
2
2757
54
Colyer, Paul
16
1842
145
164
153
125
158
0
2667
SCRATCH DIVISION QUALIFYING
Rank
Bowler
Exempt?
gm 1
gm 2
gm 3
gm 4
gm 5
gm 6
gm 7
gm 8
gm 9
gm 10
TOTAL
1
Duster, Kyle
187
245
156
235
153
253
230
247
213
278
2197
2
Oviatt, Russ
yes
141
204
191
185
215
268
245
247
246
239
2181
3
Canfield, Ben
yes
234
138
186
217
233
246
194
245
215
212
2120
4
Huffman, Joey
189
222
234
150
184
201
196
255
216
210
2057
5
Devlin, Nick
yes
185
170
144
234
192
233
254
246
200
191
2049
6
Leong, Dallas
yes
206
184
175
190
212
258
179
227
203
195
2029
7
Low, Wesley
yes
215
158
223
189
216
232
203
177
158
255
2026
8
Boe, Tyler
144
183
154
210
204
211
220
217
205
236
1984
9
Wojciechowski, Zach
167
200
183
146
170
194
247
212
204
256
1979
10
Cardines, Cerell
201
182
188
208
150
225
148
220
203
234
1959
11
Hattori, Zack
152
174
210
186
161
263
172
227
203
208
1956
12
Monnette, Brian
179
185
208
180
138
225
169
265
192
213
1954
13
Nikolas, Ryan
199
189
202
180
189
190
204
169
225
206
1953
14
Smale, Teagan
152
166
225
185
192
221
215
199
161
231
1947
15
Opela, Carson
212
152
150
181
197
197
214
267
171
195
1936
16
Watanabe, Alex
166
170
211
185
204
175
205
195
203
201
1915
17
Martinez, KJ
yes
165
151
204
185
212
201
165
222
214
193
1912
18
Gerencser, Joe
180
191
169
167
204
189
181
183
235
211
1910
19
Hatchett, Eric
yes
183
168
178
189
202
202
157
218
193
213
1903
20
DeFazio, Ryan
218
164
155
154
226
217
150
178
201
234
1897
21
Crowell, Kolby
183
168
199
211
170
199
243
154
179
188
1894
22
Ortega, Angel
190
161
178
200
166
149
159
269
215
205
1892
23
Wanders, Brandon
162
221
172
203
184
152
225
198
176
194
1887
24
Fung, Keith
177
190
153
239
169
155
155
156
267
213
1874
25
Satter, Tyler
203
202
182
160
171
146
210
245
166
183
1868
26
Guba, Andrew
202
128
232
148
155
172
218
178
205
225
1863
27
Sweigart, Harley
191
181
183
138
193
162
172
205
236
201
1862
28
Wahner, Adel
158
140
170
194
177
236
171
191
232
192
1861
29
Acuff, Derek
160
194
190
182
186
172
244
175
189
168
1860
30
Dunn, Ashley
194
154
172
156
181
235
191
185
188
196
1852
31
Balistreri, Joey
134
224
175
144
174
222
195
198
204
180
1850
32
Yoder, William
yes
167
154
192
182
194
167
190
195
210
199
1850
33
Zweig, Matthew
214
210
149
226
178
154
199
152
200
159
1841
34
Schanen, Anthony
197
140
170
155
212
141
145
246
238
183
1827
35
Myers, Brandon
182
137
176
190
122
175
244
200
182
216
1824
36
Jacob, Tim
171
180
159
161
140
165
216
218
192
207
1809
37
Vargas, Bree
165
155
170
171
184
178
190
203
188
201
1805
38
Leggett, Johnny
169
168
163
147
192
176
177
200
173
238
1803
39
Thomas, Brendan
151
179
196
142
206
150
214
191
191
183
1803
40
Chan, Oscar
190
103
141
151
203
172
195
195
224
224
1798
41
Jensen, Brandon
138
156
166
180
141
190
201
233
200
187
1792
42
Zuni, Isziah
154
165
153
156
201
190
198
177
197
200
1791
43
Crevier, Kyler
147
147
144
156
168
187
174
191
212
248
1774
44
Andrews, Kennison
212
114
160
158
221
204
167
194
177
162
1769
45
Speiler, Randi
183
194
160
138
158
169
178
192
174
214
1760
46
Penatzer, Heather
149
143
173
156
176
167
199
204
195
193
1755
47
Demick, Josh
yes
176
197
170
126
152
168
180
176
213
192
1750
48
Gill, Jacob
186
175
155
163
183
159
168
226
162
166
1743
49
Thompson, Austin
169
207
173
143
122
172
204
149
208
184
1731
50
Williams, Ahkeen
157
176
146
205
172
172
160
227
150
164
1729
51
Abrahamsen, Kelsey
175
141
136
195
151
162
195
200
213
142
1710
52
Hilton, Jake
131
192
175
157
155
190
134
179
190
203
1706
53
Hendrickson, Talon
162
149
129
140
165
188
123
175
213
228
1672
54
Pollak, Nick
yes
114
159
183
181
182
195
150
159
167
151
1641
55
Acuff, Steven
159
101
164
152
195
145
199
200
178
147
1640
56
Apolonio, Christian
155
133
145
192
163
197
190
148
162
141
1626
57
Chui. Kirk
120
148
205
150
183
117
153
179
203
144
1602
58
Condon, Nick
121
172
143
154
169
174
147
170
196
150
1596
59
Peyton, Jamison
164
122
152
132
148
178
145
196
170
170
1577
60
Hogstrom, Tyler
133
158
169
132
135
191
143
153
168
172
1554
61
Harvey, Zach
146
137
123
195
170
220
132
124
151
145
1543
62
Polhill, Max
yes
141
165
186
114
142
174
131
112
182
184
1531
63
Stedman, Ben
157
135
127
151
160
159
162
146
152
176
1525
64
Harvey, Brad
109
175
153
129
125
134
199
145
181
158
1508
HANDICAP DIVISION QUALIFYING
Rank
Bowler
Exempt?
hcp
gm 1
gm 2
gm 3
gm 4
gm 5
gm 6
gm 7
gm 8
gm 9
gm 10
TOTAL
1
Pierre, Cameron
39
175
161
149
145
180
186
155
214
180
181
2116
2
Martinez, Noah
yes
27
170
164
193
179
177
185
185
197
147
182
2049
3
Yauney, Dustin
29
141
148
180
181
153
166
180
171
186
244
2040
4
Lorey, Reagan
33
169
158
135
169
129
185
213
199
186
162
2035
5
Perini, Nickolas
19
156
155
164
148
154
181
232
246
197
205
2028
6
Hays, Zane
48
158
153
144
111
151
143
157
157
174
199
2027
7
Delegarito, Gerilynn
45
129
145
190
129
124
174
158
199
147
178
2023
8
Johnson, Destiny
yes
45
145
161
156
128
129
152
191
172
156
182
2022
9
Gafate, Jopfel
28
166
158
182
145
172
195
180
210
154
176
2018
10
Evans, Marguerite
yes
30
213
153
122
169
214
161
179
196
139
171
2017
11
Perini, Alex
44
179
124
133
136
153
135
142
166
213
190
2011
12
Boyko, Bex
32
170
159
199
166
157
132
219
196
131
160
2009
13
Mahn, Zoe
27
162
164
189
138
147
195
168