UPTOWN ALLEY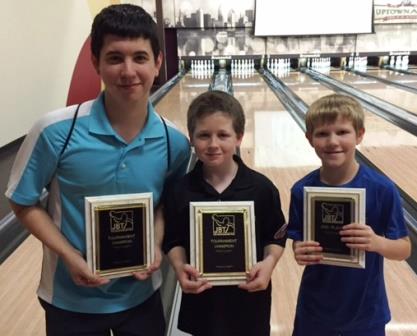 champs Jakob Butturff & Aaron Coleman, with runner-up Sean Scheirmann
Jakob Butturff and Aaron Coleman captured JBT titles in exciting Arizona Conference action at the spectacular Uptown Alley in Surprise.
Butturff was out of the cut after game four of qualifying, then rolled a big game to get into round two, and kept rolling enough to grab the #4 seed for the scratch division stepladder finals. He then got past four tough opponents, beginning with a 225-173 match one win over Matt Zweig. Jakob then got past Ben Canfield 217-202, and in a thrilling semifinal, escaped 247-237 over Dallas Leong when Dallas left a solid-7 on his second ball needing all three in the tenth to tie.
Top qualifier Cortez Schenck was looking for back to back titles on the weekend, but Buttruff wasn't about to be his victim for the second consecutive day. Less than 24 hours after allowing Schenck to win his landmark 40th title, Jakob's 245-184 win over Cortez gave Buttruff his landmark 30th title, only the 6th player in JBT history to do so.
Newcomer Sean Scheirmann began a climb up the handicap division stepladder with a 207-163 win over Joseph Metzer, who made the title match the previous day. Schiermann then squeezed by Destiny Johnson 193-183, and in another nailbiter, edged Joshua Molloy 229-224, to advance to the title match.
Top qualifier Aaron Coleman has been close to victory before, but was not to be denied here. He stopped Schiermann's fine run with a 208-191 win, good for the 10 year-old's first career JBT title.
Gillian Coyle won her first Women's Series event of the year, defeating talented New Mexican Vanessa Romero 216-192, for the first of three wins she needs to qualify for the Girls TPC next summer.
Big thanks to Jennifer and the staff at Uptown Alley for another great job hosting us. Want in on all this fun and excitement? Just check out our schedule and come on out to the next JBT event, it's that simple!
Uptown Alley- final results and scholarship winners
9/29/2014
Scratch Division
rank
bowler
prize
1
Jakob Butturff
$200
2
Cortez Schenck
$154
3
Dallas Leong
$75
4
Ben Canfield
$55
5
Matt Zweig
$20
6
Bryan Van Sickle
7
Nick Pollak
8
Josh Demick
9
Aaron Yamamoto
10
Austin Muldoon
$15
11
Sean Trzaskowski
12
Jerry Moreno
13
Jake Tucker
14
Max Polhill
15
Jason Prejean
16
Adel Wahner
17
Keith Fung
Handicap Division
1
Aaron Coleman
$273
2
Sean Scheirmann
$100
3
Joshua Molloy
$70
4
Destiny Johnson
$79
5
Joseph Metzer
$40
6
Abby Franklin
$44
7
Sebastian Polhill
$50
8
Sarah Halligan
$5
9
Kendra Edgett
$30
10
Marguerite Evans
$30
11
Krystine Poore
12
Jarred Starr-Moncayo
13
Tyler Hedges
$14
14
Gillian Coyle
15
Samantha Sellers
$35
16
John Newton
17
James Burke
$14
18
Vanessa Romero
$10
19
Zach Rapp
20
David Rohe
21
Tony Edgett
22
Shelby Dempsey
23
Cristian Roque
24
Elijah Melchor
25
Brooke Martinez
26
Madison Blake
27
Candace Gardner
28
Bella Flowers
29
Nathan Skirvin
30
Daryus Alo
31
Zack Long
32
Rashaad Jordan
33
Dante Rohe
34
Paul Colyer
35
Chandler Yost
36
Bex Boyko
37
Chad Alexander
38
Ryan Zent
39
Rachael Berg
High Games
Scratch
Handicap
1
Schenck 289
Metzer 271
2
Leong 279
V Romero 255
3
Van Sickle 279
Molloy 255
4
Canfield 278
Molloy 252
5
Schenck 277
Halligan 249
High Female
1
Coyle -102
2
Romero -116
3
Wahner -139
4
Johnson -169
5
Evans -182
Round Leaders
Scratch
Handicap
1
Canfield
Poore-Halligan
2
Canfield
Halligan
3
Canfield
Halligan
4
Schenck
Coleman
5
Canfield
Coleman
6
Schenck
Coleman
7
Schenck
Coleman
8
Schenck
Coleman
Total Awarded This Event: $1,333