WHITEWOOD LANES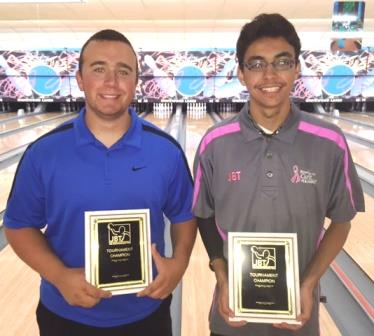 champs Ben Stedman & Noah Martinez
Ben Stedman and Noah Martinez captured JBT titles in exciting Texas- New Mexico Conference action at Lubbock's Whitewood Lanes.
Newcomer Stefan Wood opened the scratch division stepladder finals with a 224-189 win over Zach Wojciechowski. Stedman then took over, defeating Wood 211-148, and following with a 216-211 squeaker over William Yoder to advance to the title match.
Top seed Jacob Gill was looking to finally break through for his first JBT title, but so was Stedman, and he was on a roll. Getting more confident as the match went on, he cruised past Gill 228-171 for the win, joining sister Olivia as JBT champs.
Veteran Lacey Shelton began the handicap stepladder finals with a 241-178 win over Texas Tech rookie Anish Roshan. Martinez then took over just like Ben did, beating Shelton 215-194, and following with a 190-181 squeaker over Lindsey Sanchez, to move on to the title match.
Top seed Jacob Marquis bowled great all day en route to grabbing the #1 seed, but struggled a bit in the title game against Martinez. Noah rolled a solid game to beat Jacob 229-188, and win the second title of his JBT career.
Olivia finished off a great day for the Stedman family, beating Adel Wahner 235-207, to win the day's Women's Series title.
Thanks to Whitewood for a great job hosting us for the first time since 2006! Want in on all the fun? Check out our schedule and come on down, that's all there is to it!
Whitewood Lanes- final results and scholarship winners
10/11/2014
Scratch Division
rank
bowler
prize
1
Ben Stedman
$200
2
Jacob Gill
$100
3
William Yoder
$50
4
Stefan Wood
$72
5
Zach Wojciechowski
$39
6
Nick Lloyd
7
Trey Sledge
8
Ahkeen Williams
9
Brian Buckley
10
Oilvia Stedman
11
Danny Cobine
12
Josh Demick
$10
13
Taylor Behpour
14
Adel Wahner
$14
15
James Fine
16
Bree Vargas
17
Isziah Zuni
18
Cody Stafford
19
Nick Sanchez
Handicap Division
1
Noah Martinez
$214
2
Jacob Marquis
$144
3
Lindsey Sanchez
$50
4
Lacey Shelton
$30
5
Anish Roshan
$20
6
Kayla Darling
$14
7
Jonah Seawright
8
Katie McNeil
$24
9
Alyssa Williams
$15
10
Rodrigo De La O
11
Matteo Bergonzi
12
Mikie Cates
13
3lizab3th Rom3ro
$14
14
Daniel Hall
15
Cerra Strickland
16
Kelly McNeil
17
Blayne Hurst
18
Gerilynn Delegarito
19
Staci Gleason
$14
20
Lara Wood
21
Maryhannah Lowrie
22
Emily Foster
Women's Series
1
O Stedman +21*
2
Wahner -56
3
B Vargas -89
4
L Sanchez -119
5
Gleason -133
High Games
Scratch
Handicap
1
J Gill 289
Hurst 277
2
Ahkeen Williams 277
Shelton 266
3
Yoder 267
Bergonzi 263
4
Wood 263
L Sanchez 260
5
Yoder 259
N Martinez 259
Round Leaders
Scratch
Handicap
1
Lloyd
N Martinez
2
Wood
Marquis
3
J Gill
N Martinez
4
J Gill
N Martinez
5
J Gill
N Martinez
6
J Gill
N Martinez
7
J Gill
Shelton
8
J Gill
Marquis
TOTAL AWARDED THIS EVENT: $1,044