STRIKE ZONE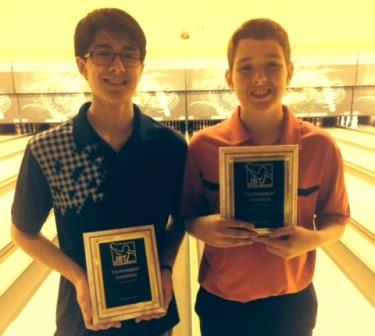 champs Cortez Schenck & Kyle Ponzo
Cortez Schenck remained red hot, while Kyle Ponzo completed an Arizona sweep, in exciting JBT Mojave Conference action at Sunset Station's Strike Zone in Henderson.
In the scratch division, Joe Grondin walloped them in qualifying to grab the top spot for matchplay, but matchplay proved to be a cruel test for all the top seeds, as the Joe and the rest of the top four all lost in round two. In the resulting semifinals, previous day's champ Schenck beat Randi Speiler in her return to the top four, while KJ Martinez, who earlier beat Grondin, now beat Utah's Talon Hendrickson to set up the title match.
In the finale between two Arizona veterans, Schenck remained untouchable, stopping KJ 223-196 for back to back wins on the weekend, his fourth title in a row overall, and 44th of his ridiculously good JBT career.
Handicap division bowlers were eventually carved down to four semifinalists as well, and in that round Kyle Ponzo defeated Nathan Hanuscin, and Veronica Schleicher beat Eric Torrence to set up that title match. In the finale, Veronica took the early lead as Kyle could not catch a double. That changed in the second half, as Ponzo, another Arizona bowler, strung four in a row and then held on for a 224-213 win, good for the third title of his JBT career.
Thanks as always to the team at Strike Zone, again the home of the TPC, for hosting out regular season events as well. Want in on all the fun and excitement? Just come on out to our next JBT event, it's as simple as that!
Strike Zone- final results and scholarship winners
11/16/2014
Scratch Division
rank
bowler
prize
1
Cortez Schenck
$200
2
KJ Martinez
$100
3
Talon Hendrickson
$74
4
Randi Speiler
$41
5
Joe Grondin
$20
6
TJ Rock
$11
7
Brendan Thomas
8
Wesley Low
$63
9
Andrew Guba
10
Zach Hattori
$37
11
Nick Pollak
12
Eric Hatchett
13
Cerell Cardines
14
Jamison Peyton
15
Tyler Satter
$11
16
Max Polhill
17
Teagan Smale
$13
18
Dallas Leong
Handicap Division
1
Kyle Ponzo.
$275
2
Veronica Schleicher.
$100
3
Nathan Hanuscin.
$50
4
Eric Torrence.
$30
5
Tyler Thomas.
$20
6
Justin Freeman
7
Dylan Amico.

8
Devyn Patalina,
9
Tyler Hedges.

10
Michael Rose
11
Brandon Duffy
12
April McDonnell
13
Jopfel Gafate
14
Jarred Starr-Moncayo
15
James Wilson
16
Abby Franklin
17
Dee Handley
18
Zack Long.
19
Dante Rohe

$50

20
Kevin Mette
21
Sebatian Polhill
22
Daryus Alo,
23
Trevor Thompson
24
Destiny Johnson
25
Garrett Thompson
26
Sergio Torres
27
Kyle Rendon
28
Paul Colyer
29
George Arcurero
30
Janelle Takahata
31
Alayna Purdy
High Games

1

Satter 279

High Female
1
Speiler*
2
Schleicher
Round Leaders
Scratch
Handicap
1
Hendrickson
Duffy
2
Low
Mette
3
Grondin
Ponzo
4
Grondin
T Thomas
5
Grondin
T Thomas
Total Awarded This Event: $1,249
***The above are reconstructed results from the event, as the US Post Office insists that these results are still "in transit" from Vegas to Seattle. If you have any information to add, please contact us by 1/30/15.