CHRISTOWN LANES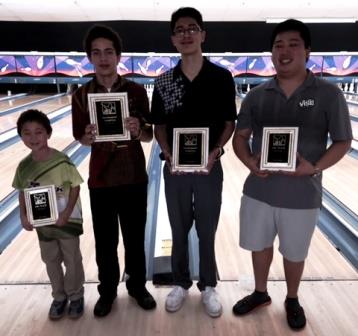 champs Cortez Schenck & Axel Barajas (center) with runners-up Tyler Hedges & Aaron Yamamoto
Cortez Schenck added another title to his massive collection, while Axel Barajas tasted JBT victory for the first time, in exciting Arizona Conference action at Christown Lanes in Phoenix.
Schenck climbed the ladder in the 'tennis' format stepladder finals, where matches are decided by a series of one-shot rolloffs that are scored exactly like tennis games, making every shot extremely important. He began with a win over first time finalist Sean Trzasakowski. He then got past Kyle Duster after one deuce, and followed with another tough win over Jakob Butturff to reach the title match.
Top qualifier Aaron Yamamoto had a dream weekend, shooting the only 300 of the weekend to start matchplay, after winning the doubles event the day before, en route to the #1 position here. However, he struggled a little bit in the finals, and whenever he did strike Schenck came back with a strike of his own to extend the rally. In the end, Cortez won two straight games in the 2-of-3 title match to earn the 47th championship of his JBT career.
Handicap bowlers used the conventional scoring system in their stepladder finals, which began with Aaron Coleman's round one win over first-time finalist Marco Flores. Joseph Metzer then stopped Coleman, but the tables were turned in the semifinals as 9 year-old Tyler Hedges beat Metzer to move on to the title match.
Hedges has been on a roll lately, making his second title match in a month. However, top seed Axel Barajas was not in the mood to let him get his first win. A leadoff turkey was all he needed to cruise the rest of the way, and Barajas claimed the first title of his career, and first for the traveling group from Mexico (which includes Flores, Alberto Bernal, and Miguel Meraz), with the championship game victory.
San Diego's Brittany Kolatzny, on break from freshman year at Robert Morris, won her first Women's Series event of the season with a title match victory over Adel Wahner.
Thanks as always to the crew at Christown for hosting our Tour. Want in on all this fun for all ages and averages? Just check out our schedule and come on down!
Christown- final results and scholarship winners
12/21/2014
Scratch Division
rank
bowler
prize
1
Cortez Schenck
$228
2
Aaron Yamamoto
$110
3
Jakob Butturff
$50
4
Kyle Duster
$59
5
Sean Trzaskowski
$20
6
Bryan Van Sickle
7
KJ Martinez
$29
8
Keith Fung
9
TJ Rock
$14
10
Curtis Lindeman
11
Adel Wahner
12
Eric Hatchett
13
Brittany Kolatzny
14
Austin Thompson
$15
15
Dallas Leong
16
Robert Douglas
17
Heather Penatzer
18
Josh Franz
19
Jakob Hilton
20
Nick Pollak
21
Josh Demick
22
Jerod Walker
23
Max Polhill
24
Jake Tucker
25
Lauren Douglas
Handicap Division
1
Axel Barajas
$200
2
Tyler Hedges
$129
3
Joseph Metzer
$75
4
Aaron Coleman
$50
5
Marco Flores
$40
6
Justin Lawrence
$30
7
Zach Rapp
$20
8
Shauna Schultz
9
Wiliam Robbins
10
Destiny Johnson
$58
11
Miguel Meraz
12
Abby Franklin
13
Sarah Halligan
$10
14
Rob McClelon
15
Clifford Robbins
$10
16
Samantha Sellers
17
Amanda Atkin
18
Gillian Coyle
19
Morgan Rapp
20
Michael Chamot
$29
21
Bex Boyko
$58
22
Sebastian Polhill
23
David Rohe
24
Cristian Roque
$15
25
Mathew Adragna
26
Megan Carlson
27
Ryan Zent
28
Kyle Lawrence
$30
29
Alberto Bernal
30
Dante Rohe
31
Brandon Rouse
32
Kyle Ponzo
33
Paul Colyer
34
Zack Long
35
John Newton
36
Rachael Berg
37
Jarred Starr-Moncayo
38
Phillip Sauve
39
Trevor Thompson
High Games
Scratch
Handicap
1
Yamamoto 300
Halligan 276
2
Butturff 268
Coyle 263
3
Duster 268
Barajas 261
4
Trzaskowski 259
Barajas 258
5
Fung 259
Metzer 257
High Female
1
Wahner -24
2
Kolatzny -47*
3
Coyle -76
4
Scultz -93
5
Penatzer -108
Round Leaders
Scratch
Handicap
1
Butturff
Hedges
2
Martinez
Metzer
3
Martinez
Metzer
4
Martinez
Barajas
5
Martinez
Hedges
6
Yamamoto
Barajas
7
Yamamoto
Barajas
8
Yamamoto
Barajas
Total Awarded This Event: $1,269